Because Prologis, Inc. (NYSE: PLD) has its fingers on the pulse of the global economy, any weakness would be a reason for investors to worry. Good news. No worries.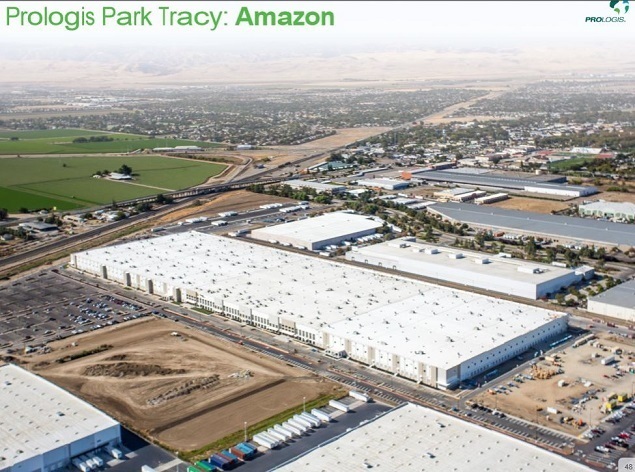 Source: Prologis
The short version is that demand remained solid during Q1 2016, while in almost all US and global markets, the new supply continued to be "disciplined."
As an aside, this is a mantra that I am hearing across many top-performing REIT sectors, including data centers and self-storage. REITs and other institutional players with long-term horizons have no desire to shoot themselves in the foot by overbuilding. Private sector developers, often motivated to build by development fees, have mostly been sidelined by post-financial crises banking reforms.
Demand for industrial space continues to be robust, driven by 1) e-commerce and logistics; 2) lower prices at the gas pump helping to boost consumer demand; and 3) a recent trend for Prologis customers increasing their inventory-to-sales ratio.
The last point is a paradigm shift that likely has its roots in e-commerce, including an increase in retail SKUs and just-in-time supply chain management.
Tale Of The Tape - Prologis 52-Week High
In my last SA focus article on the name written in late January, I covered Prologis' strong earnings for Q4 2015, and the question I posited in the headline was, "... Time To Buy?"
Since the company's shares were trading at $39.47 at that time, it has become a rhetorical question.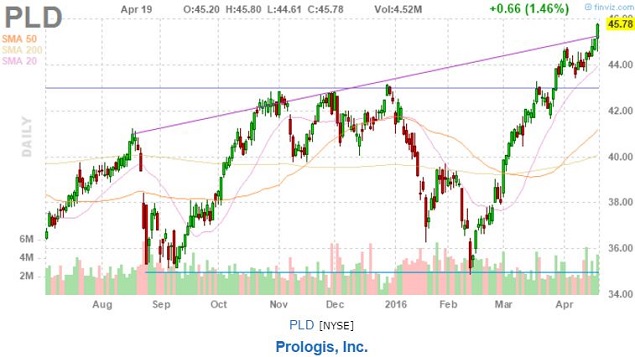 During the past 52 weeks, PLD has traded in a range of $34.90-45.78 per share. Prologis got caught up in the REIT downdraft in February, which actually provided even better entry points for savvy investors.
However, it has stormed back during the past six weeks, and is now trading near its highs for the year.
E-commerce Growth Continues
I recently wrote an SA focus article highlighting how investors can benefit by hitching their star to the Amazon (NASDAQ:AMZN) growth machine: "Amazon Is Growing Like A Weed - Why Not Cash In On REIT Landlords In 2016?"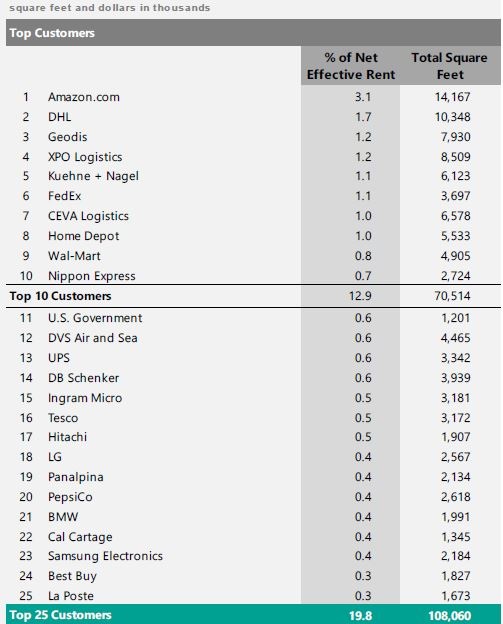 Source: PLD - 1Q'16 Supplemental (all unattributed slides)
Amazon is Prologis' top tenant when it comes to revenue, and the REIT also happens to be Amazon's largest warehouse/fulfillment landlord. Notably, DHL, at number two, is a reflection of Prologis' international reach. In fact, large third-party logistics firms are well represented among its top 15 customers.
This gives a distinct flavor that the company is leveraged to benefit from e-commerce growth. Notably, during the past couple of years, e-commerce revenues have doubled from 5% to 10%, according to CEO Gary Anderson. He mentioned on the call that the shift of automotive supply chain and e-commerce reflected structural changes in how customers are now operating.
Growth - No New Equity Required
During the next five years, Prologis expects to spend an average of $600 million per year on new development and acquisitions. Management has identified $3.4 billion of funds, including the sale of non-core assets, which obviates the need for issuing new equity in order to fund growth.
This also provided the source of funds to completely pay off the $400 million in debt taken on last year to acquire the "KTR portfolio." This acquisition was quite timely, substantially expanding Prologis' US industrial footprint just when the company has the ability to push rents higher in most domestic markets.
Management also expanded its unsecured credit lines by $600 million, to $3 billion. During the earnings call, CFO Tom Olinger indicated the company's balance sheet, which is currently rated Baa1/BBB+, was "... on the doorstep of an A rating."
Prologis Q1 Earnings Highlights
FFO per share came in at $0.91 versus $0.61, an increase of 24% Y/Y.
GAAP rent change on rollover was an all-time high of 20.1%, led by the U.S. at 27.3% and 4% outside the US.
The high-barrier-to-entry coastal markets remain the tightest industrial markets, with Los Angeles county Class-A industrial vacancy notably dipping below 2 percent.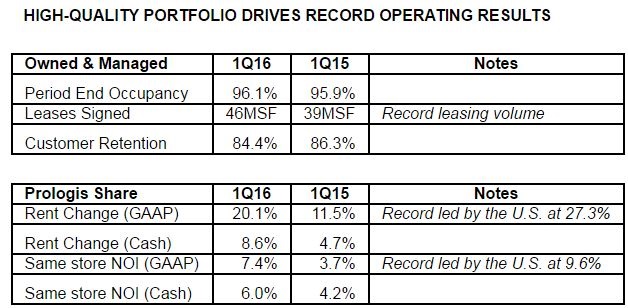 Source: PLD 1Q'16 Earnings release
The international same property results were still quite respectable given slower GDP growth in Europe and Asia.
With the exception of Houston and Pennsylvania (increased supply), there were no US markets on Prologis' watch list.
On the call, management pointed out that Houston currently has 8 million sq. ft. of industrial space under development - the overall market vacancy remains at just 6%. Prologis is 96% leased in the Houston market, and the PLD development pipeline is 50% pre-leased. This sounds like business as usual for the REIT, at least for the time being.
Understanding Prologis Earnings
The components of Prologis' FFO are a great way to understand the dynamics of the business and to compare the quality of the earnings versus sector peers and other REIT blue chips.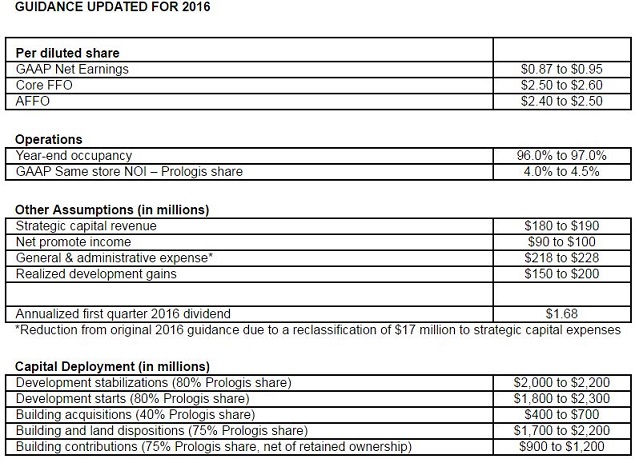 Source: PLD 1Q'16 Earnings release
First of all, CEO Hamid Moghadam was quick to point out on the Q1 earnings call that "recurring AFFO drives the dividend."
A closer look at Prologis' core FFO shows why that distinction is important. The core FFO guidance of $2.50-2.60 per share remains unchanged. However, that number includes $0.17-0.19 per share of promotes, versus a historical average of $0.05 per share.
Generally, 90% of Prologis' revenues come from rents, with the balance from Strategic Capital (JVs) fees and promotes. In addition, there is also value created by the company's new development program, which takes advantage of a huge global land bank.
When it comes to earnings related to development, Moghadam does not feel that Prologis shareholders should expect to see multiples in the 15x-20x range. He suggested that "homebuilder"-type multiples might be more appropriate. I would interpret that to be in the 9x-12x range.
The company's AFFO per share guidance is in the $2.40-2.50 per share range, which currently supports a well-covered $1.68 per share dividend. PLD dividend has been growing at a steady clip since 2012 and appears to have ample runway for growth.
Q1 Conference Call Highlights
Here are some notable quotes which add some significant color to the numbers.
Hamid Moghadam:
"At this point in the cycle, we're pushing rent growth over occupancy. Nevertheless occupancy is still very high at over 96%."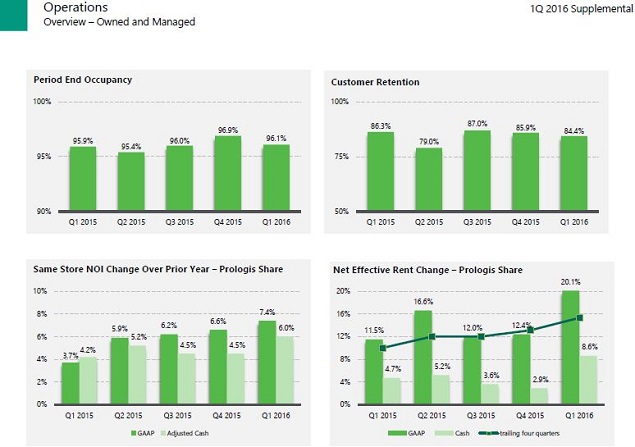 I felt that was the one quote that rules them all. However, the quotes below also shed some light on the company's strategy and markets:
"About two-thirds of our development value creation fees and promotes are generated outside the U.S. As an aside these benefits actually cover more than a 100% of our global overhead.

"I view Prologis as an owner/operator in the U.S. and a fund manager and developer in Europe and Asia. We have minimal exposure to emerging economies."

"In the U.S. quality properties remains scare which is leading to strong rent growth and high occupancies. We will continue to signal watch list markets. In this quarter we have no new markets to call out."
Development remains attractive and is moving ahead in a measured fashion:
"KCR [sic] is all paid off. Our funding activities, specifically the short-term loan associated with that deal concluded less than one year after it was announced and ahead of schedule. With the transaction paid in full, and the portfolio integrated, today's call is probably the last time you will hear us talk about KCR [sic]."
The large US KTR Capital portfolio acquisition was funded and integrated ahead of schedule. Prologis' balance sheet gives it the flexibility to accelerate growth by way of timely accretive acquisitions.
"We have capacity to fund more than five years of capital deployment. At our current run rate, our total annual funding requirement is $600 million. We expect to fund this through the rebalancing of our co-investment ventures, reducing our land bank, and selling our remaining non-strategic assets. These one-time sources total more than $3.5 billion and give us the ability to fund more than five years of net deployment activity."
Read my lips, no new equity issuance. Meanwhile, the percentage of modern Class-A facilities will continue to grow. This bodes well for organic portfolio rent growth moving forward.
Tom Olinger - CFO
"First, that our stabilization had an estimated margin of 27%, and second, that build-to-suits comprised 42% of our development starts."
A nice chunk of the high development margins is marking the land to market. The high percentage of build-to-suits significantly derisks development. The availability of entitled land again plays a major role in the company's ability to take advantage of the demand. The international component is unique to Prologis versus its industrial REIT peers.
"... you would clearly look at the coastal markets is where you're going to see the significant amount of rent change that drove same-store growth and I think as we look to the balance of the year, our rent change on roll looks really, really good…"
Industrial leases typically average around a five-year term. This implies that Prologis will be able to take advantage of the strong leasing environment in the near term.
"The continued strengthening of our balance sheet was acknowledged this quarter by both Moody's and Standard & Poor's upgraded our credit outlook to positive. We believe we are on the doorstep of an A rating."
There are very few BBB+ rated REITs, and there's a paucity of "A-rated" REITs. Prologis' cost of capital advantage and access to capital markets will continue to be an ace in the hole.
"We continue to expect to generate $1 billion of total proceeds in excess of our capital needs in 2016. This consist $400 million in net deployment proceeds, $198 million of cash that we already received from the completion of the Facebook installment sale, and $400 million from the ownership rebalancing in our USLF and PTELF ventures which we will receive in a few weeks."
The growth of Facebook (NASDAQ:FB) in Menlo Park, CA provided Prologis with an opportunity to monetize an older industrial park. The buildings will eventually be razed for future expansion of the Facebook campus.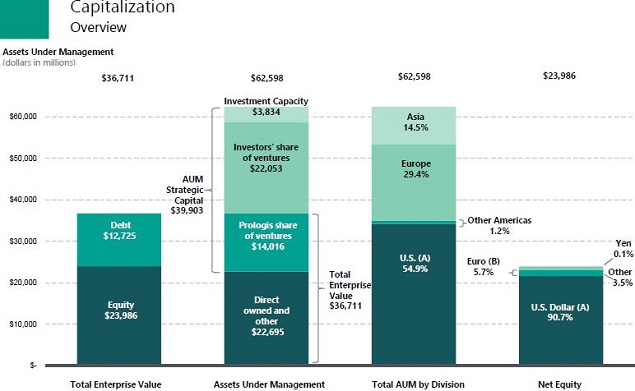 Flexibility to adjust ownership in JVs adds another lever to fine tune the Prologis balance sheet.
Investor Takeaway
Moghadam stated on the call that the NAV was currently in the $46-47 per share range. As of this writing, PLD shares closed at $45.03 per share, or 17.6x 2016e core FFO.
The CEO believes that the high $40s to low $50s per share would be "fair value" for Prologis, including the embedded value creation from development.
As I pointed out in my previous coverage, PLD were attractively priced in late January. However, after the recent run-up in shares, I would wait for a pullback to initiate a new position.
Prologis still appears to be an attractive Hold at these levels. Perhaps equally as important for readers to consider is the restraint regarding supply, and health of the markets, both in the US and abroad. Keep in mind that the vast majority of the REIT's portfolio is Class-A product, and the recent strong development absorption is for modern facilities.
The increase in rents for the rolling leases appears to signal an inflection point, shifting the leverage away from tenants in many markets. The reported strength of the US coastal industrial markets is a plus for Terreno Realty (NYSE: TRNO), which reports in early May.
Monmouth REIC (NYSE: MNR), a major FedEx (NYSE: FDX) landlord, benefits from the e-commerce tailwind and new Class-A product focus.
Meanwhile, the tight LA County industrial market plays into the hands of Rexford Industrial (NYSE: REXR), a SoCal industrial pure-play. Rexford just closed on a $191 million portfolio, a large acquisition for this small-cap REIT. However, Rexford's concentrated exposure to seismic risks has always been a hurdle which I find difficult to overcome.
I relentlessly hunt for diamonds in the rough and rising stars, in addition to closely following data centers, covering REIT blue chips and breaking news. Please consider following me as a Seeking Alpha author if you would like to be notified when my future articles are published.
Disclosure: I/we have no positions in any stocks mentioned, but may initiate a long position in TRNO over the next 72 hours.
I wrote this article myself, and it expresses my own opinions. I am not receiving compensation for it (other than from Seeking Alpha). I have no business relationship with any company whose stock is mentioned in this article.