Over the past month or so, any of my followers who positioned themselves in my articles had a sweet go of it. I hope you all profited well. Once in a while, I put my cowboy hat on and take some capital gain money and put it on black. I mean that exactly how I said it. The company I am writing about today is a 100% earnings play. Oversold beyond recognition and in the oil/gas refining business which we all know has taken its medicine in the past 6 months. Have a look all you risk takers!
Bonanza Creek Energy Inc., (BCEI $2.94) an independent energy company, engages in the acquisition, exploration, development, and production of onshore oil and associated liquids-rich natural gas in the United States. The company''s oil and liquids weighted assets are located primarily in the Wattenberg Field in Colorado, and the Dorcheat Macedonia Field in southern Arkansas. It also owns and operates oil-producing assets in the North Park Basin in Colorado, and the McKamie Patton Field in Southern Arkansas.
Everyone has piled on this company. There are 25 analysts who cover BCEI. 1 of them has a "Buy," 20 of them currently have a "Hold," 3 have "Underperform," and 1 has a "Sell" rating. What I don't understand is if all the news is bad, why haven't they downgraded BCEI to a flat out sell or dropped coverage and jumped ship altogether? There is a little bit of doubt, that if oil makes an upward move, it might right the ship for a few quarters, and that is all we need for this stock to hit $5 in a heartbeat. Believe it or not, the stock was under $2 not too long ago, yet it is still down almost 90% off its 52-week high. The balance sheet is not pretty; however, Zacks came out with a piece the other day stating the following:
One stock that might be an intriguing choice for investors right now is Bonanza Creek Energy Inc. BCEI. This is because this security in the Oil-US Exploration & Production space is seeing solid earnings estimate revision activity, and is in great company from a Zacks Industry Rank perspective.

This is important because, oftentimes, a rising tide will lift all boats in an industry, as there can be broad trends taking place in a segment that are boosting securities across the board. This is arguably taking place in the Oil-US Exploration & Production space as it currently has a Zacks Industry Rank of 65 out of more than 250 industries, suggesting it is well-positioned from this perspective, especially when compared to other segments out there.

Meanwhile, Bonanza Creek Energy is actually looking pretty good on its own too. The firm has seen solid earnings estimate revision activity over the past month, suggesting analysts are becoming a bit more bullish on the firm's prospects in both the short and long term.

In fact, over the past month, current quarter loss estimates have narrowed from 78 cents per share to 75 cents per share, while current year loss estimates have narrowed from $2.43 per share to $2.31 per share. The company currently carries a Zacks Rank #3 (Hold), which is also a favorable signal.

So, if you are looking for a decent pick in a strong industry, consider Bonanza Creek Energy. Not only is its industry currently in the top third, but it is seeing solid estimate revisions as of late, suggesting it could be a very interesting choice for investors seeking a name in this great industry segment"
Zacks is fairly reputable, they must see the same thing I do. Bonanza last month jettisoned their finance chief, general counsel, and 10% of its work force as part of a company restructuring. What gets me incensed is that the finance chief received $830,000 in severance. The company is on fumes and it has to pay him $830,000. As far as management is concerned, the CEO, Richard Carty has years of investment banking, arbitrage and quantitative strategies, so I am confident in his ability to negotiate better revolving credit facilities if need be. Tony Buchanan, the COO comes from a background at Noble Energy (NYSE:NBL), ConocoPhillips (NYSE:COP) and Exxon Mobil (NYSE:XOM).
BCEI's expertise deals with horizontal drilling. The concept of horizontal drilling is not new. In fact, hundreds of thousands of horizontal wells have been drilled safely and successfully in the United States for decades. But in just the past decade, significant advances in technology and knowledge have led to increasingly effective directional drilling and the ability to drill horizontal wells.
Drilling a horizontal well involves curving the path of the well, gradually moving from a vertical to a horizontal path. The well itself is very narrow, usually only 8.5 inches in diameter.
Technological advances in drilling allows them to steer equipment away from the straight line that traditional wells take, deviating to reach a point that could be up to two miles away from the entry site.
One of the key tools is measurement-while-drilling technology, or borehole telemetry. This technology allows engineers and geologists to monitor in real-time the drilling progress deep beneath the surface. Using this technology, BCEI is able to plot and manage the path of the well as it curves from a vertical to a horizontal path.
Another important tool which has been developed over many years is the steerable downhole motor assembly. Conventional drilling of vertical wells occasionally requires downhole motors placed above the drill bit to help penetrate particularly hard rock formations. Adding the ability to steer these motors means that a well's path can be controlled while continuing to drill. This allows BCEI to introduce the deviation in the well's path, carefully steering the drill bit into a horizontal path.
The Benefits
Bonanza Creek is currently developing its Wattenberg position exclusively utilizing horizontal drilling. This technique allows them to recover more oil and natural gas for less cost than the traditional vertical method of drilling that has been used in this field for decades.
A horizontal development program not only possesses more attractive economics, it also minimizes surface impact as each section requires less wells to develop the same amount of resource. Fewer wells on the surface helps BCEI avoid negative impact to the environment and allow the company to be a good neighbor to the communities in which we operate.
Hydraulic fracturing is a long established process of creating fractures in rock formations to release the oil and natural gas trapped inside. This technique uses high water pressure and sand to crack a rock formation deep underground. By pumping this fluid into a drilled well, BCEI is able to open up tiny fissures, up to several tenths of an inch wide, which then allow oil and natural gas trapped in tight rocks to flow back through the pipes and up to the surface.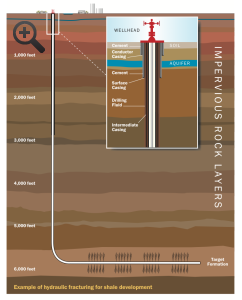 Hydraulic fracturing has been used to extract oil and natural gas for decades, having first been used in Kansas in 1947. Since then, over 2.5 million fracture treatments have taken place around the world. A majority of U.S. domestic production comes from hydraulically fractured wells.
These operations carried out by Bonanza Creek in the Wattenberg Field occur at depths greater than 6,000 feet below the surface, and in the Cotton Valley sands in Arkansas at depths between 6,500 and 9,000 feet below the surface. This process is usually performed at the start of the life of a well, which can then produce for 30-50 years without needing further treatment.
Say what you want about the oil industry, it isn't dead and that is the bottom line. Everything is cyclical, and with summer coming and people out and about, the inventory levels in the USA will be gobbled up leading to more production for the fall. This is a short-term report regarding the current state of the oil/drilling industry.

Lastly, I will discuss the 38% short position in this stock, I cannot believe they are holding on that long, they have been paid handsomely. Any good news on the upcoming earnings front will vault this stock. At $2.94 a share, I look at it as falling out of a basement window, you don't really get hurt but you may get a little bruise. If you want to speculate here, don't go crazy, you have a lot of capital gains in the bank from the past 7 articles you followed me on. Instead of driving to Vegas or Atlantic City, pull up a chair at the BCEI table and roll the dice and hope for a better report on May 5th. Good luck!!
Disclosure: I/we have no positions in any stocks mentioned, and no plans to initiate any positions within the next 72 hours.
I wrote this article myself, and it expresses my own opinions. I am not receiving compensation for it (other than from Seeking Alpha). I have no business relationship with any company whose stock is mentioned in this article.