It's tough to know the value of water until it's gone. Good reason to write another part in the series I've written on Seeking Alpha. This is part 6 in series where I cover water-related investments. The previous parts are here: Part 5 (American Water Works (NYSE:AWK)), Part 4 (ETFs), Part 3 (PowerShares Global Water Portfolio ETF (NYSEARCA:PIO)), Part 2 (First Trust ISE Water Index ETF (NYSEARCA:FIW)) and Part 1 (PowerShares Water Resources Portfolio ETF (NYSEARCA:PHO)).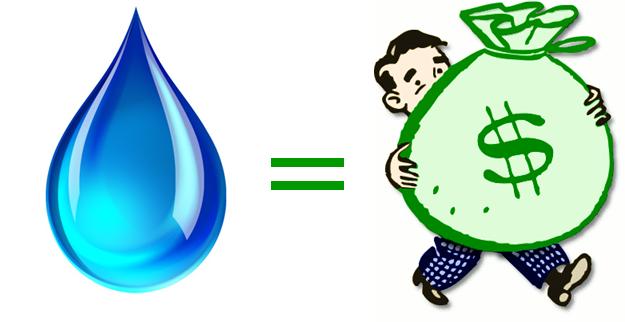 So far, the year-to-date investments in these water-related firms and ETFs have performed slightly better than the overall performance of the market. Only PIO and PHO have been disappointing: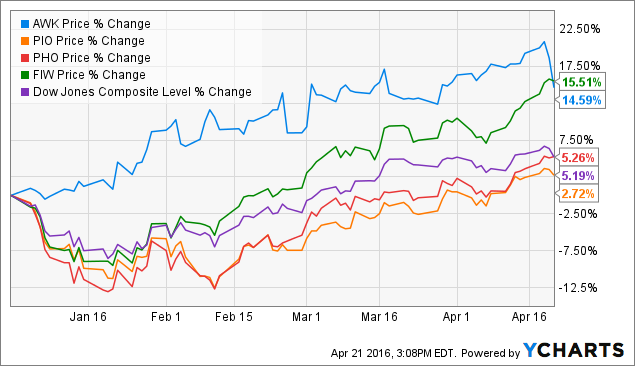 The next name I cover in this series is the largest water-related firm on the planet, Veolia Environment (OTCPK:VEOEY, OTC:VEOEF).

Click to enlarge
Veolia: French Glory
The first thing to mention is that Veolia is French. I have taken a particular liking for firms which are relatively unknown to investors, while in reality, they are true forces to be reckoned with. The last French firm I've covered on Seeking Alpha was Neopost (OTC:NPACF, OTCPK:NPACY), a large French multinational active in physical mail and communication, which is worth a read.
Veolia is a French transnational business with activity in three main sectors: water management, waste management and energy services. The water branch of Veolia is the largest water supplier on earth, providing over 100 million people with drinking water. The firm has over 170,000 employees. Its revenue pie is as follows: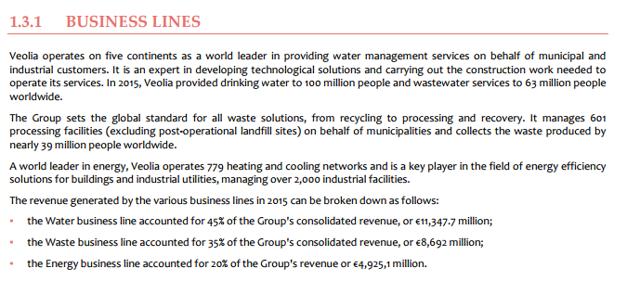 Click to enlarge
Source: Annual Report Veolia
Annual Shareholder Meeting 2016
The French conglomerate had its annual shareholders meeting on 21st April, discussing the overall results of 2015. And the results were irrefutable good. Net income and revenue increased, while debt decreased. The firm remains on track to keep a 10% dividend growth till 2018. It has been on track for a while, and as a result, investors remained interested in the firm: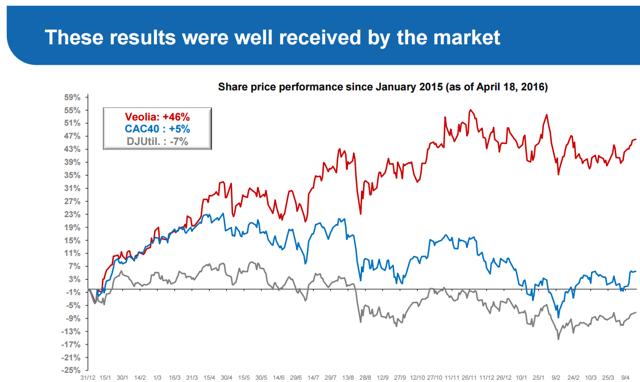 Click to enlarge
Source: Veolia Investor Presentation
The Annual Report consists of a hefty 400 pages. Let's have a look year over year: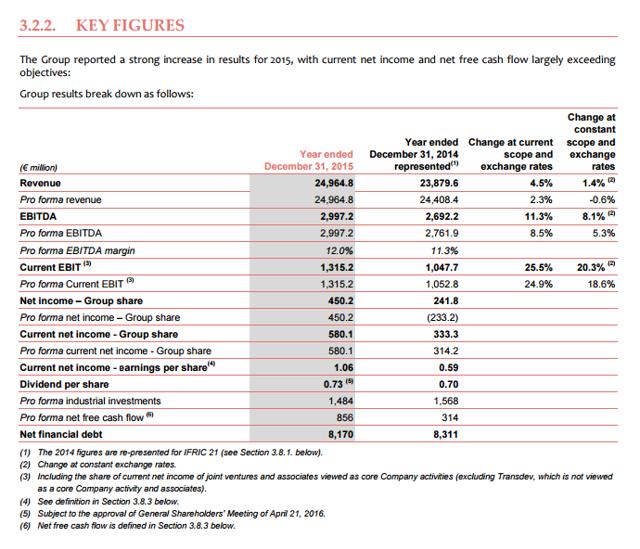 Click to enlarge
Source: Annual Report
Growth figures like these are exactly what you would like to see as an investor. EPS increased by 80%, while revenue and net income grew 4.5% and 70% respectively. For a firm with €25 billion in revenue, these are typical figures that trace signs of one which is currently chasing a restructuring strategy. And that is exactly the case with Veolia.
Nevertheless, one should not be blinded by these solid year-over-year figures, as this is purely the exterior.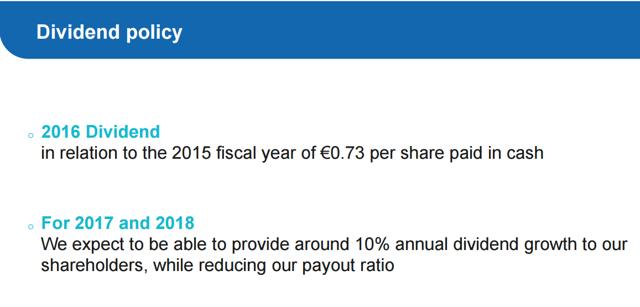 Click to enlarge
Source: Shareholder Presentation
So even though the firm is pushing a healthy 10% dividend growth, when looking at debt, the overall ratio is still quite unhealthy, with €8 billion in debt. Veolia is still years away from a more healthy debt/assets ratio in comparison with some of its water-related competitors. The 10% annual dividend growth is a considerable target, yet the firm pays roughly the same amount on interest payment as it does for dividend: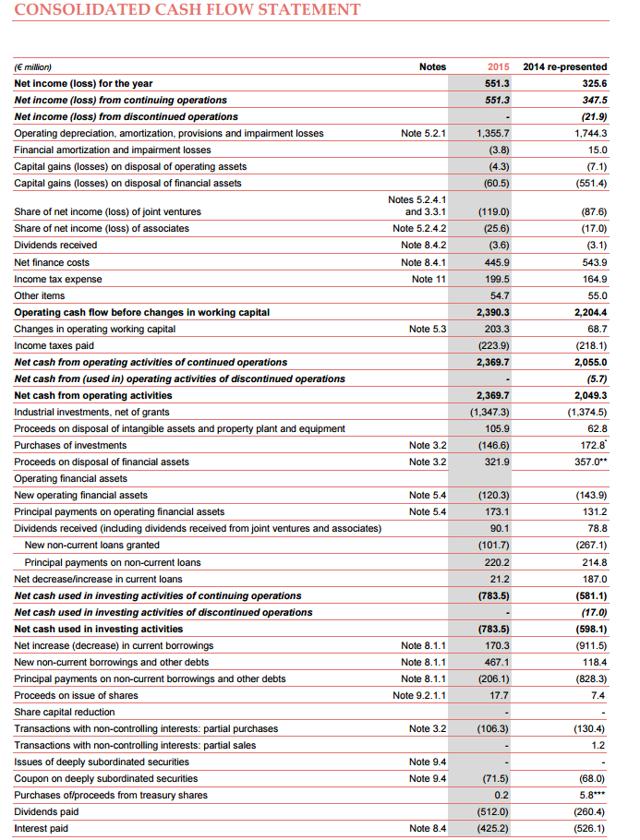 Click to enlarge
Source: Annual Report
That is to say, Veolia paid €512 million in dividends and €425 million in interest. One can imagine what the firm can do if it had a considerable lower amount of debt. The total assets-to-total liabilities ratio is around 77%, while this ratio for American Water Works is around 70%. Considerable high numbers, if you ask me.
Analysts are expecting this new, more conservative strategy to yield higher profit margins and higher revenue in the coming years: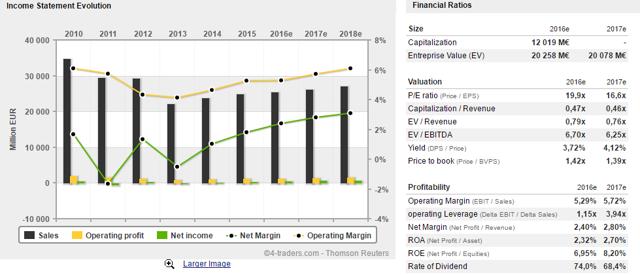 Click to enlarge
Source: 4-traders.com
Nonetheless, with profit margins in the low-single digits, the firm will struggle to repay its debt at a higher pace. This chains the progress at Veolia for shareholders, in my opinion.
Additionally, at its current valuation of a P/E of 30, it's simply too expensive - even more expensive than American Water Works, which I consider more favorably valued.
The Past is Colorful
When you dig into the past, eventually less colorful pages will turn up. Veolia, in this case, was no different, as it suffered simply due to its sheer size. The firm has seen restructuring after restructuring over the last few years. Furthermore, it witnessed an accounting fraud between 2007 and 2010. The list of errors and mistakes is not small.
Veolia issued two profit warnings in 2011 and announced plans to quit half of the 77 countries where it did business. It launched a €5 billion ($6.4 billion) fire sale of assets.
The two phases can be clearly seen in the share price graph.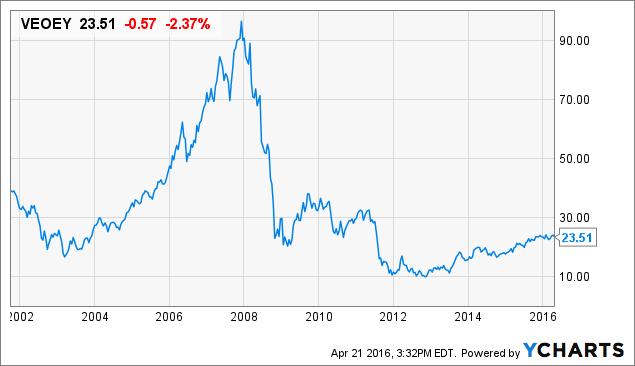 Analyst Consensus
The firm has seen a considerable run since 2012, yet analysts are not as positive on the stock as they used to be: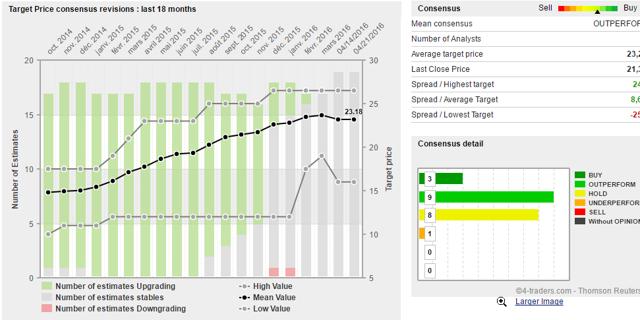 Click to enlarge
Source: 4-traders.com
This once more points a finger at current overvaluation.
Conclusion
Will Veolia see the same run it did between 2002 and 2008? I doubt it. Nevertheless, it consists of some very interesting parts, and based purely on its considerable size, can't be ignored. The firm has been an incredible solid investment for the last few years, with a solid dividend yield of around 3.5%. Veolia is a French firm, and this means you have to be aware of withholding tax. It trades ADRs on the U.S. exchange.
The strategy of reducing debt and refocusing its geographical position with more emphasis on being the dominant leader in local markets are undeniable strong moves. Yet, due to its complex structure, the overall margins will remain low at any point, making the firm always vulnerable to an economic, political or fraudulent downturn.
Currently, at a P/E of 30, Veolia is clearly too expensive. Nevertheless, the consolidation of cash will allow the firm to maintain its expected dividend growth. But I fear it will take years before investors are willing to take large risk with an investment in Veolia at these high valuations. At its current state at a low valuation, it is a stock worth buying.
Disclaimer: This article provides opinions and information, but does not contain recommendations or personal investment advice to any specific person for any particular purpose. Do your own research or obtain suitable personal advice. You are responsible for your own investment decisions. This information is not a recommendation or solicitation to buy or sell securities, nor am I a registered investment advisor.
Disclosure: I/we have no positions in any stocks mentioned, and no plans to initiate any positions within the next 72 hours.
I wrote this article myself, and it expresses my own opinions. I am not receiving compensation for it (other than from Seeking Alpha). I have no business relationship with any company whose stock is mentioned in this article.
Editor's Note: This article discusses one or more securities that do not trade on a major U.S. exchange. Please be aware of the risks associated with these stocks.