As mentioned in many of my previous articles, business development companies ("BDCs") need to attract and retain institutional investors for increased multiples and liquidity as well as potentially less volatility. I firmly believe that this needs to be the focus of management in 2016 given the recent price performance and valuations of BDCs relative to other sectors.
Institutional Ownership
Institutional ownership typically refers to the ownership stake held by large financial organizations and pension funds that purchase large blocks of a company's outstanding shares and can exert considerable influence on management. Institutional investors are often referred to as the 'smart money' and portfolio managers often have teams of analysts and access to corporate and market data that most retail investors do not. Institutional turnover in most stocks is quite low, but due to the "Russell Reconstitution" in 2014 and the SEC's Acquired Fund Fees ("AFF") reporting requirements for BDCs, the average institutional ownership of BDCs fell from 40% to around 30%. The following chart shows the timing of the announcement by S&P and Russell to exclude BDCs from certain indices.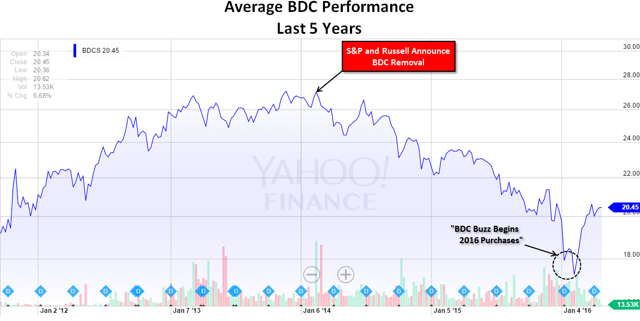 Click to enlarge
As mentioned earlier, BDCs currently average around 30% ownership by institutional investors but there is a wide range of ownership for each company. I have included the historical ownership levels for two of the larger BDCs (and frequently discussed on Seeking Alpha) Prospect Capital (NASDAQ:PSEC) and Main Street Capital (NYSE:MAIN):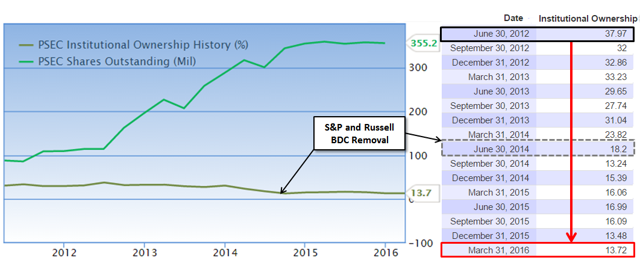 Click to enlarge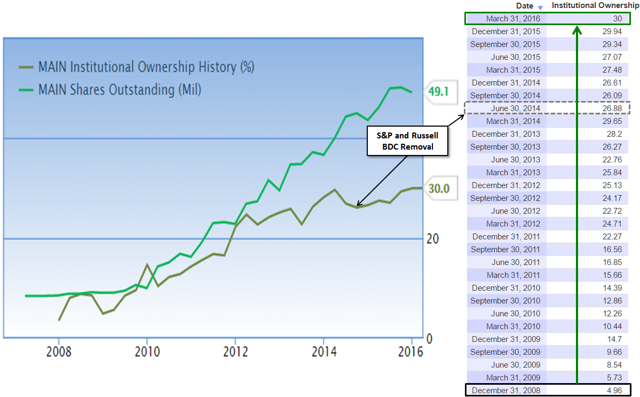 Click to enlarge
The following chart shows the relative stock performance for PSEC and MAIN.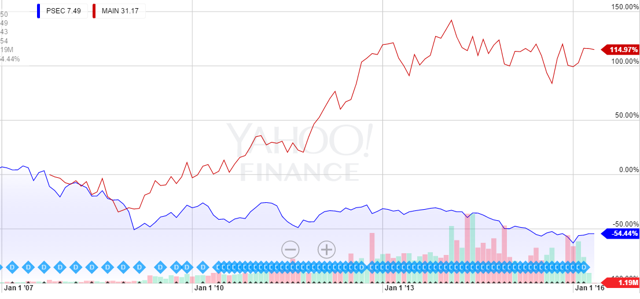 Click to enlarge
The following table show the range of institutional ownership levels as well as market cap. BDCs are relatively small compared to most stocks so I have used over $500 million market cap to identify 'Large' and under $150 million as 'Small'.

Clearly institutional investors prefer larger companies for many reasons including liquidity and float concerns but also perceived risk issues as well. Meaningful increases in institutional ownership is less likely for smaller BDCs such as Firsthand Technology Value Fund (NASDAQ:SVVC), Crossroads Capital (NASDAQ:XRDC), American Capital Senior Floating, Ltd. (NASDAQ:ACSF), Horizon Technology Finance (NASDAQ:HRZN), Stellus Capital Investment (NYSE:SCM), Full Circle Capital (FULL), KCAP Financial (NASDAQ:KCAP) and OFS Capital (NASDAQ:OFS) which is one of the reasons I do not actively cover these companies in most of my articles.
Change in Institutional Ownership
Since 2013/2014, BDCs such as MAIN, TCP Capital (NASDAQ:TCPC), New Mountain Finance (NYSE:NMFC), Golub Capital BDC (NASDAQ:GBDC), PennantPark Floating Rate Capital (NASDAQ:PFLT), Monroe Capital (NASDAQ:MRCC) and Ares Capital (NASDAQ:ARCC) have either grown or at least maintained institutional ownership levels. TriplePoint Venture Growth (NYSE:TPVG), TPG Specialty Lending (NYSE:TSLX), Goldman Sachs BDC (NYSE:GSBD) and FS Investment Corp (NYSE:FSIC) are relatively newer BDCs.
PSEC, KCAP, Medley Capital (NYSE:MCC), TICC Capital (NASDAQ:TICC), PennantPark Investment (NASDAQ:PNNT), Apollo Investment (NASDAQ:AINV), Fidus Investment (NASDAQ:FDUS), Hercules Technology Growth Capital (NASDAQ:HTGC), THL Credit (NASDAQ:TCRD) and Solar Senior Capital (NASDAQ:SUNS) have had the largest declines in institutional ownership since 2013/2014.
Which BDCs are actively trying to attract investors and higher multiples?
As mentioned in "Which BDCs Will Outperform In 2016?", one of the primary differences between companies that outperform (pricing and operating results) is the quality of management that is in direct control of managing the capital structure and dividend policy as well as adjusting the expense structure including management fees. Higher quality BDCs are actively trying to attract institutional investors through 'doing the right thing' such as updated/revised fee agreements that protect shareholders during capital losses, not issuing shares below net asset value ("NAV"), meaningful share repurchases when trading well below (10% or more) NAV per share, waiving or reducing management fees to protect dividend coverage rather than cutting distributions, conservative accounting policies that appropriately mark assets closer to comparable market valuations as well as amortizing fee and onetime income to smooth out earnings and fees paid to management.
Investors should ask themselves:
"Why would I invest in a company where management has history of doing the wrong thing?"
Many of the BDCs that currently have lower amounts of institutional shareholders have a history of doing the right thing and are likely underpriced due to lack of awareness/visibility. I am currently in the process of assessing each BDC (including new ones) and ranking them by the quality of management. If you are interested in my opinion on which BDCs are likely to 'do the right thing' and deliver higher value, please visit "BDC Buzz.com". For a list of all my articles including BDC rankings (risk, return, pricing, dividend potential), target pricing charts and valuations, individual dividend sustainability, my historical purchases and current positions, and suggested BDC portfolios, please see my "BDC Research Page".
BDCs will begin reporting next week as shown in the table below. As mentioned in previous articles, due to potential later stage related credit issues, investor need to watch restructuring of investments, individual writedowns, management discussions on calls and footnotes.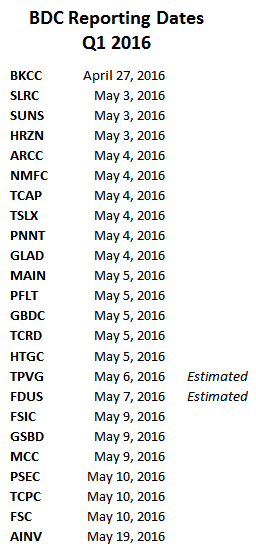 Personal note: I have updated my positions to reflect changes in my holdings, but please keep in mind that some of the positions are VERY small and mostly for research purposes.
Disclosure: I am/we are long ABDC, AINV, ARCC, BKCC, FDUS, FSC, FSFR, FSIC, GAIN, GARS, GBDC, GLAD, GSBD, HTGC, MAIN, MCC, MRCC, NMFC, PFLT, PNNT, PSEC, SCM, TCAP, TCPC, TICC, TPVG, TSLX.
I wrote this article myself, and it expresses my own opinions. I am not receiving compensation for it (other than from Seeking Alpha). I have no business relationship with any company whose stock is mentioned in this article.