Kinder Morgan (NYSE:KMI) has recently released its quarterly results in which its profits dropped 26.6%, missing analysts' consensus estimates, while the pipeline juggernaut also slashed future earnings and distributable cash flow expectations. The result disappointed the street as shares dropped 4.4% on Thursday. But there were several bright spots that Mr. Market may have missed.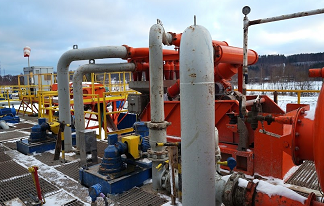 Earnings recap
During the quarter, Kinder Morgan generated revenues of $3.2 billion, down from $3.6 billion a year earlier, missing Wall Street's expectations of $3.74 billion, according to data compiled by Thomson Reuters. Its profits fell from $429 million, or $0.20 per share, last year to $315 million, or $0.12 per share. That also missed consensus estimate of $0.19 per share. Kinder Morgan experienced across the board drop in earnings, with the biggest decline of 44.6% at the carbon dioxide segment.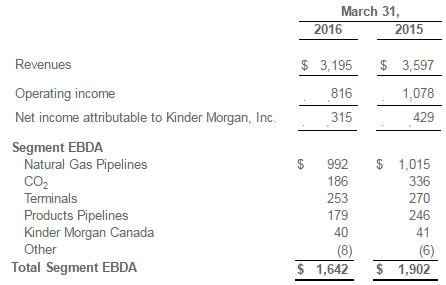 Distributable cash flows, before certain items, clocked in at $1.23 billion, down from $1.24 billion last year. The value of the backlog, representing growth projects for the next five years, was reduced from $18.2 billion at the end of last year to $14.1 billion at the end of the previous quarter, thanks in large part to the removal of Northeast Energy Direct (NED) Market and Palmetto Pipeline projects. The company, which previously reduced this year's growth capital budget by $900 million to $3.3 billion in January, has made another cut to the budget to $2.9 billion. The company expected to generate EBITDA and distributable cash flow of $7.5 billion and $4.7 billion respectively in the current year. But it now believes that the persistent weakness in energy prices will hurt its EBITDA and DCF by 3% and 4% respectively.
The company also approved a quarterly cash dividend of $0.125 per share and expects to spend $0.50 per share on dividends this year.
Commentary
The first quarter was always going to be a tough one for Kinder Morgan to beat. We already know that the company's carbon dioxide business has significant exposure to weak oil prices, which was evident in the Q4-2015 results. We also know that the company's future earnings and cash flow projections were based on oil and natural gas price environment of $38 per barrel and $2.50 per MMBTU respectively - and commodity prices largely remained below that level throughout the first quarter. Moreover, Peabody Energy's (BTU) bankruptcy was also going to hit its terminals segment. Kinder Morgan gets $30 million in EBITDA from the coal producer. On top of all this, based on what we've heard recently from other pipeline operators during recent presentations, production volumes have come under pressure in all the major US basins, including Eagle Ford, which was also going to hit Kinder Morgan's profits.

But Kinder Morgan's earnings still came in well below estimates. That's likely because the company is experiencing weaker than expected volumes at Eagle Ford, which impacts its natural gas and products segments. During the conference call, Kinder Morgan's management said that oil and gas production in the region has already fallen 28% and 15% respectively from its peak. Persistent weakness at Eagle Ford, as well as other regions, amid soft energy prices will likely continue to drag the natural gas and product pipelines earnings. Project delays, such as those on Elba Express and SNG pipeline expansion, could further aggravate the situation. This also sets up a grim tone for other pipeline operators who are due to report their results in the coming weeks.
But the important thing is that Kinder Morgan is enjoying the benefits of having largely fee-based cash flows. The management says that they expect to generate "excess cash sufficient to fund its growth capital needs without needing to access capital markets" - and I believe this looks achievable.
Although the profits have come under pressure, the company continues to generate fairly stable levels of DCF. In the previous quarter, for instance, Kinder Morgan's earnings dropped 27%, but the DCF before certain items was largely flat (a drop of less than 1%). This easily covered dividends of $279 million, resulting in $954 million of cash in excess of payouts. If the company continues to report the strong level of cash flows in the coming quarters, then it should be able to fully fund the dividends and the reduced capital budget. According to my rough estimates, if Kinder Morgan's distributable cash flows drop by 10% sequentially over the next three quarters and ends up with annual DCF of $4.24 billion, which is significantly below the company's guidance of $4.7 billion, then it would still generate enough cash to fully fund its dividend and growth capex.
Moreover, Kinder Morgan has slightly reduced the future DCF and EBITDA estimates, but it remains committed to reducing its leverage. The company continues to expect to reduce the debt-to-EBITDA to 5.5x from 5.6x at the end of last month. It appears that the negative impact of reduced DCF guidance was completely offset by the cut in growth capex. In fact, I believe the significant reduction in growth capex, as compared to the slight drop in DCF guidance, will only make it easier for Kinder Morgan to hit its leverage target. The reduction in leverage metric will likely have a positive impact on Kinder Morgan's valuation which has been weighed down by debt.
Therefore, despite the negative headlines around huge earnings miss, Kinder Morgan is actually in a good position to ride out the storm while improving its financial health, without any support from debt and equity markets.
Disclosure: I/we have no positions in any stocks mentioned, and no plans to initiate any positions within the next 72 hours.
I wrote this article myself, and it expresses my own opinions. I am not receiving compensation for it (other than from Seeking Alpha). I have no business relationship with any company whose stock is mentioned in this article.