Sporting goods is a growing, but highly competitive industry. U.S. sales for sporting goods are estimated to have been almost $65B in 2015, up from $55.5B spent in 2011. This is a 17% increase in the last five years. The market for sporting goods retailers is also highly fragmented. In 2014, there were 20 companies that sold $1B or more of sporting goods products, and there are numerous other specialty and local stores that generate a considerable amount of sales.
For the first quarter of 2016, sporting goods industry sales rose 8.2% vs. the first quarter of 2015. This is a significant catalyst for companies in the sector, and sporting goods retailers should see the most immediate benefits from growth in the industry. We're now expecting that firms such as Dick's Sporting Goods (NYSE:DKS), Big 5 Sporting Goods (NASDAQ:BGFV) and Hibbett Sports (NASDAQ:HIBB) will likely beat Wall Street consensus earnings estimates due to the strength of the first quarter selling season. Companies like Cabela's (NYSE:CAB) and Sportsman's Warehouse (NASDAQ:SPWH) may also report better-than-expected sales.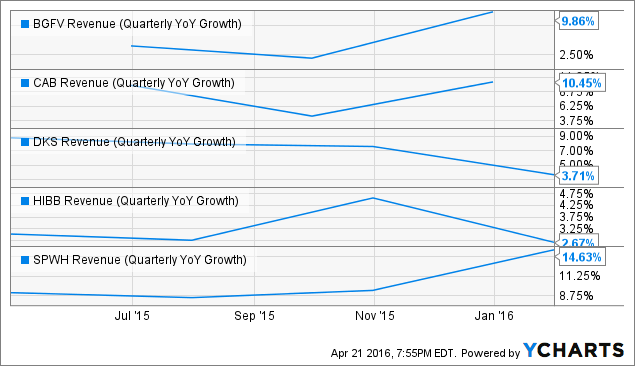 BGFV Revenue (Quarterly YoY Growth) data by YCharts
Interestingly, the first quarter also saw two sporting goods retailers collapse into bankruptcy. There are plenty of opportunities for companies like Dick's Sporting Goods, Big 5 Sporting Goods and Hibbett Sports to grow, continue to squeeze out weaker competitors and build market share. The recent bankruptcies of Sports Authority and Sports Chalet created an immediate opportunity to expand in local areas previously dominated by a competitor.
Dick's will likely purchase/lease many former Sports Authority locations and install the Dick's Sporting Goods retail format. In other communities where a Dick's and/or Big 5 and a Sports Authority or Sports Chalet were already located, look for the Dick's and/or Big 5 store to enjoy increased traffic as the competitor's operation liquidates its inventory. (Some Sports Authority locations may survive the bankruptcy, but more often than not, the store will be shuttered. Sports Chalet is being entirely liquidated.)
We believe that the bankruptcy of Sports Authority represents a significant catalyst for Dick's Sporting Goods with minimum investment required to reap the rewards. As long as Dick's management team carefully selects which Sports Authority locations to occupy, the company should enjoy meaningful revenue growth. Competitors will, of course, be looking for similar advantages. Big 5 Sporting Goods, meanwhile, will especially benefit from the collapse of Sports Chalet because both firms were focused on the Western U.S.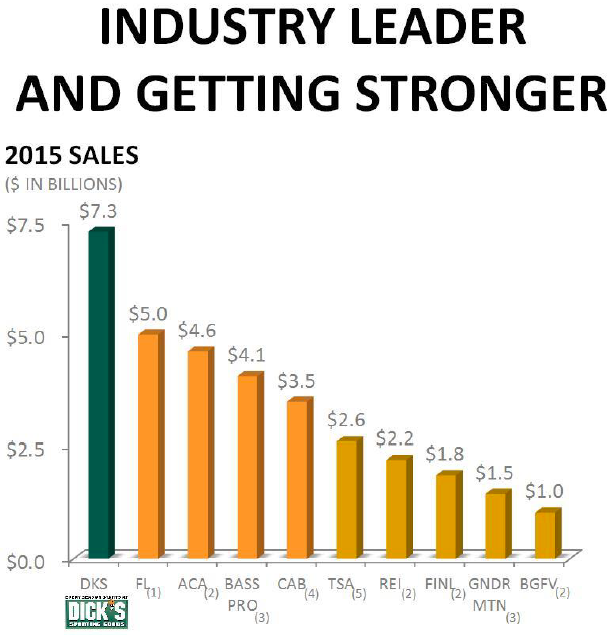 Reference: Dick's Sporting Goods. 3/13/2016. Bank of America Merrill Lynch 2016 Consumer and Retail Tech Conference presentation.
We're forecasting that sporting goods industry sales will continue to show y/y improvement while slightly diminished competitive pressures will benefit the remaining sporting goods retailers. Once the bankrupt Sports Authority and Sports Chalet stores sell off their inventories, Dick's, Big 5 and Hibbett will pick up the slack. Market share has previously been very difficult to steal in this sector, and we believe that retailers will scramble to obtain customers who previously patronized Sports Authority and Sports Chalet. Of the companies fighting for increased market share, we believe that Dick's is in the best position to seize the opportunity. Why? Let's talk about the balance sheet!
Dick's maintains a conservative capital structure with no long-term debt. With the company's aversion to credit, we can't help but wonder if Steve Jobs came back to take over the sporting goods sector. Jokes aside, Dick's has a long history of avoiding any significant debt. This isn't a new focus for the firm. In our conversation with the company's Director of Investor Relations, Nate Gilch, we learned that Dick's has no plans to add leverage.
M&A could drive the pursuit of debt, but we don't see any significant opportunities on the horizon. (Yes, we're aware of the ongoing rumors that Dick's will buy Cabela's, but we don't buy it. Dick's has its own Field & Stream brand and doesn't seem dedicated to a major expansion into the outdoor gear market.) We believe that Dick's balance sheet is highly appealing for investors and offers flexibility for future growth needs. This flexibility will enable Dick's to acquire desirable real estate from Sports Authority without adding significant leverage.
We're not ready to recommend that investors leap into any, and every, sporting goods stock, but we do see some opportunities in the sector. With careful security selection, you should be able to generate alpha for your portfolio. We invite you to subscribe to our Sporting Goods Monitor premium research service for detailed company analyses. Our 61% win rate should give you confidence in our trading suggestions!
Disclosure: I/we have no positions in any stocks mentioned, and no plans to initiate any positions within the next 72 hours.
I wrote this article myself, and it expresses my own opinions. I am not receiving compensation for it (other than from Seeking Alpha). I have no business relationship with any company whose stock is mentioned in this article.