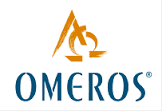 Omeros (NASDAQ:OMER) is consolidating over the last few weeks after bouncing more than 50% from late February lows. The company is increasing its focus on driving higher Omidria sales this year. I wrote at length about Omidria and its progress and growth prospects in my previous articles and my medium-term thesis is based on its rapid market adoption and robust sales growth. On the other hand, Omeros' pipeline seems largely neglected. OMS721 has the potential for accelerated approval and OMS824 has resumed phase 2 trials in Huntington's and may soon resume phase 2 trials in Schizophrenia. I listened to the company's presentation at Needham's Healthcare Conference last week and am now even more convinced about its long-term upside potential. The company plans to advance several products into the clinic in 2017 and there are some interesting candidates with significant unmet need and with large addressable markets.
Quick update on Omidria
I wrote about Omidria at length in my previous articles and will just provide a quick update after the company's presentation at Needham's Healthcare Conference last week:
Management delivered a lengthy presentation on Omidria's efficacy and safety. I have nothing to add here and still believe that Omidria's uptake should accelerate based on positive surgeon feedback and the increasing evidence of its efficacy and safety in physician-conducted studies.
Expanding reimbursement coverage based on the company's OMIDRIAssure program.
Increased sales push through an expanded sales team which has moved in-house as of January 1, 2016. Precision Lens was hired to cover the "Square States" - they are active as of late Q1. I expect the growth based on these two initiatives to pick up in Q2 and beyond.
EU expansion - it's long overdue - the company plans to sign one or more partnerships in the EU, but the timeline is still not specific. This could be a significant catalyst for the stock, especially if the partner is a large and established player in the EU and if milestone payments are significant enough to offset the still existent fear of dilution.
The company noted that it expects to become cash flow positive "later this year" - which represents a slight change from the earlier "mid-year" statement. I have this baked into my expectations and still think that the current analyst consensus is conservative and that estimates should rise after the Q1 report.
Pipeline remains largely neglected
One has to wonder about the efficacy of public markets when looking at Omeros' valuation. This is especially true if we compare Omeros' market cap, product portfolio and pipeline to some pre-clinical stage biotech companies. For example, Editas (NASDAQ:EDIT) has a market cap of $1.4 billion and no clinical stage candidates (although it has a very promising technology for gene editing) while Omeros' market cap is just north of $500 million with the company having a marketed product with rapidly growing sales (Omidria), one candidate in phase 3 trials and in several phase 2 programs (OMS721), one product with one phase 2 trial and potentially one more (OMS824) and several early stage and pre-clinical candidates with large addressable markets.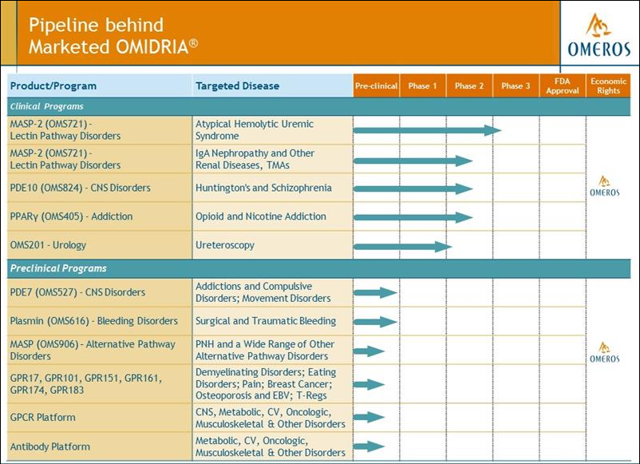 Click to enlarge
Source: Omeros presentation
The most important things to consider with OMS721 ('721 for convenience) and OMS824 ('824 for convenience) are:
'721 is a potentially safer alternative to Alexion's (NASDAQ:ALXN) Soliris in aHUS. The potential advantage that might lead to accelerated approval is Soliris' failure tied to C5 polymorphisms which interfere with its binding and make it less effective. '721 is targeting MASP 2 and has no issue with C5, which might make the drug very attractive to these patients. '721's subcutaneous dosing versus Soliris' intravenous dosing is another potential advantage. Aside from the aHUS phase 3 trial, Omeros is also conducting phase 2 trials in other TMAs and has recently started patient dosing in corticosteroid-dependent renal diseases - specifically, patients with corticosteroid-dependent IgA nephropathy, membranous nephropathy, C3 glomerulopathy and lupus nephritis. Treatments that improve kidney function, slow disease progression and/or avoid long-term corticosteroid use would meet a significant unmet need. If the trial outcome is positive, Omeros intends to request breakthrough therapy designation from the FDA and to start a phase 3 program that meets the accelerated approval requirements. '721 has significant potential based just on aHUS and peak sales estimates are as high as $900 million. If successful in other TMAs and in IgA nephropathy, '721 could generate more than $2 billion in peak sales given the higher incidence for other indications. Little or no value has been assigned to '721 despite solid clinical data and a promising safety profile.
'824 - after the clinical hold, the phase 2 trial for Huntington's has resumed but the company has not yet submitted the protocol to the FDA to re-initiate the schizophrenia trial. '824 inhibits PDE10 and may improve motor and behavioral abnormalities and cognition in Huntington's and may have additional positive effects on some Schizophrenia symptoms, such as hallucinations and the flat effect. '824 may also address limitations of current treatments for both diseases: avoiding weight gain, hyperlipidemia, the risk of sudden cardiac death, depression and suicidal ideation. '824 has an orphan drug and fast track designation for Huntington's. At this point, I think that no value has been assigned to this candidate, and I consider it a cheap call option for long-term investors.
The third clinical stage candidate is OMS405 ('405 for convenience) and is targeting opioid, nicotine and alcohol addiction. The New York State Psychiatric Institute has completed two phase 2 clinical trials related to this program and the data and relevant information will be published at a later date. Given the limited information about these trials and the limited space granted to this program in the company's 10-K, it does not seem that this is a promising candidate right now, but there is no risk for shareholders here, just the upside since Omeros is not conducting these studies. '405 is essentially a free call option, but I would not assign any value to it at this point.
Some candidates should advance to the clinic in 2017
In addition to the clinical stage candidates, Omeros has some promising pre-clinical candidates. Several candidates should advance to the clinic in 2017:
OMS527 - program based on the links between PDE7 and addiction or compulsive disorders. The company is initially targeting cocaine and nicotine addiction. I have no meaningful information about this candidate, but it is targeting an area in need of more effective solutions.
OMS616 ('616 for convenience) for trauma and cardiovascular surgery. This could be an interesting product. '616 comes from the company's plasmin program - it's a novel "antifibrinolytic agent for the control of blood loss during surgery or resulting trauma as well as for other hyperfibrinolytic states" (liver disease for example). A similar product - Trasylol, was already on the market but was withdrawn due to safety concerns in 2008. Trasylol was a very potent plasmin inhibitor, but was non-selective and has shown to inhibit kallikrein and Factor XIa -their inhibition can increase bleeding. '616 also inhibits plasmin, like Trasylol, but does not inhibit kallikrein or Factor XIa and the agents are derived from human protein (Trasylol was bovine-derived) which may reduce immunological side effects. Based on these observations, I think that '616 has significant potential - Trasylol was a $300 million a year drug before being pulled off the market. A safer and potentially more effective product could generate at least the same annual sales as Trasylol did in the 2000's, and likely more.
OMS906 ('906 for convenience) is the company's MASP-3 inhibitor for the "treatment of disorders related to the alternative pathway of the complement system" and the company is "optimizing potent and functionally active antibodies in preparation for scale-up of one or more clinical candidates." '906 could potentially treat various diseases and conditions, including PNH (Soliris' first indication), TMAs (aHUS, HUS, TTP), asthma, AMD, traumatic brain injury, dense deposit disease and several others. '906 could be another Soliris-like asset for Omeros in the 2020's.
In addition to these three pre-clinical candidates, the company also has a GPCR platform. GPCRs are the largest family of drug targets for therapeutics - it is estimated that 40% of all drugs sold worldwide target GPCRs. Omeros intends to target several areas with significant unmet need: metabolic and cardiovascular indications, oncology indications and CNS disorders.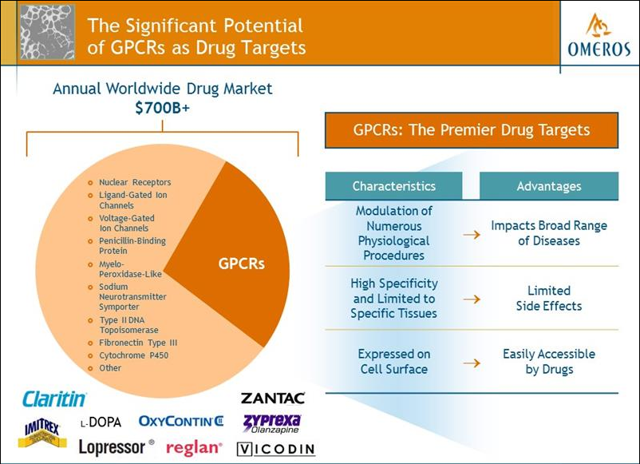 Click to enlarge
Source: Omeros presentation
I wouldn't expect much in terms of shareholder value creation from these candidates in the near-term, but positive data in the following years could validate the company's platform and lead to meaningful long-term upside.
Both Omidria and the pipeline could unlock significant shareholder value over the next few years
Given the current market cap, it seems that the market is neglecting the company's pipeline which leaves room for significant gains if/when we see positive trial data for '721 or '824. There are also several pre-clinical candidates that have "home run" potential - getting just one of these products into the market could result in solid gains over the next 10 years.
My base case model for Omidria translates into $23.50 per share and '721's base case value is $13.50 per share, which is almost equal to the current share price. If approved, '721 could add $8 per share at the low end of the range and up to $16 at the high end of the range - and this is just for the aHUS indication.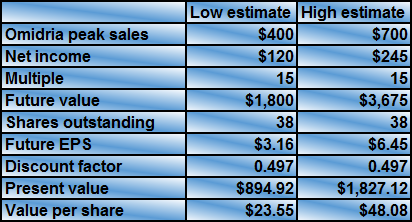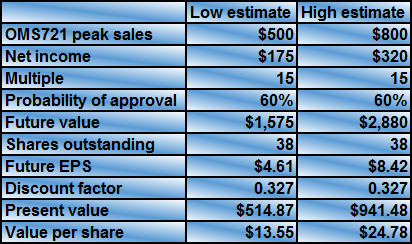 Source: Author's estimates and calculations
The combined value of just these two assets at the low end of my estimate range is $37 per share, which is slightly below the analyst median target of $38. The bullish present value of these two products is $73, and you can see what the most bullish analyst target ($75) is most likely based on. I think that most analysts are assigning value just to Omidria and '721, which leaves room for even higher long-term value creation based on the success of other pipeline candidates. I have accumulated shares over the last few months and intend to buy more and hold for the long-term. Omeros is my top pick for 2016 and perhaps my top long-term pick and has the largest weighting in the Growth Stock Forum's Long Term Growth Portfolio.
Conclusion
I believe that Omeros is one of the most attractive biotech stocks. The upside potential in the following years is significant and I believe that most of the risks are largely priced in. Investors are likely fearful of additional dilution, which I would not exclude completely right now, but the actual risk is probably in the 10% to 15% range - which would reduce my base case price target to around $30 and the bullish case to the low $60's. Omidria's ramp should continue throughout 2016 and the company should become cash flow positive later this year. Development risks are also considerable here, but the current valuation does not reflect Omidria's true value and I think that there is little or no value assigned to the pipeline, which leaves room for substantial outperformance in the long-term. There are several catalysts that should drive Omeros' share price higher over the next 12 to 24 months:
Quarterly results which should show a continued strong uptake for Omidria.
EU partnership for Omidria.
'721 phase 3 data in 2017 and accelerated approval.
Resuming the '824 phase 2 trial for Schizophrenia and data from the '824 phase 2 trial in Huntington's.
Several candidates entering the clinic in 2017.
Disclosure: I am/we are long OMER.
I wrote this article myself, and it expresses my own opinions. I am not receiving compensation for it (other than from Seeking Alpha). I have no business relationship with any company whose stock is mentioned in this article.
Additional disclosure: This article reflects the author's personal opinion and should not be regarded as a buy or sell recommendation or investment advice in any way.