San Juan Royalty Trust (NYSE: SJT) is an interesting way to gain from further price increases in natural gas. The price of natural gas has rallied from its low a few weeks ago and could increase even more in the near future as excess supply is consumed and exported.
SJT is a grantor trust that receives 75% of the net overriding royalty interest of the underlying properties. It should not be confused with limited liability companies and limited partnerships. The trust has no employees and it cannot buy additional properties. Almost all the income comes from natural gas and less than 5% from oil. They do not hedge and prices are local spot prices. Cash distributions are paid monthly, which are lagged behind production 3 months. SJT does not have debt. The natural gas production is from an affiliate of ConocoPhillips (NYSE: COP) and the gas is sold mostly to Chevron (NYSE: CVX). About 38% of production is coal steam natural gas, which is priced slightly lower than conventional gas.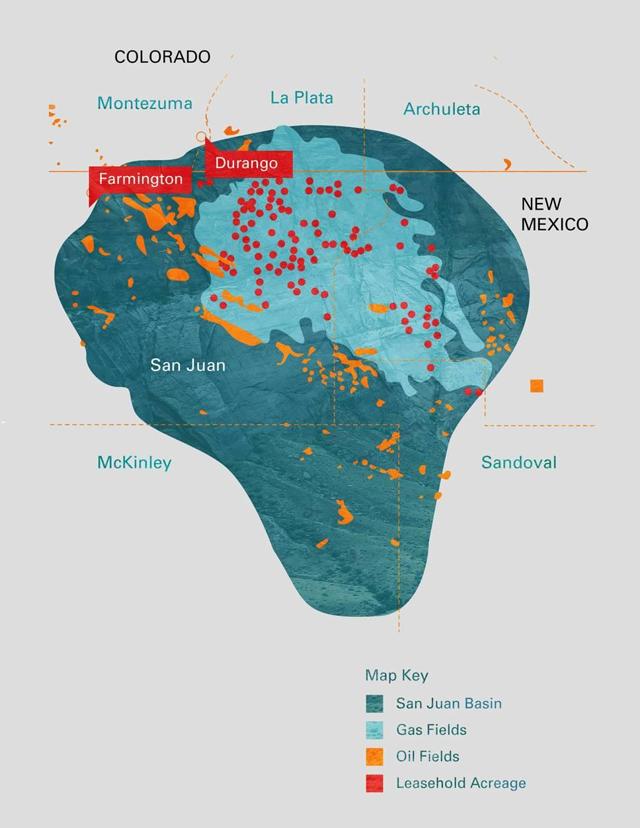 Click to enlarge
Royalty Income
(click to enlarge)

Click to enlarge
On Tuesday April 19 the price of natural gas surged because of warm weather outlook would require higher electrical usage by air conditioners and reports that LNG exports are not just token amounts. Cheniere Energy Inc.'s (NYSE: LNG) Sabine Pass expanding export of LNG seems to be impacting investors forecasts for natural gas. There were positive reports on Bloomberg Terminal about increased LNG shipments. With the U.S. dollar weakening over the last few weeks, LNG has become more competitive in the international market.
NG price (Henry Hub)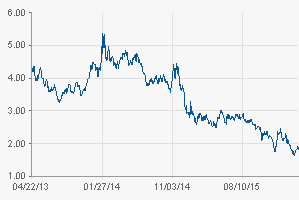 The U.S. Energy Administration in their recent report forecasted that marketed NG production would increase to 79.64 billion cubic feet per day in 2016 and to 81.35 in 2017 from 78.94 in 2015. The same report forecasted that electric power plants would increase NG usage to 27.54 in 2016 from 26.50 in 2015 and decrease in 2017 from 2016 to 27.17. Even if the price of NG increases compared to the price of coal, I doubt that power plants will decrease NG usage because environmentalists will protest. The environmentalist groups now feel empowered since they assert that they helped bankrupt all the large U.S. coal miners and are going to be very aggressive in making sure that power plants that switched from coal to gas don't switch back. I would expect usage of gas by power plants to increase in 2017.
The continued weakening of the U.S. dollar over the next two years, after years of strengthening, could help LNG exports. In addition, a weaker dollar could improve domestic industrial production, which could also help the demand and price of gas.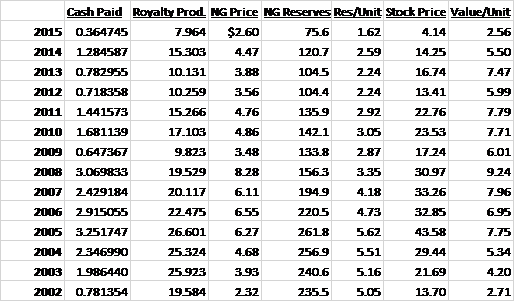 Stock price is Y/E
Value/Unit is the value of the reserves per unit using Y/E stock price
(Note: oil is not included because it only is nominal amount)
Some investors focus on the reserves in their analysis of placing a value on natural gas producers. The problem with reserves is that they are highly dependent on current prices. Low prices would decrease reserves of gas that has a high cost basis to produce and would not be included in the reserve figure. However, if the prices increase, the reserves would be increased. In addition, reserves seem to under estimate potential future production. Total NG royalty production from 2002 through 2015 was 245,402 mcf which is actually greater than 2001 year-end reserve figure of 176, 815 mcf and there were still reserves at year-end 2015.
As can be seen from the above table, investors are valuing the current reserves per unit at a historical low amount. When the latest reserves were estimated at year-end 2015, NG was trading in $2.40-2.50 range, which is above current spot prices of $2.07. It is possible that current reserves estimates could be even lower. However, I am expecting a continued increase in NG prices.
Some of those that follow SJT are incorrectly using the cost of production figures. Those numbers include capital expenditures for the year and not just the direct cost of production. The trust does not follow GAAP accounting and capital items are expensed. These expenses very widely from year to year. They were $21.5m in 2013, $6.5m in 2014, and $12.8m in 2015. The estimated capital expenses for 2016 are only $4.8m, which would have short-term positive impact on cash distribution.
On 4/19/16 a cash distribution $0.003906 per unit was declared for a total so far this year of $0.042241. Cash distributions for the remainder of the year will reflect current low NG prices, even with lower capital expenses. In 2017 I would expect much higher cash distributions resulting from higher NG prices.
Since it is impossible to accurately predict long-range weather conditions, price forecasting for NG is highly speculative. It is, however, unlikely that NG prices will continue at their current very depressed levels because while the prices may cover variable costs, they do not cover the total cost of production for operations.
Conclusion
SJT is a pure play in gas without the large fixed costs of management and other over-head expenses. There is less financial risk because there is no debt. With expended LNG exports, continued switching from coal to gas, and less drilling I expect NG to continue to increase. I would consider SJT a long-term buy.
Disclosure: I am/we are long SJT.
I wrote this article myself, and it expresses my own opinions. I am not receiving compensation for it (other than from Seeking Alpha). I have no business relationship with any company whose stock is mentioned in this article.