As we've seen the precipitous drop in oil prices damage the profits of oil and gas companies and drive many into bankruptcy, a recent trend of prepackaged bankruptcies in 2016 -- and a trend of recent hedge fund investing -- could indicate anticipation of a price floor and turnaround.
Prepackaged Debt-to-Equity Swaps
A prepackaged bankruptcy occurs when the debtor agrees to a plan of reorganization with its lenders to save big money in legal, financial, and accounting fees during the bankruptcy process. Interestingly, a number of recent oil and gas prepackaged filings have included debt-to-equity swaps.
From a high-level perspective, a debt-to-equity, instead of debt-to-cash, transaction indicates that debt holders believe there is more value in the company's continued operations and their ownership of said company, than liquidating the company's assets to receive a fractional return on their original investment and reinvesting that return elsewhere. That suggests an anticipation of a price floor and potential rebound sooner rather than later.
Examples
Many of these debt-to-equity reorganizations involve significant debt and recapitalization. Recent cases include the following:
As a result, regardless of the percentage return that a liquidation would have provided, these equity firms and debt holders are demonstrating consistent belief in the future profitability of these companies.
Macro Supply Slow Points to Oil Price Rebound
The EIA published a report projecting non-OPEC oil production to decline by 0.4 million b/d in 2016, the biggest reduction in over 25 years. A pullback in supply along with an EIA projected increase in demand is a recipe for higher oil prices, all other things being equal, feeding bullish sentiment.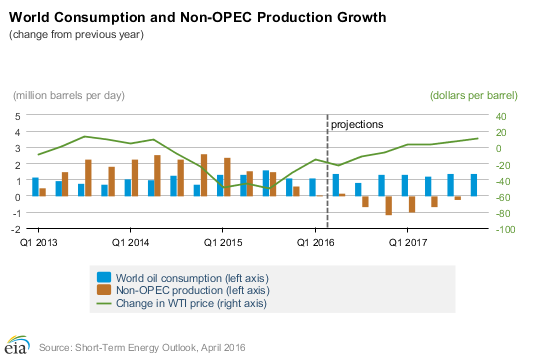 With oil companies continuing to decrease production and in a number of cases file for bankruptcy, a reduction of supply is expected to last into the next year. Although a deal to freeze production was not reached this past weekend, such a deal remains a possibility. That's especially true as Saudi Arabia's Deputy Crown Prince Mohammed bin Salman plans to transform the kingdom's economy, including potentially taking Saudi Aramco public.
Money Managers Are Also Acting Bullish
Private equity funds and bondholders are not the only players bullish on oil. Fortune reported that "a near-record number of bullish bets on increasing oil prices" have been placed by hedge funds and money managers recently. Hedge fund PVE Capital LLP as turned bullish in the past two weeks, explained founder Gennaro Pucci. Pucci goes on to cite favorable valuations and the belief that oil has found its price floor between $30 and $40.
On March 22, 2016, almost $579 million barrels were held in a net long position in the three largest crude oil futures and options contracts. Hedge funds alone have more than doubled their long positions in oil as well since the end of 2015. So, whether investing in companies or the commodity itself, big players are starting to bet big on oil.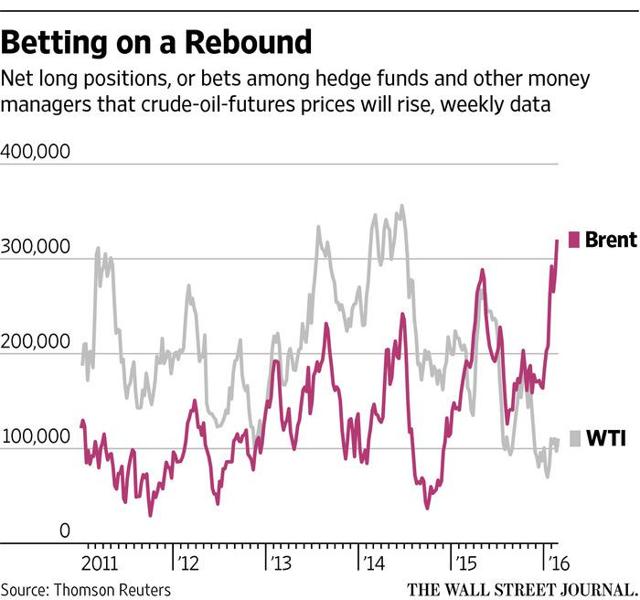 Conclusion
These debt-to-equity swaps will result in the continued investment and operations of these oil companies. Furthermore, the fact that leading equity firms such as Oaktree Capital Management and Wells Fargo Equity Capital are involved in these transactions lends credibility to this strategy. Personally, I'm still long in oil and believe it will take at least two years for a significant and sustained price recovery. But, taking a clue from the professionals, it might be time to start investing in your favorite oil company again -- especially dividend payers such as Exxon Mobil (NYSE:XOM) and Chevron (NYSE:CVX) to help tide you over.
Disclosure: I/we have no positions in any stocks mentioned, and no plans to initiate any positions within the next 72 hours.
I wrote this article myself, and it expresses my own opinions. I am not receiving compensation for it (other than from Seeking Alpha). I have no business relationship with any company whose stock is mentioned in this article.
Editor's Note: This article covers one or more stocks trading at less than $1 per share and/or with less than a $100 million market cap. Please be aware of the risks associated with these stocks.