Valero (NYSE:VLO) is heading into the summer shortly for which investors and analysts typically expect higher margins to be present. However, refined products stockpiles continue to build over the five-year average, with diesel fuel being particularly concerning. I'm primarily focused on these inventories as it relates to Valero's equity performance and advise investors to wait before buying Valero until the inventories retract.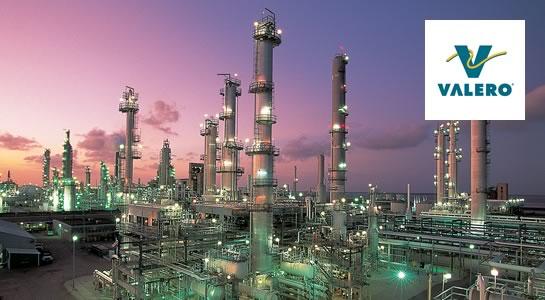 Source: Small Cap Network
What Can The Gulf Crack Tell Investors?
The crack spread in April has spiked up from $9/barrel to its current level of $11.53/barrel. VLO, on the other hand, has seen a less than ideal April, falling about 5.4% so far. I've observed that the Gulf crack typically peaks, in any given year, at some point between early April and late August, reflective of the demand strength from the summer gasoline season. The pickup in demand for gasoline is an expectation and unfortunately can't actually help Valero's stock as much as it helps the actual company.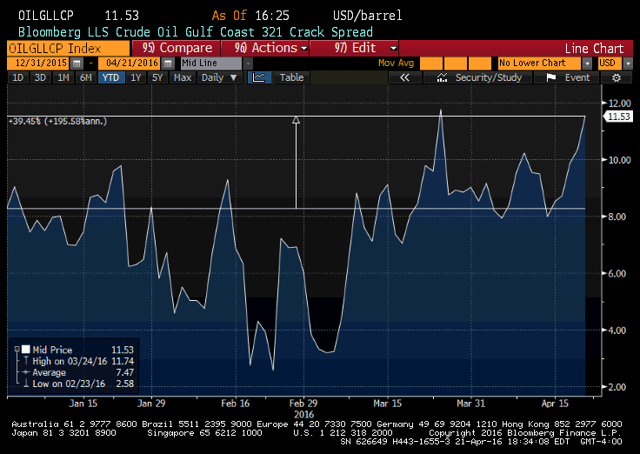 Click to enlarge
Source: Bloomberg
So, where is the Gulf crack headed in Q2 and through the summer season? Based on historical data, the spread should peak within the coming months. This is great for Valero's bottom line when it comes time for the Q2 earnings report, but not positive for 2H 2016 as it will be on a normalized downtrend.
The ability to generate a high volume of output shouldn't decrease either. There's no shortage of crude oil, with the U.S. still producing a high volume of crude, currently at 8.9 million bopd. The more important figure, for Valero's interest, is the record crude inventory at nearly 540 million barrels. If crude supply increases or reverts back to Q4 levels when the U.S. when was producing above 9.1 million bopd, then it's easy to expect that Valero's revenue is going to continue to be stifled. Crude production is about 1.6 million bopd above its five-year average. The bottom line would, in that case, likely be stronger, if the Gulf crack persists above the $10/barrel level.
Investor Takeaway
Not only should investors continue to monitor the Gulf crack spread but also refined product inventories. Below is the net production per day and inventory data in thousands of barrels. If these inventories are sustained above the five-year average and continue to increase, as they have done, then I fully expect VLO to see a downtrend.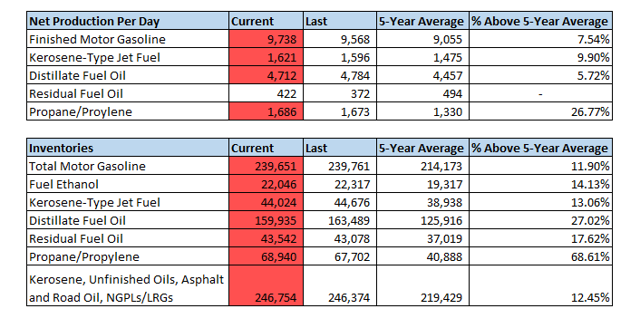 Click to enlarge
Source: Author, Derived From EIA Inventory Data
What's really shocking about this data is that every category of refined product inventory is up double digits over the five-year average. Propane, while not a massive revenue generator for Valero, is up an astonishing 68%. I believe we're likely to see the total motor gasoline inventory retract down to its five-year average as the summer demand season kicks up, but that's not what investors should be focusing on in this graph.
The continued demand weakness in diesel is what has me most concerned about VLO's performance at the moment. Distillate fuel oil stockpiles are 27% above their five-year average and it's going to take a significant amount of time for balance to reset. Thus, VLO's equity won't be reflecting strength from diesel any time soon.
Conclusion
The company will report earnings on May 3, which is just under two weeks away. I'm expecting the company to post higher revenues than Q4 2015, given the recent strength in refined product prices. Valero has the lowest refining cash operating expenses per barrel of throughput against peers, which will aid their margins in the upcoming Q1 earnings report. I'm advising investors to wait on Valero, but given its near 10% decline from March, the risk-reward scenario is slowly becoming more attractive for the long-term.
Disclosure: I/we have no positions in any stocks mentioned, but may initiate a long position in VLO over the next 72 hours.
I wrote this article myself, and it expresses my own opinions. I am not receiving compensation for it (other than from Seeking Alpha). I have no business relationship with any company whose stock is mentioned in this article.