On 21/04/16, Under Armour (NYSE:UA) announced its 1Q 2016 earnings, subsequently popping by as much as 10% in pre-market trading, closing at $46.96 with a 6.87% gain on the day. The company saw net revenues grow 30% and net income grow 64% YoY. UA has now experienced above 20% growth in net revenues in the past 24 consecutive quarters.
EPS grew 33% to $0.04 per share compared to $0.03 per share for the year-ago period. This beat analysts' expectations of $0.02 per share. An earnings beat should have been expected. Since 2011, UA has either met or exceeded analysts' earnings estimates every quarter.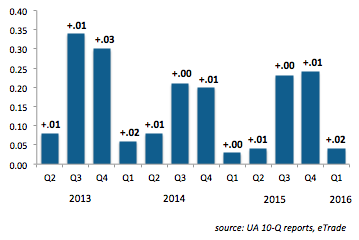 Growth was led by the company's biggest segment, apparel, which grew 20% or $111 million YoY, but was followed closely by a gigantic 64% growth in footwear, adding $103 million in revenue, largely driven by Golden State Warriors star Stephen Curry's signature shoes. The company released the Curry 2 sneaker on October 24, 2015, and has subsequently released further iterations such as his birthday edition and the Blackout edition for the playoffs. Being at the top of the Western Conference during the regular season and now doing well in the playoffs should help push these sales. Growth in the footwear segment should continue as the Warriors progress through the playoffs and the company releases the Curry 2.5 signature shoe on July 1 and the Curry 3 in the fall.
The company's footwear division has grown from nothing in 2005 to over 25% of the company's net revenues this quarter, and we expect this to growth to continue with Curry's success on the court.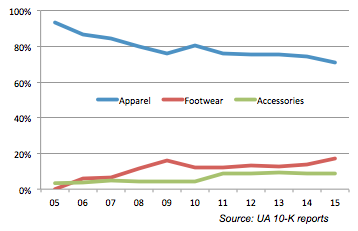 The company has also been boosted by the athleisure trend which continues to grow, having increased 42% to $270 billion since 2008, according to Euromonitor and Morgan Stanley, and is estimated to continue to grow by more than $83 billion by 2020, helping the sector as a whole and Under Armour's apparel segment in particular.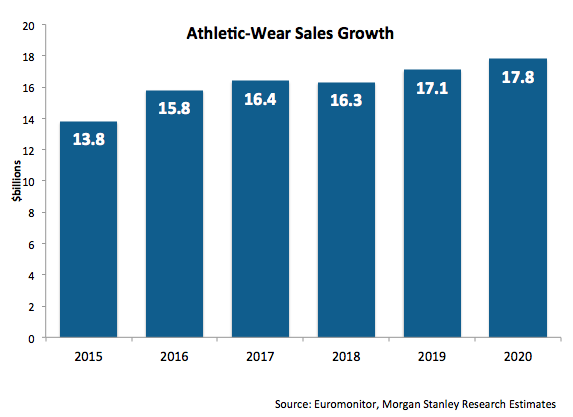 Finally, during Q1 of last year, the company experienced setbacks, with a harsh winter and a port strike hurting sales in the quarter. The company did not experience the same this year, which helped it improve its YoY performance.
"Our North American business experienced some disruptions from the West Coast port delays and weather-related store closures during the period, which we estimate had a 1% to 2% cumulative impact on overall net revenues." - UA COO and CFO Brad Dickerson from the 1Q15 conference call.
Recently, there have been a few warning signs from analysts. Morgan Stanley analyst Jay Sole had previously downgraded the stock and reiterated his underperformance rating prior to the earnings announcement, citing SportScan data that suggests UA is losing market share in the apparel segment, specifically in women's apparel. While the company did not address these points specifically, the 20% growth in apparel sales speaks for itself. Furthermore, UA Chairman and CEO Kevin Plank mentioned that its women's e-commerce business, a part of its direct-to-consumer segment, is growing at a faster rate than its men's business in this segment, and the company expects its women's business to surpass a billion dollars in revenues this year.
This shouldn't have been surprising to UA's investors. In the company's fourth-quarter earnings call, Barclays Capital analyst Matthew McClintock inquired about SportScan data as well. The outgoing COO and CFO Bradley Dickerson responded:
"…it can be challenging looking at our business relative to something like SportScan where that data is only - is capturing actually less than 40% of our business specifically in Q4. It's missing key data inputs like our Direct-to-Consumer business, our International Business, and it's actually extrapolating some of our key accounts that are pretty large like Dick's (NYSE:DKS) and Foot Locker (NYSE:FL)."
In further good news for UA bulls, the company also raised its outlook for the year with FY 2016 net revenues estimated to reach $5 billion and FY 2016 operating income to reach between $503 million and $507 million with a growth rate of 26% and 23% to 24% YoY respectively. Further optimism may be found in the company's international expansion, which saw a 56% YoY increase in net revenues. The company is expanding rapidly in China and is in early growth stages in Latin America.
While the quarter mostly held positive news, there were some points for concern. Gross margins decreased from 46.9% to 45.9% YoY, largely due to higher liquidations and foreign currency exchanges. Jay Sole of Morgan Stanley pointed out in his report that the company may be switching its strategy from a premium retailer to one with heavy discounts. While the lower margins may give evidence to this, UA CFO Chip Molloy said that these margins should remain stable and were caused mostly due to liquidation at the end of the year. Further negative news was the large increase in the company's accounts receivable increasing 43% YoY as well as inventory increasing 44% over the same period. UA CFO Chip Molloy claims that this is driven mostly by the company's strategy to improve service levels for its wholesale customers by improving customer fulfillment rates to boost North American sales. It could, however, lead to excess inventory which would need to be sold later on at heavy discounts, further weakening margins.
Overall, the quarter was positive for the company, showing that it can continue to grow at a significant pace.
Disclosure: I am/we are long UA.
I wrote this article myself, and it expresses my own opinions. I am not receiving compensation for it (other than from Seeking Alpha). I have no business relationship with any company whose stock is mentioned in this article.