A family member of mine is about to have a baby within the next couple weeks. I want to welcome that baby into the world with a financial gift. Cash? Yeah right, cash is an awful long term investment with inflation. Bonds? No thanks, have you seen their pitiful yields? Stocks? Yes! I'm a stock jock at heart. I could select a low cost index fund but I want to roll the dice, life is about chances and beating odds. Plus there is an opportunity to teach him about investing along the way. Baby is getting his first stock.
So what's the best stock to gift a newborn?
Here are some parameters I want to put on my search:
1. I'm not rich. I want to gift the baby about $500. That would obviously disqualify stocks like Berkshire Hathaway (NYSE:BRK.B) or even Alphabet (NASDAQ:GOOG). If nominal stock price is too high, I might not get to invest all the money. For example if it's a $400 stock, then I could potentially have $100 just sitting there vs if it was a $50 stock the baby would have 10 shares and be fully vested. (I do realize there are ways to buy fractional shares, but I'm keeping this simple.)
2. I have an 18+ year time horizon. Hopefully this stock has provided some solid return on investment and on the baby's 18th birthday he can cash out for college, a trip, a car, a robot OR let it keep compounding. It's up to him, hopefully my investment preaching can rub off and he will let that money compound for decades.
3. An American company — for tax efficiency. This would disqualify two of my foreign favorites, Nestlé (OTCPK:NSRGY) and Novo Nordisk (NYSE:NVO).
4. Exposure: Owning a piece of the world around you is a powerful thing. I want a product that he can get excited about which can pay educational dividends. Owning Disney (NYSE:DIS) or McDonald's (NYSE:MCD) would be different for a child than owning Johnson & Johnson (NYSE:JNJ), an insurance company, or an oil company.
5. Dividends: I'm biased to companies that pay dividends, particularly dividend growth stocks. Discussing "your dividends bought you this happy meal" might be a great conversation to have as a child, and in the teenage years we can talk about the power of compounding dividends.
The Candidates
The candidates I've chosen are unscientific; they are stocks I own or follow. They are 7 companies that fall into two major categories: DGI stocks and growth stocks.
McDonald's: When foreigners think of America, McDonald's, Coca-Cola and Hollywood are stereotypically the first things that come to mind. McDonald's has everything I look for in an investment. They have paid and raised their dividend for 40 straight years. They own some of the best Real Estate in the world in terms of foot traffic. They have a strong brand, yes there has been a health awakening in this country, but people will still be eating fast food in 18 years. They have had some growth challenges and the new CEO is working on executing his turn around plan.
Current valuation is stretched in my opinion with a 3.82% TTM Earnings yield. It might take a couple years to grow into their valuation but shares will surely trade much higher in 18 years.
Coca-Cola (NYSE:KO): Coca-Cola would be another fine choice. A couple concerns I have are their recent growth trends, 2016 will probably be the 3rd year in a row of (slightly) shrinking earnings... and valuation with a 3.81% TTM earnings yield. I'm absolutely sure shares will be worth a lot more in 18 years, people around the globe will still be drinking soda, juice, tea, water etc.
Disney: Disney has the same "Americanism" as McDonald's or Coke, only their earnings have been growing. In 2016 their earnings could be close to 3X what they were in 2010. They have a nice product mix to make up their revenue stream. This company might also be the most exciting stock for a small child to own. Don't sleep on the fun factor.
Pepsi (NYSE:PEP): When ever you mention Coke, Pepsi is going to get mentioned. The company has 22 billion dollar brands mixed between soft drinks and snacks (Coke is just soft drinks). Pepsi actually has a better history as a DGI stock than their counterpart with 44 years of increasing dividends to 40. Anecdotally I've always felt Coke was favored at Seeking Alpha, just an observation from the last 8 years. This is most likely because of the Buffett factor.
Pepsi is another stock that trades like a bond, and has a high valuation with their 3.47% TTM Earnings yield. Their valuation is slightly worse than Coke or McDonald's but their growth has been a little better.
Apple (OTC:APPL): If I had to buy one of these stocks right NOW, Apple would rank either #1 or #2 but this isn't for right now, this is for 18 years later. Technology is more dynamic than soft drinks or eating patterns. I believe Apple is big enough and has a large enough eco-system to sustain the test of time but I see the risks. I mean, Steve Jobs was once kicked out of his own company. Just looking on their Wiki and a walk down memory lane, end of Q1 2004 they made $46 mil on $1.91 Bil in revenue. Look at what happened to Nokia or Blackberry. I don't think that will happen to Apple but the nature of their business has additional risks. 18 years is a long time, especially when Samsung (OTC:SSNLF) and others are putting a new phone out every year.
Under Armour (NYSE:UA): 18 years ago Under Armour existed only as a dream in Kevin Plank's head. Today it's one of the biggest success stories of the last two decades. I like Under Armour, I believe in the brand, I believe in their people. The only reason I don't own the stock is valuation. BUT, having an 18 year time horizon, this company could continue to take off in the future. Waiting 18 years, not having to suffer with the ups and downs of the market actually makes this stock MORE attractive. The reason why I WILL NOT select Under Armour is I believe there is too much risk tied to the CEO. If he leaves the company or something happens to him, I don't think this company can/will continue their growth trajectory.
Chipotle (NYSE:CMG): The company has been under a firestorm from the recent e.coli breakout and a high valuation. Shares retreated from a peak of $758 to a low of $399. The TTM earnings yield @ 3.37% is now in line with non growing DGI stocks that are acting like bonds. This coming from a company that posted $3.95 earnings per share in 2009 and $15.10 EPS in 2015. They nearly quadrupled their earnings in 6 years. If you looked back even further it would be even more impressive. They've also done it with $0 debt, slowly funding their expansion with free cash flow.
Granted 2016 earnings will suck, but I still believe in this brand long-term. The sentiment is negative now, but this dark cloud will pass with time. In 18 years they will continue their store expansion, grow internationally, introduce breakfast, 2nd line, potentially their Asian themed or Pizza restaurants, use technology to improve the user experience and declare a dividend.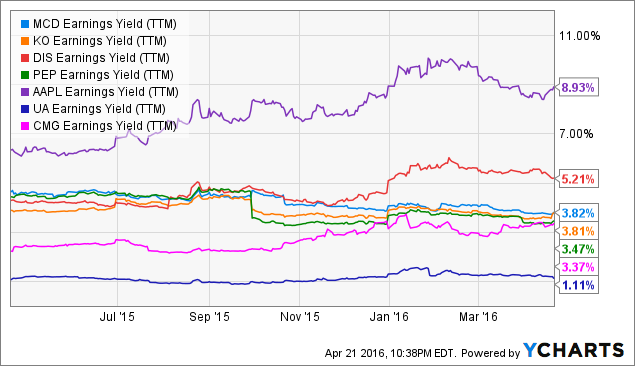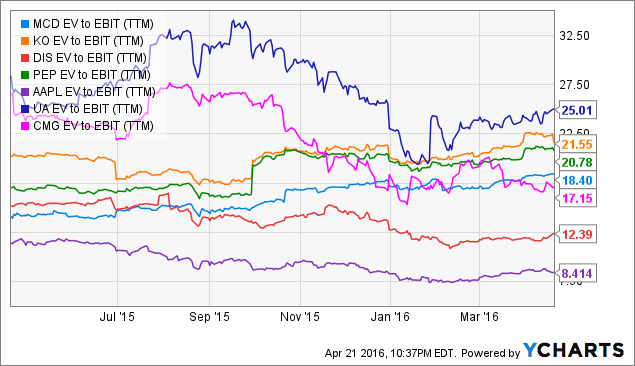 And the winner is...
Chipotle — and it's not even close. One other factor is that with a market cap of $13 Billion it's also the smallest stock. Under Armour is only $20 Billion, the other 4 companies are much larger.
There's no second place in my contest but based on the risk/reward I'd probably give Apple the honorable mention, maybe go Disney #3 and maybe McDonalds #4. Overall I'd side with a basket of the growth stocks over the DGI stocks if given the choice. My thoughts are that you are getting growth at a reasonable price and with Apple and Chipotle and you are doing so with no debt.
This has been a fun and thoughtful exercise that has challenged me. Cheers to new life.
Disclosure: I am/we are long GOOG, NSRGY, NVO, AAPL, MCD, KO, PEP, JNJ.
I wrote this article myself, and it expresses my own opinions. I am not receiving compensation for it (other than from Seeking Alpha). I have no business relationship with any company whose stock is mentioned in this article.
Editor's Note: This article discusses one or more securities that do not trade on a major U.S. exchange. Please be aware of the risks associated with these stocks.