Looking at the market for high-yield stocks, I find that two companies stand out from the crowd, and I mean that in a very positive way. Company no. 1 is mortgage investment firm New Residential Investment Corp. (NYSE:NRZ), my 2016 high-yield top pick for income investors. New Residential Investment Corp. combines what dividend investors like in income vehicles: Strong core earnings growth, a low valuation, a covered dividend, and an astonishingly high dividend yield north of 15 percent. Add to the mix a $200 million stock buyback that management announced in January and it is easy to see why I like the company. My price target for New Residential is $20.
That being said, though, company no. 2, Starwood Property Trust, Inc. (NYSE:STWD) follows closely behind New Residential Investment Corp., for obvious reasons. Starwood Property Trust is a household name for high-yield dividend investors that like to invest in commercial real estate via a publicly traded mortgage REIT. Since Starwood Property Trust is structured as a real estate investment trust, the company has to pay out the majority of its earnings to shareholders as dividends.
An investment in Starwood Property Trust has some of the very same characteristics an investment in New Residential Investment has: Starwood Property Trust is moderately valued, covers its dividend with core earnings, and has a highly attractive 10 percent dividend yield.
Strong Rebound
Starwood Property Trust has made a strong comeback after the market meltdown earlier this year disproportionately affected high-yield income stocks. STWD fell as low as $16.69 on February 11, 2016, but the mortgage REIT's shares have climbed ~17 percent since falling to new 52-week lows in February. Despite the rebound on the back of improved investor sentiment toward high-yield stocks, STWD is still ~5 percent in the red so far this year.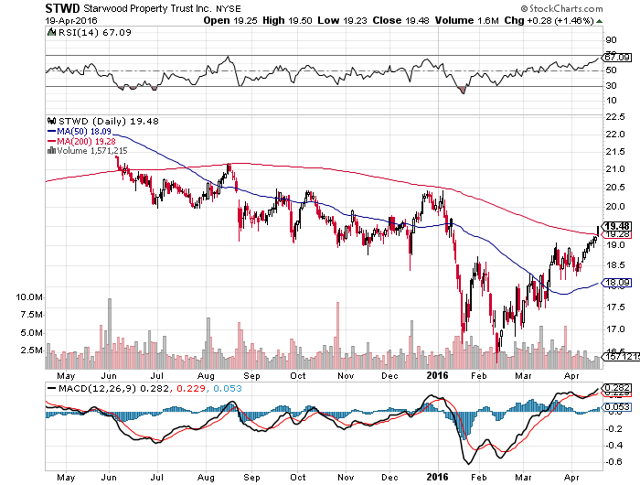 Click to enlarge
Still Not Expensive
Starwood Property Trust recovered from February lows, that's true, but the mortgage REIT's shares are not yet expensive. At least not to a degree that could really put investors off: Starwood Property Trust sells for ~1.13x accounting book value, and ~8.85x Q4-15 run-rate core earnings. That's NOT expensive considering what Starwood Property Trust brings to the table.
Dividend Is Covered By Core Earnings
Starwood Property Trust pays a $0.48/share dividend on a quarterly payment schedule. Importantly, the commercial REIT covers its dividend with core earnings; Starwood Property Trust pulled in $0.55/share in core earnings in Q4-15. Starwood Property Trust paid out dividends totaling $1.92/share for 2015, whereas core earnings hit $2.19/share. The REIT easily covers its dividend payout, largely due to strong results in its Lending Segment.
A Nice Enough Income Play
So we have just established that Starwood Property Trust can afford to pay out its high dividend. Further, Starwood Property Trust has maintained its dividend payout at $0.48/share for the last nine quarters. Even if the prospects for dividend growth are not as appealing as those for other dividend stocks, Starwood Property Trust's high dividend yield of ~10 percent makes more than up it.
Your Takeaway
I can't help but like Starwood Property Trust's investment proposition, and the commercial REIT is my second-rated high-yield income top pick for 2016, after New Residential Investment Corp. Starwood Property Trust has rebounded thanks to the valuation recovery in the high-yield segment in the last two months, but shares are not expensive yet at all. Investors pay less than nine times Q4-15 run-rate core earnings for one of the best commercial mortgage REITs in the country. Buy for income.
Disclosure: I am/we are long NRZ, STWD.
I wrote this article myself, and it expresses my own opinions. I am not receiving compensation for it (other than from Seeking Alpha). I have no business relationship with any company whose stock is mentioned in this article.