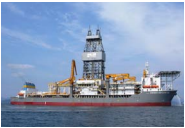 Dhirubai Deepwater KG2
Right after Transocean (NYSE: RIG) announced that it was delaying the delivery of two drillships, the company published its fleet status update. This season is rather busy with new contract announcements, and drillers have their stories to tell to the shareholders.
Midwater floater Actinia got a three-year contract in India with a day rate of $101,000. Yes, you would prefer to see such a day rate on a jack-up, but Actinia was built in 1982 and the new day rate is reflective of the fact that the rig may soon turn into a scrapping candidate. All in all, this is a win for Transocean and gives hope to others that older rigs are not all dead yet.
Deepwater Invictus got a 2 well contract with BHP Billiton (NYSE: BHP) with a day rate of $350,000. The rate is higher than you must expect for an UDW contract now because the rig was already working for BHP Billiton and will continue to work for the company from September 2016 to July 2017 at a previous day rate of $592,000.
The reduction of the day rate is less than in, for example, Noble's (NYSE: NE) recent case because of the ongoing work relationship between the rig and BHP Billiton. Obviously, oil producers will pay more for the rig which already works for them than for a new one. The new contract fills the gap between the two works for BHP Billiton in the Gulf of Mexico and is very favorable both financially and operationally.
Dhirubai Deepwater KG2 also got a new contract, a 6-month work with an undisclosed company for an undisclosed rate. This secrecy is very intriguing. Dhirubai Deepwater KG2's sister ship, Dhirubai Deepwater KG1, is currently working for Petrobras (NYSE: PBR) at a day rate of $402,000. The ships are not identical, but are quite similar, so a peek at KG2's day rate would have provided a unique opportunity to evaluate the decrease of the day rates in the current environment.
Also in the news, Transocean John Shaw is now classified as held for sale and will be recycled. Once again, the ability to find work for Actinia is an achievement given the fate of John Shaw. Transocean has a number of mid-water floaters built in the eighties, and they may ultimately follow John Shaw's steps, especially given the fact that all their contracts (except for Actinia) end in 2016.
Currently, each contract is a huge achievement, so the report brought some positive news for Transocean shareholders. However, the amount of new contracts and their duration show there's little work out there. Also, the only way to get a decent day rate for an UDW rig is to have this rig already working for the oil company. Follow-on work and blend and extend contracts are the new norm, and rigs without work seem to have serious trouble finding new jobs.
Actinia's ability to find work is rather surprising, but the day rate is low and fate of other Transocean's mid-water floaters is under a big question. All in all, I don't think that the news will be able to provide a boost for Transocean's shares as concerns about the state of the industry remain.
Disclosure: I/we have no positions in any stocks mentioned, and no plans to initiate any positions within the next 72 hours.
I wrote this article myself, and it expresses my own opinions. I am not receiving compensation for it (other than from Seeking Alpha). I have no business relationship with any company whose stock is mentioned in this article.
Additional disclosure: I may trade any of the abovementioned stocks.