There are few biotech or biopharma stocks I have received more questions on than Eagle Pharmaceuticals (NASDAQ: EGRX). This makes sense, as I called this one of top picks in the space to open 2015 here on SeekingAlpha.
I also made the shares one of my top 5 "Best Ideas" on Real Money Pro very late in 2014 when they were selling just under $14.00 a share. The stock went on to be one of 2015's best performers. By the time I removed them from my Best Idea list due to valuation in the early summer of 2015, the shares were going for just north of $80 a share; providing by far the best overall return from any Best Idea on Real Money Pro during the year. The subsequently peaked at just over $100 a share before the big bear market swept over the biotech and biopharma sectors in late July.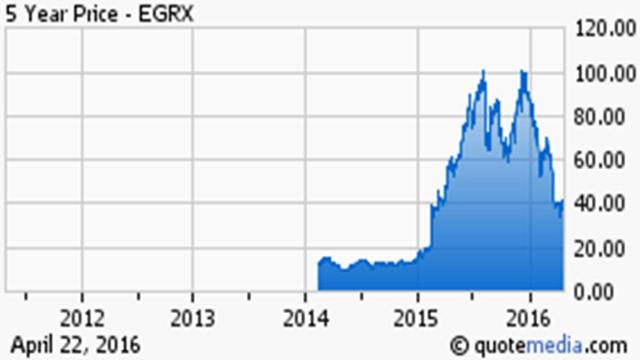 Click to enlarge
I had retained half of my original stake in Eagle using the "Jensen Rules" which I have articulated many times on these pages as well as those of Real Money Pro and Investors Alley. 2016 has been most unkind to Eagle so far in a complete contrast to 2015. I started to add a few shares in the mid $40s and added even more when the shares dipped under $35 recently.
A couple of negative headlines have conspired to drive down the shares that were already highly susceptible to profit taking given their huge gains last year. In mid-March the company received a Complete Response Letter ('CRL') from the FDA regarding its New Drug Application ('NDA') seeking clearance of KANGIO (bivalirudin injection), an intravenous formulation of 5 mg/mL bivalirudin for use as an anticoagulant in patients undergoing percutaneous coronary intervention. This knocked the stock down more than 15% on the day as it was completely unexpected.
KANGIO was intended to be a more effective/competing version of bivalirudin, an anticoagulant that is marketed under the name AngioMax and that did some $600 million in sales for its owner The Medicines Company (NASDAQ:MDCO) in 2014. Then in late March the company announced that the FDA has denied Eagle's request for seven years of orphan drug exclusivity in the U.S., for BENDEKA™, a liquid, low-volume (50 mL) and short-time 10-minute infusion formulation of bendamustine hydrochloride. BENDEKA was approved in December 2015 for the treatment of patients with chronic lymphocytic leukemia ('CLL') and for the treatment of patients with indolent B-cell non-Hodgkin lymphoma ('NHL') that has progressed during or within six months of treatment with rituximab or a rituximab-containing regimen.
The current version of BENDEKA is owned and marketed by Eagle's distribution partner Teva Pharmaceuticals (NASDAQ:TEVA) which planned to drop marketing that version to sell this improved version. Eagle would have been entitled to 20% of overall sales a royalty. As an article at the time stated on SeekingAlpha, this month by the FDA is virtually unprecedented. In addition, the last time this incurred the plaintiff in that case Depomed (NASDAQ:DEPO) went to court and successfully overturned the FDA's decision. Although the FDA's arbitrary opinion certainly was unwelcome I do believe it will be overturned eventually on appeal.
The shares jumped over 10% yesterday as it finally got some good news from a government agency. In this case, the Centers for Medicare & Medicaid Services ('CMS') that determined that the existing code J9033 "Injection, bendamustine hcl, 1mg" adequately describes BENDEKA and will be followed by a final decision in the fourth quarter of this year. The final decision will take effect in January 2017.
Valuation, Growth & Outlook:
Even with the spate of recent bad news, Eagle's earning trajectory is impressive. After doing a little better than breakeven in FY2015, the current consensus calls for the company making nearly $4.50 a share this fiscal year and that is even after expectations have dropped some $2.00 a share to reflect these recent FDA decisions. Expectations are for over $5.50 a share in FY2017, also down $2.00 a share after recent setbacks; which could rise if Eagle successfully overturns the FDA's decision on Bendaka.
Revenues should nearly triple this fiscal year to at least $180 million if not a bit higher. Next year the low estimate for revenues is just under $260 million and the high estimates is a bit over $350 million on the high end. The company received Fast Track Designation from the FDA for its existing drug RYANODEX® for the treatment of Exertional Heat Stroke ('EHS') in late 2015. This is Phase II trials and if successful would open up a much bigger market than exists for malignant hyperthermia where it already is approved.
The stock with its recent decline sports a market capitalization of approximately $600 million and the company ended 2015 with nearly $80 million in net cash on its balance sheet. Even not taking out cash, the stock sells for just over 9 times this year's consensus profits. Way too cheap given its growth trajectory. Two analysts have come out with ratings since the company's two recent setbacks with the FDA and I think they show a more realistic view on Eagle's long term value.
The five-star rated analyst (Tipranks) came out after the negative news on March 29th and maintained her Buy rating and $71 price target. After meeting with management in early April, Piper Jaffray reiterated its outperform rating and $98 price target on Eagle. Its analyst noted in support of issuing rating and price target that he sees "significantly more upside potential than downside risk in shares of Eagle Pharmaceuticals just from the potential for Ryanodex in exertional heat stroke alone and that while Bendeka generic filers create near-term risk, he remains confident in a favorable litigation outcome."
Maybe yesterday's move was the start of more significant rally. Maybe not. It does seem once sentiment starts to shift on Eagle and/or it gets a more favorable outcome with the FDA, the shares are poised to scream higher nearer previous highs in my opinion.

Disclosure: I am/we are long EGRX, TEVA.
I wrote this article myself, and it expresses my own opinions. I am not receiving compensation for it (other than from Seeking Alpha). I have no business relationship with any company whose stock is mentioned in this article.