If you have personally invested your own or others capital for any length of time now, you may heard about or even directly experienced the infamous "holding company discount" applied by markets around the world to conglomerates and hold co.'s alike of all different sorts and sizes.
There are myriads of reasons for this, from the logical - type and nature of the holding company's underlying assets to the less rational consideration of lack of control or marketability. Whatever the case may be, such structures (which typically do not have any ongoing operations other than the management of assets) are poo-pooed in general.
Fortunately, lack of favor does not also entail lack of value as is visibly the case with Tiptree Financial Inc. (NASDAQ: TIPT). Tiptree is a diversified financial services holding company which operates in the insurance, insurance services, specialty finance, asset management, and real estate sectors through its majority interest in seven operating businesses.
Immediately some of the reasons Tiptree receives no analyst or investor favor are plainly evident:
Muddled corporate structure with Tiptree Financial being operated through Tiptree Operating Company, LLC which in turn is 81% owned by Tiptree Financial and 19% by a major interest - Tiptree Financial Partners, L.P.
Existence of preferred stock as well as dual A and B class common share structure
Complex consolidated balance sheet and financials due to insurance premiums and claims, originated and owned loans as well as collateralized loan obligations as a result of its various operating subsidiaries
If an astute capital allocator possesses the analytical capability to cut through this chafe, there are rewards to be reaped as you shall see if you read on.
Tiptree has a bevy of substantial shareholders, but as can be seen is effectively controlled by Tiptree Financial Partners, L.P. and it' Chairman & CEO Michael G. Barnes whom together own 57.9% of the company's Class A common shares and 100% of the Class B shares which are all owned by Tiptree Financial Partners:

Click to enlarge

Click to enlarge
Source: Tiptree Financial Inc. DEF 14A
Owing to the fact that the company is majority owned by its officers, a net-positive in my humble estimation, their empirical track record to date matters much given the fact that they are not going anywhere any time soon. On this note, Tiptree book value is up about 4% from where it was in 2012 or 1% per annum over the past four years. On one hand not exactly a compounding machine, but on the other, not capital destroying either.
Management also makes clear in their 2015 year-end summary presentation that re-deploying capital into higher-return, less capital-intensive investments is part of their growth strategy moving forward. A welcome sign, as the first step to finding a solution is admitting you have a problem.
Tiptree's operating subsidiaries: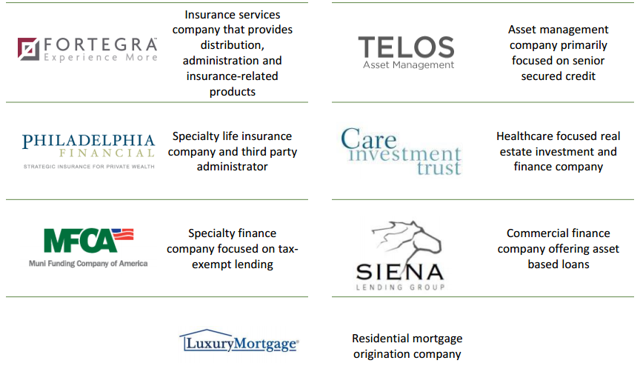 Click to enlarge
Source: Tiptree Financial Inc. Company Overview Presentation
Provide it with a solid base of ever-increasing revenue and positive net income (before accounting and other adjustments) with only its real estate segment - Care Investment Trust producing a pre-tax net loss in the past fiscal year, from which to continue generating organic growth as well as be opportunistic about add-on acquisitions in each of its respective segments.
Valuation
As hinted at the onset, Tiptree is a classic sum-of-the-parts example as it may be worth more to minority shareholders in liquidation than as an ongoing concern:
| | |
| --- | --- |
| Measure | Figure |
| Book value | $397.69 |
| Liquidation value | $216.34 |
| Market value | $197.23 |
*All figures in Millions USD
As can be seen in the attached document, the final liquidation value was arrived at after adjusting and discounting both assets and liabilities accordingly. Of course, under such a rare scenario the costs associated with finding suitable buyers for disparate assets would likely highly impair our arrived at figure which should also be taken into consideration.
While the old adage that "value is its own catalyst" springs eternal, some may rightly be skeptical of such an apparent nonchalant stance and for those, like many great capital allocators who came before... I have no good answer. Other than to offer up the partial comforting entreaty that you are purchasing into a business at a price which provides an inherent margin of safety, which should suffice.
Apart from this, one caveat which would undoubtedly assist in narrowing the gap between underlying and market value would be annual share re-purchases made at the currently prevailing price. Something which management is already doing, having bought back $4 million worth of shares in 2015.
Disclosure: I/we have no positions in any stocks mentioned, and no plans to initiate any positions within the next 72 hours.
I wrote this article myself, and it expresses my own opinions. I am not receiving compensation for it (other than from Seeking Alpha). I have no business relationship with any company whose stock is mentioned in this article.