I often discuss trades in the US based on leading indicators. This time I wanted to take a look at stocks from the United Kingdom. The way of analyzing will be the same. The only difference is that I will use the most important European sentiment indicator (leading).
The indicator I will be using is the European Sentiment Indicator. That indicator tells pretty much everything we need to know in order to make a successful trade with a multi-month duration period.
First of all let's take a look at the British currency. The British pound is currently trading below 2008 lows. The most important reason is the economy. The economy is not improving and the Bank of England is not hiking rates. Add to that, the fear of a Brexit.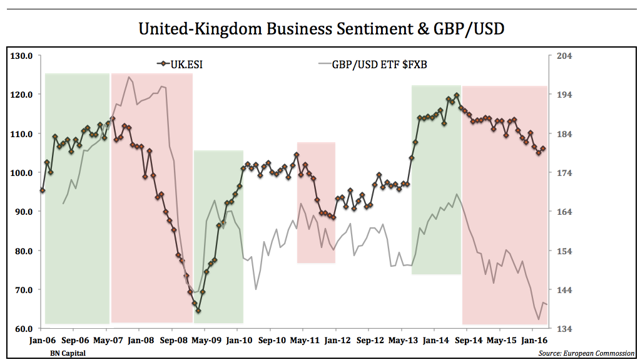 Click to enlarge
The graph above shows that the British pound (Currencyshares British Pound Sterling Trust FXB) crashes in times of a slower economy and recovers when the economy improves. Although the sentiment edged up a bit, there is no sign of a recovery whatsoever. The pressure on the currency remains strong.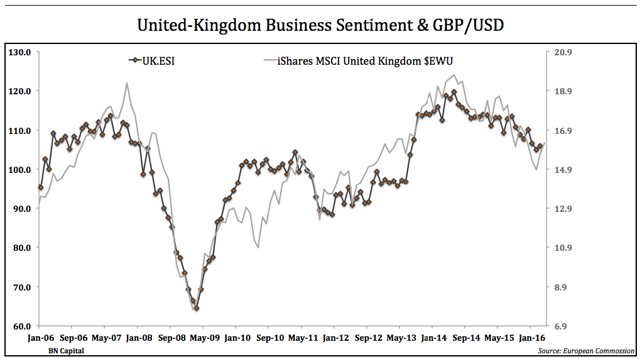 Click to enlarge
Stocks show the same pattern. The iShares MSCI United Kingdom ETF EWU is the best tool to trade United Kingdom shares in my opinion. Stocks are following the sentiment extremely well and started topping shortly after the sentiment topped. Note that Britain has a higher energy and materials exposure than the "average" European stock.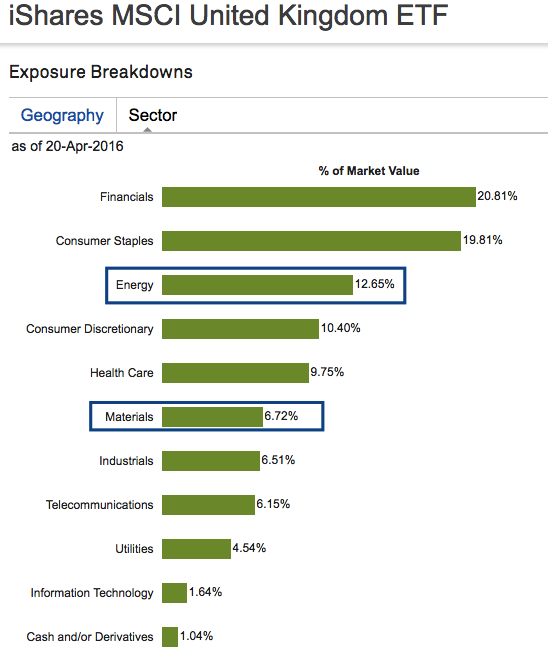 Energy and materials have a combined exposure of more than 19%. In other words, almost one-fifth is highly dependent on commodity prices.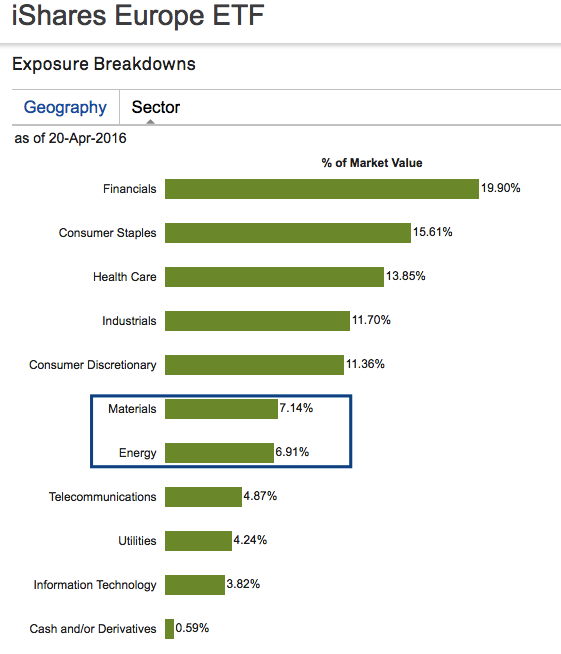 European stocks (iShares Europe ETF IEV) have about 14% commodity exposure.
US stocks (SPDR S&P 500 ETF SPY) have about 9% commodity exposure. I'm saying this because the strong USD and commodity crash have contributed significantly to the United Kingdom weakness. The ratio spread between US and UK stocks has accelerated in 2014 after having a steady uptrend since 2009.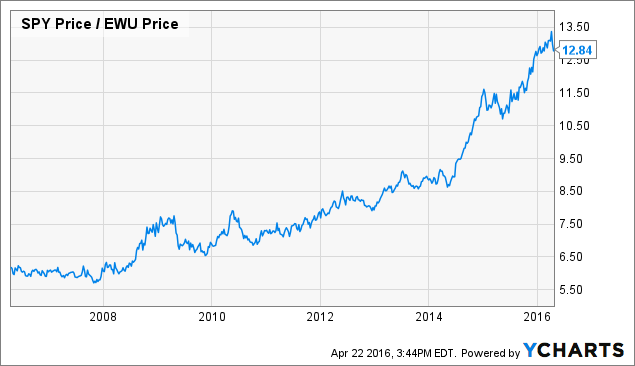 Fundamental Chart data by YCharts
In addition to that we see significant weakness in UK industrials. The downturn started in 2014 and hasn't been broken. The same goes for the building industry. Sentiment totally crashed a few months ago but rallied back up.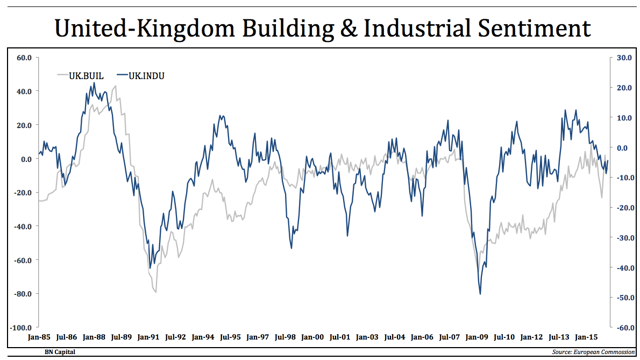 Click to enlarge
The British consumer is doing a bit better. Although retail sentiment has not been growing since 2013 there is no significant downtrend. Consumption however has been in a downtrend but is still at relatively "high" levels.
If we take everything into account I'm convinced that US stocks will keep outperforming UK stocks and that the British pound will start a new uptrend if fundamentals increase. For now, the pressure will be too high to start a significant rally on the mid term for both stocks and the British pound.
Disclosure: I/we have no positions in any stocks mentioned, and no plans to initiate any positions within the next 72 hours.
I wrote this article myself, and it expresses my own opinions. I am not receiving compensation for it (other than from Seeking Alpha). I have no business relationship with any company whose stock is mentioned in this article.