Bull markets are born on pessimism, grow on skepticism, mature on optimism, and die on euphoria. —Sir John Templeton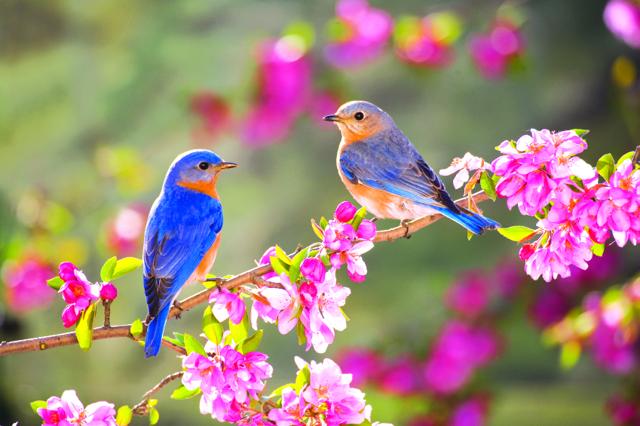 Click to enlarge
The spring of 2015 saw a stock market that was weakening internally, but this was hidden from most investors. On an absolute price level basis, transportation stocks declined first, followed by smaller capitalization companies, and then by the summer of 2015, market leading sectors, like biotechnology stocks, began to experience selling pressure.
By August of 2015, this selling pressure had exploded onto the market, and the damage done lingered on for the rest of the year, until momentum growth stocks finally cracked. The turn of the calendar saw a full-fledged panic grip the markets, but the spring of 2016 has soothed fears, as stock market internals are now strengthening, instead of weakening, as they did this time last year.
Thesis
Transportation stocks and small capitalization companies foreshadowed stock market weakness last year, and are forecasting stock market strength this year.
A Recap of Spring 2015
First, transportation stocks, as measured by the iShares DJ Transportation Average ETF (NYSEARCA:IYT) started losing altitude right of the bat in 2015.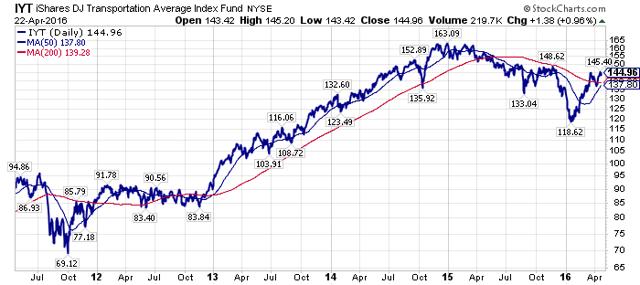 Click to enlarge
Then, smaller capitalization stocks, as measured by the iShares Russell 2000 ETF (NYSEARCA:IWM), gave way, peaking in June of 2015, and then turning down.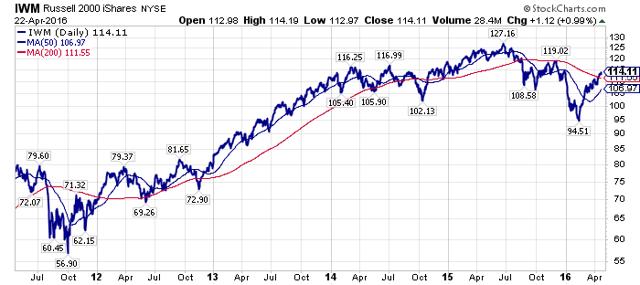 Click to enlarge
Shortly after small-cap stocks headed south, the bull markets leading sector, biotechnology stocks, as measured by the iShares NASDAQ Biotechnology ETF (NASDAQ:IBB), saw the first dent in their Teflon armor, participating in their first significant decline since the first quarter of 2014.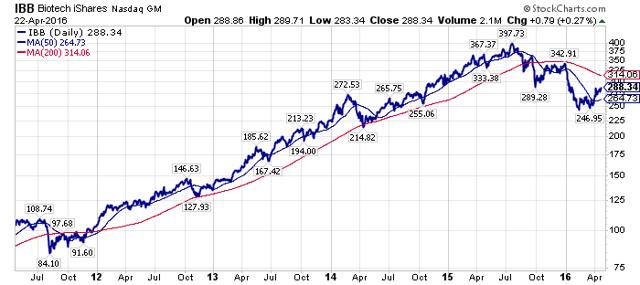 Click to enlarge
While biotech stocks ultimately recovered from their move down in 2014, the move lower in the summer of 2015 was merely the warning bell for what was to come, which ended up being a 38% decline from peak to trough that did not end till well after the broader stock market began its recovery.
Transports Have Revived
Once the U.S. stock market bottomed in February of 2016, transportation stocks began exhibiting their first relative strength in over a year. This is illustrated by the chart of Dow Jones Transportation Index ETF versus the S&P 500 Index, as measured by the SPDR S&P 500 Index ETF (NYSEARCA:SPY), on a year-to-date basis.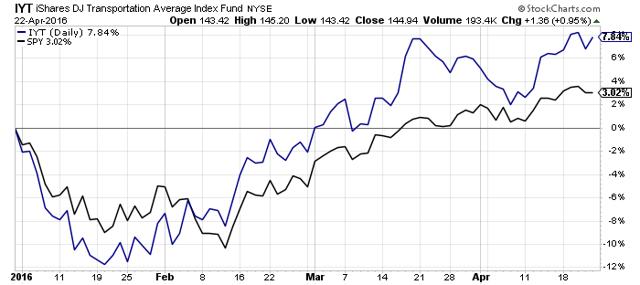 Click to enlarge
IYT is up 8% in 2016, outpacing the 3% gain delivered by SPY. Over the last five years, however, SPY has gained 74% compared to IYT's gain of 61%.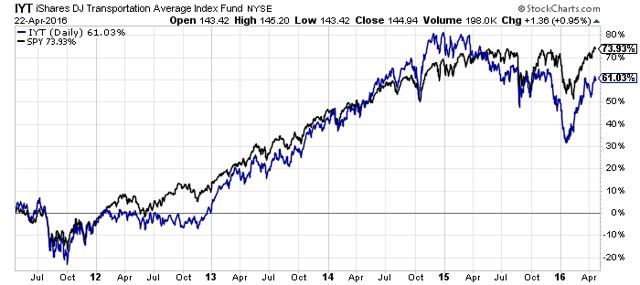 Click to enlarge
Looking into the individual holdings of the Dow Jones Transportation Index, FedEx Corporation (NYSE:FDX), United Parcel Service (NYSE:UPS), J.B. Hunt Transport Services (NASDAQ:JBHT), Kansas City Southern (NYSE:KSU), and Norfolk Southern (NYSE:NSC) are all up significantly in 2016, with KSU leading the way with an eye opening 32% gain.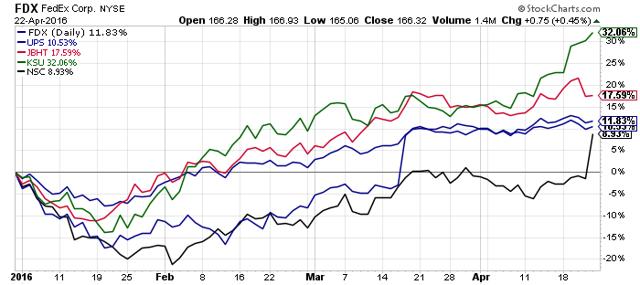 Click to enlarge
Over the last five years, these stocks have generally performed strongly, with only NSC, and UPS lagging the SPY's five-year return.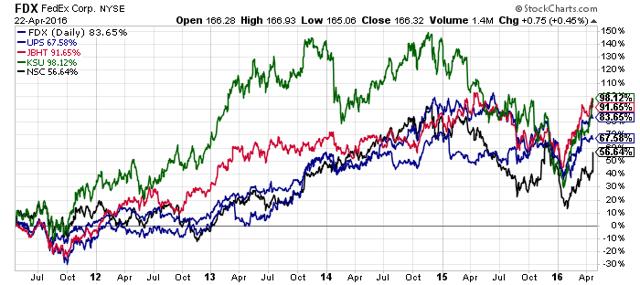 Click to enlarge
Moving on to the next five stocks in the Dow Jones Transportation Index, Union Pacific Corporation (NYSE:UNP), Ryder System (NYSE:R), Alaska Air Group (NYSE:ALK), United Continental (NYSE:UAL), and C.H. Robinson Worldwide (NASDAQ:CHRW), are all up from their 2016 lows. UNP, R, and CHRW have all posted strong gains, while the airline stocks have struggled.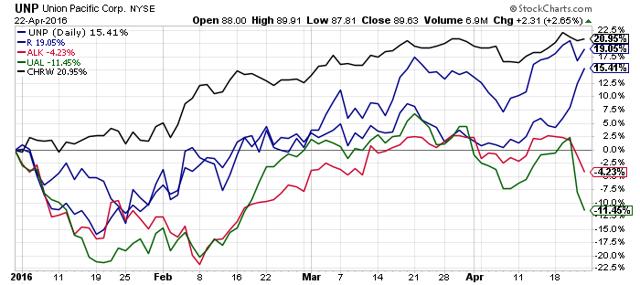 Click to enlarge
In contrast to their recent struggles, the airline stocks have been the best performers of the aforementioned transportation group over the prior five years, as illustrated below.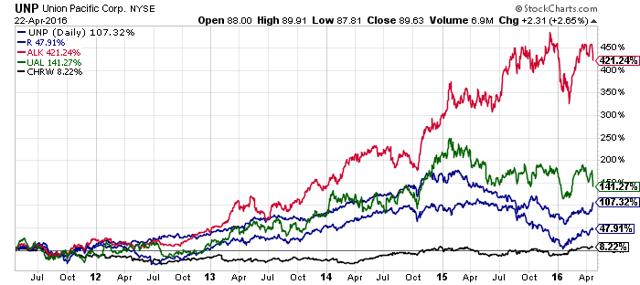 Click to enlarge
With transportation stocks firming in 2016, on their own, and relative to the S&P 500 Index, a former drag on the market has become a pillar of strength. This reversal is another argument that the bull market will continue, though it may be in its final innings.
Small-Caps Bounce Back Strongly
Smaller capitalization stocks started negatively diverging from their larger capitalization peers all the way back in 2014. The February 2016 stock market bottom has seen a reversal of this trend, and small-caps have outperformed during the vigorous rally off of the market lows.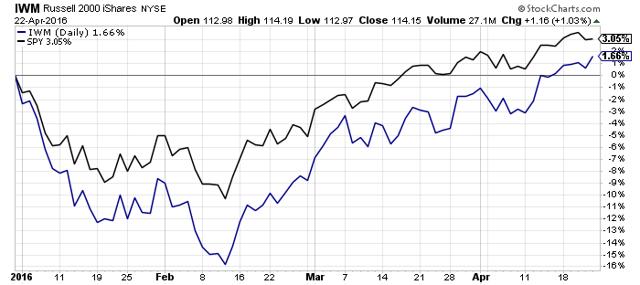 Click to enlarge
The Russell 2000 ETF is now positive on a year-to-date basis, and has made up a significant amount of ground on the SPY, though it still trails its larger-cap ETF peer in 2016, and over the past five years.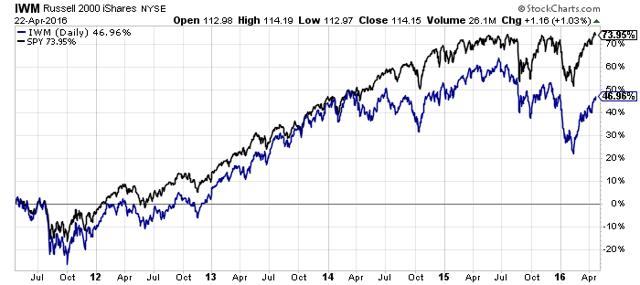 Click to enlarge
The more I look at the above chart, the more it amazes me, as it is extremely rare to see small-caps underperform their large-cap peers in an extended bull market, but that is what we have seen, and more, over the course of the last five years, as SPY has outperformed IWM by 27%!
Biotech's Show Signs Of Life
Biotech stocks were the single strongest sector of the bull market that began in March of 2009. Their five-year performance charts still show a riveting advance, with IBB up a robust 176%, and the SPDR S&P Biotech Index ETF (NYSEARCA:XBI), up 149%, which, as the biotech index ETF under-performer, has still achieved more than double the SPY's gains.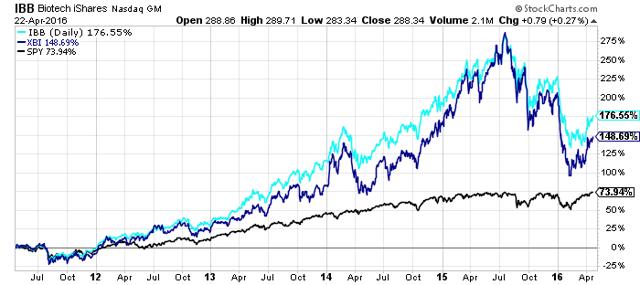 Click to enlarge
The short-term picture is remains cloudy; however, as biotech stocks have badly lagged the SPY on a year-to-date basis.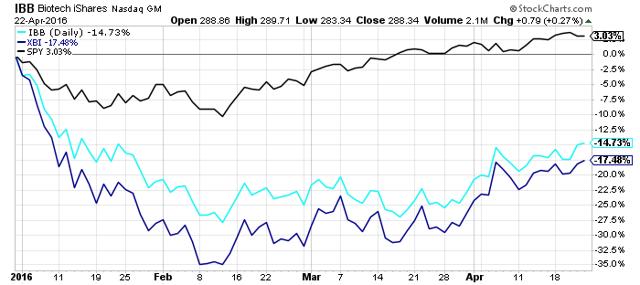 Click to enlarge
Investors can take solace, in the fact, that biotech stocks have advanced more than 10% off of their lows, and the largest biotech names have fared much better, with Amgen (NASDAQ:AMGN) and Gilead Sciences (NASDAQ:GILD) rallying to post gains in 2016. Biogen (NASDAQ:BIIB), and Celgene (NASDAQ:CELG) have outperformed the biotech indexes, with Regeneron Pharmaceuticals (NASDAQ:REGN) being the laggard, of the five largest biotech names in the IBB.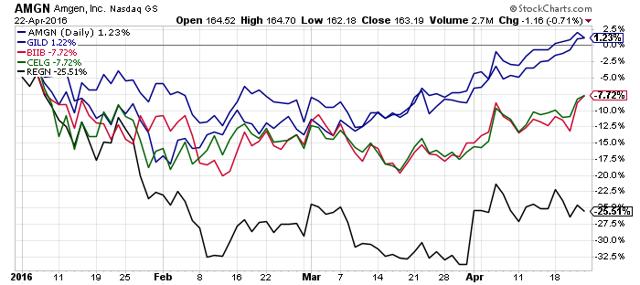 Click to enlarge
The next five holdings of the IBB show similar struggles, with Illumina (NASDAQ:ILMN), Mylan (NASDAQ:MYL), Alexion Pharmaceuticals (NASDAQ:ALXN), Vertex Pharmaceuticals (NASDAQ:VRTX), and Incyte Corporation (NASDAQ:INCY) all still down double-digit percentages in 2016.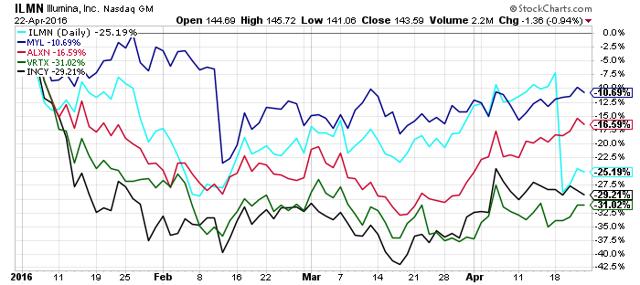 Click to enlarge
Generally the smaller biotechnology names have underperformed their larger peers in this biotech sell-off over the past year. Even though the sell-off was brutal, the long-term returns of the biotech winners are still remarkable, as the following chart shows.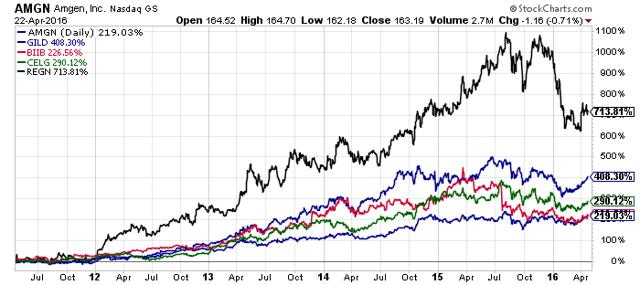 Click to enlarge
Inflationary Assets Remain The Market Leaders
Recently I published an article that proclaimed "Metals, Mining, And Energy Stocks Are Unquestionably The New Market Leaders." That thesis has continued to resonate, as the SPDR S&P Metals & Mining ETF (NYSEARCA:XME) is up 55% in 2016.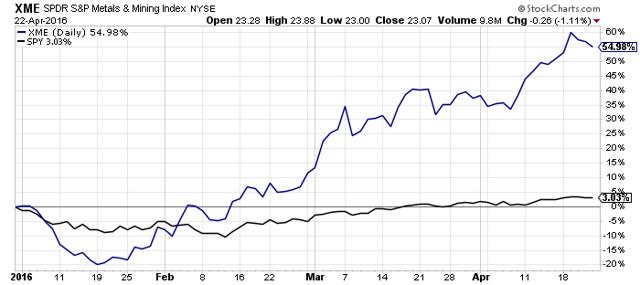 Click to enlarge
Many of the individual stocks in the XME, which includes Cliffs Natural Resources (NYSE:CLF), Schnitzer Steel (NASDAQ:SCHN), Coeur Mining (NYSE:CDE), United States Steel (NYSE:X), Stillwater Mining Company (NYSE:SWC), Freeport-McMoRan (NYSE:FCX), Steel Dynamics (NASDAQ:STLD), Carpenter Technology (NYSE:CRS), Worthington (NYSE:WOR), and Kaiser Aluminum (NASDAQ:KALU), have returned over 100% in 2016, as the prices of commodities have rebounded.
Iron ore has doubled in 2016, steel prices are up 30% over the last two months, and commodity prices are rising as China is once again exceeding growth expectations, after underwhelming for over five years. The end result is that commodity prices from copper, to crude oil, to corn, to natural gas are appreciating swiftly from their early 2016 lows.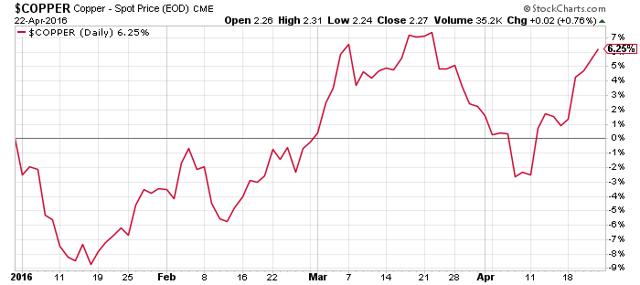 Click to enlarge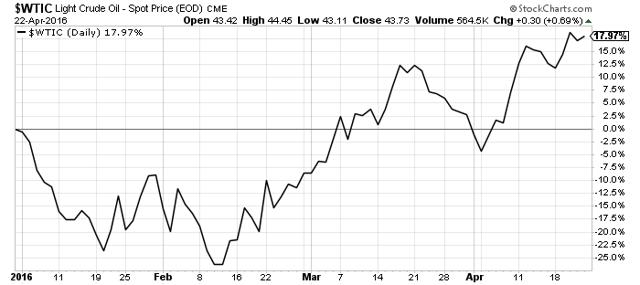 Click to enlarge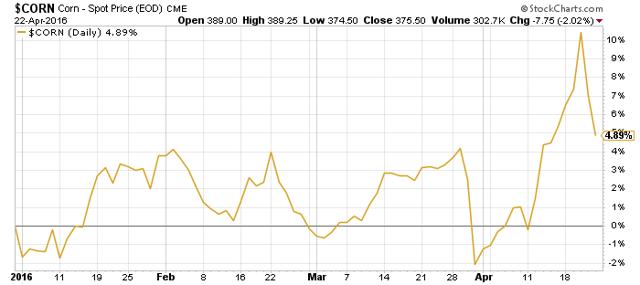 Click to enlarge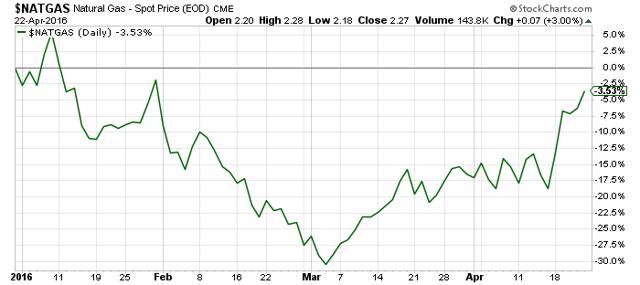 Click to enlarge
As mentioned previously with the XME, commodity stocks have done even better, and the share performance of some of the biggest mining companies in the world further validates the transition to an inflationary environment.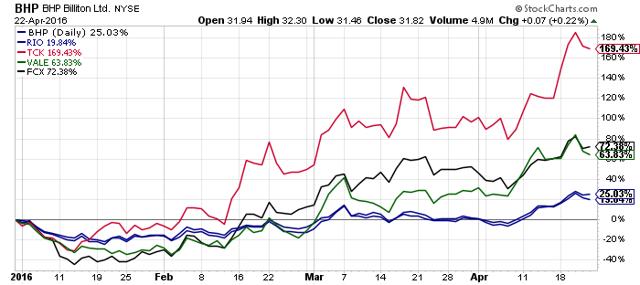 Click to enlarge
BHP Billiton Ltd., (NYSE:BHP), is up 25% in 2016, Rio Tinto, (NYSE:RIO), is up 20%, Teck Resources, (TCK), is up 169%, Vale S.A. (NYSE:VALE) is up 64%, and Freeport-McMoRan is up 72%. Even with the strong price gains this year, all of these miners are down significantly over the past five years, so there is still more room to run on the upside, in my opinion.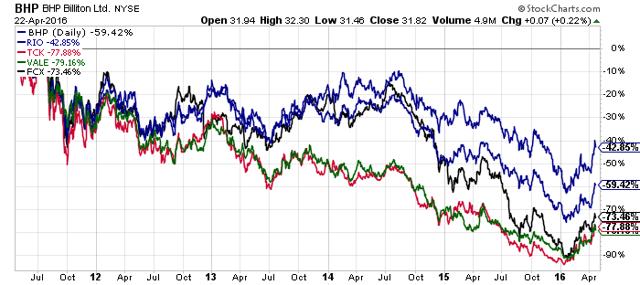 Click to enlarge
Agricultural commodities offer another area of opportunity, from my perspective, and I am heavily researching Deere & Co. (NYSE:DE), Potash (NYSE:POT), Mosaic (NYSE:MOS), Archer-Daniels-Midland (NYSE:ADM), and the Tractor Supply Company (NASDAQ:TSCO). All of these companies have rallied to positive gains on a year-to-date basis.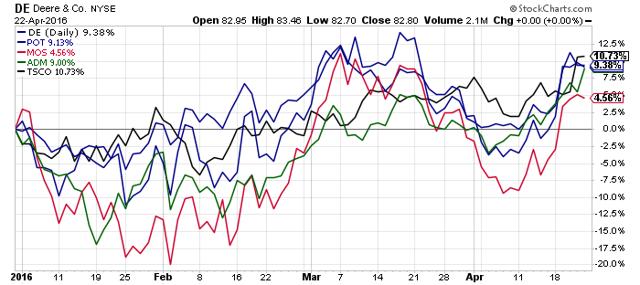 Click to enlarge
Over the trailing five years, POT and MOS stand out as under-performers, and as possible candidates for "The Contrarian" Portfolios.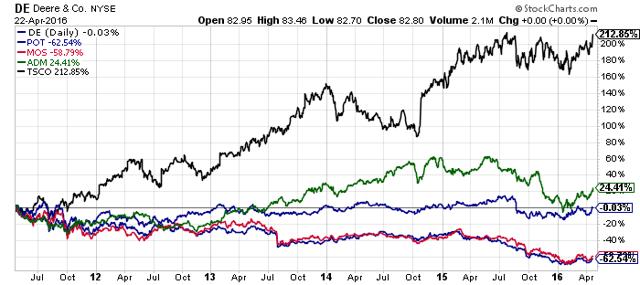 Click to enlarge
Conclusion - The Worst Are First
Almost every asset class that foreshadowed the broader market decline in 2015 has reversed higher. While transportation stocks, small-caps, and biotech stocks are showing signs of life, the baton of market leadership has clearly been passed to inflationary assets.
Historically, inflationary assets lead at the end of a bull market, and this has been an epic bull market, in both its length, and magnitude. Additionally, as we have reviewed in this article, the last five years of the bull market have been unusual in nature, with small-caps underperforming their larger capitalization peers.
After experiencing one of the wildest rollercoaster rides in modern market history over the last decade, and stock and bond valuations at historic highs, investors should once again be on the lookout for unforeseen developments in the financial landscape. What could these "black swans" be?
Perhaps, investors could be surprised by a significant, simultaneous decline in stocks and bonds, while commodities rise. Or, perhaps, inflationary assets take the lead, while real returns are subdued. Whatever the outcome, it is my strong belief that alternative investment approaches, and out-of-favor investments, could benefit a majority of investor's portfolios going forward.
Disclosure: I am/we are long CLF, DE, FCX, RIO, TCK, UNP, X, AND SHORT SPY.
I wrote this article myself, and it expresses my own opinions. I am not receiving compensation for it (other than from Seeking Alpha). I have no business relationship with any company whose stock is mentioned in this article.
Additional disclosure: Every investor's situation is different. Positions can change at any time without warning. Please do your own due diligence and consult with your financial advisor, if you have one, before making any investment decisions. The author is not acting in an investment adviser capacity. The author's opinions expressed herein address only select aspects of potential investment in securities of the companies mentioned and cannot be a substitute for comprehensive investment analysis. The author recommends that potential and existing investors conduct thorough investment research of their own, including detailed review of the companies' SEC filings. Any opinions or estimates constitute the author's best judgment as of the date of publication, and are subject to change without notice.