General Electric (NYSE:GE) reported Q1 2016 earnings results on April 22, 2016, and the results were in line with my previously communicated expectations - "more of the same". The company reported Q1 2016 EPS of $0.21, which beat the consensus estimate of $0.19 by 10%. For comparison purposes, GE's current quarter EPS was a 5% YoY increase from the $0.20 reported in Q1 2015.
On the other hand, GE's Q1 2016 revenue of $27.6b came in slightly below the consensus estimate of $27.9b. There were a lot of moving pieces in the current quarter, as expected, but the quarter did not change my overall thoughts of GE being a great long-term investment. I will highlight my top three takeaways from the Q1 2016 results in the following format: The Good, The Bad, and The Not So Bad.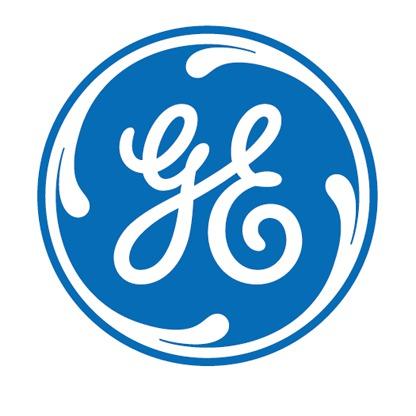 (Source)
The Good
To start, GE reported earnings results that beat analyst estimates and the EPS figure was an increase from the same quarter in the prior year. Moreover, the company reaffirmed the full-year 2016 EPS guidance (more on this below), which is an encouraging sign, especially when considering the current operating environment.
For Q1 2016, the company's industrial operating EPS of $0.16 is a 14% increase from the prior quarter.

The current quarter's industrial operating EPS was positively impacted by the results of the Aviation segment. For the quarter, the Aviation segment reported double digit increases for both revenue and profit.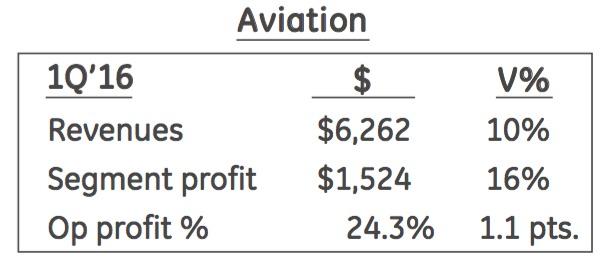 (Source: Q1'16 Earnings Presentation)
As described in a previous article, this segment has been a top performer for the last few quarters and Q1 2016 was no exception. Thinking ahead, I believe that GE will heavily rely on the Aviation segment to meet earnings estimates (and guidance), especially in the current year when considering the fact that the Oil & Gas segment is facing significant headwinds.
The Bad
This category can accurately be described in one word, "oil". The downturn in the oil and gas industry has had a major impact, and not in a good way, to GE's revenue and earnings since mid-2014. In the current quarter, the Oil & Gas segment saw revenues decline 18% and profit decline by close to 40%.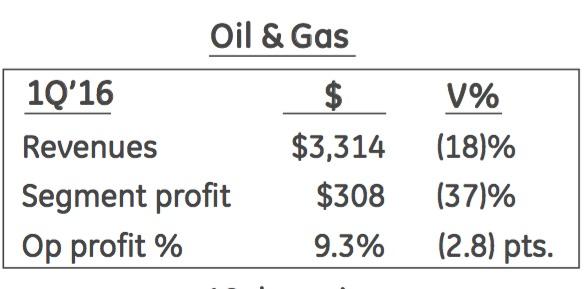 (Source: Q1'16 Earnings Presentation)
This segment is a topic that I have written about a great deal over the last year, and as I have previously stated, the recovery in the oil and gas industry will at some point be a catalyst for this large conglomerate.
GE will have to rely on the other industrial segments in 2016, and this is actually a topic that management highlighted during the Q1 2016 conference call:
"At the same time, we see pressure in the Oil & Gas business. The team had a decent first quarter, particularly when you take into account foreign exchange. However, we want to take a more conservative position on the year, posting revenue down 15% to 20% and operating profit down 30%. We will continue to outperform our competitors and capitalize on volatility. We've always said the value of GE is the strength of our portfolio, and we are reaffirming our $1.45 to $1.55 EPS framework for 2016."
The takeaway is that the other industrial segments are more than making up for the lackluster performance of the Oil & Gas segment, which is shown by the fact that management was able to reaffirm the 2016 guidance. The Oil & Gas segment's results were not impressive in Q1 2016 and this will likely be the case for the remainder of 2016, but this should not be considered a major concern from a long-term investor's perspective.
The Not So Bad
GE's top-line coming in slightly under the consensus estimate is not great news, but, in my opinion, it should not cause major concern. From an industrial segment standpoint, the company's revenues increased by 6% YoY ($25.8b in Q1 2016 from $24.3b in Q1 2015).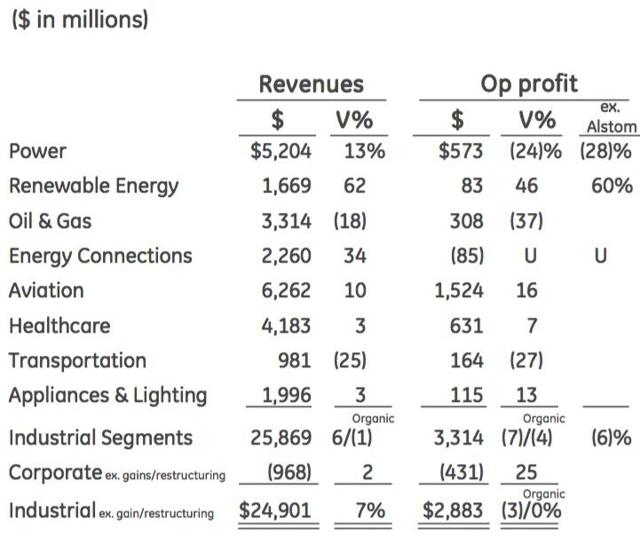 Click to enlarge
(Source: Q1'16 Earnings Presentation)
Similar to prior quarters, there were several headwinds (Forex, oil and gas, etc.) that had a negative impact to the company's top-line. However, these are short-term headwinds that will likely not have an impact on the company's long-term growth prospects.
Bottom Line
GE's Q1 2016 results were not good enough to push the stock price higher today, but the overall takeaway, in my mind, was that GE's long-term plan is still in place. It is an encouraging sign that the industrial segments, with the exception of Oil & Gas and Transportation, all reported increases in revenue in this challenging environment. Management will have to contend with many moving pieces in 2016, but, in my opinion, the first quarter results were a great way to start the new year.
GE shares are fairly valued from an earnings perspective, but there are several catalysts that will contribute to GE shares outperforming the market over the next two-to-three years. Investors should treat any significant dips in GE's share price as buying opportunities.
If you found this article to be informative and would like to hear more about this company or any other company that I analyze, please consider hitting the "Follow" button above.
Disclaimer: This article is not a recommendation to buy or sell any stock mentioned. These are only my personal opinions. Every investor must do his/her own due diligence before making any investment decision.
Disclosure: I am/we are long GE.
I wrote this article myself, and it expresses my own opinions. I am not receiving compensation for it (other than from Seeking Alpha). I have no business relationship with any company whose stock is mentioned in this article.