General Electric (NYSE:GE) just reported a better-than-expected first-quarter profit of $0.21 per share compared to analysts' consensus predictions of $0.19. However, GE really posted a loss of $0.01 per share when including the struggling GE Capital unit. The company announced a year ago it would sell $200 billion in assets of GE Capital and return its focus to the company's traditional (non-finance) business.
The oil and gas business of GE naturally struggled dramatically with the low oil prices of Q1, yet the stock's returns for Q1 outperformed the S&P by more than 1%. The company's stock has since fallen after the quarter ended, and fallen even further after earnings were released such that its returns are negative for the year. Despite the current tough times for the company, GE still has remained an investor favorite for years, with a 3-year total shareholder return of 95%.
In a follow up to my article last week comparing General Electric to its proxy peer list, we took another look at GE performance compared to industrial companies. As you will see below, GE continues to severely underperform as illustrated by core performance metrics such EBITDA margin and return on invested capital. 3M (NYSE: MMM), Honeywell (NYSE: HON), Danaher (NYSE: DHR), Illinois Tool Works (NYSE: ITW), and Emerson Electric (NYSE: EMR).
EBITDA margin has been lower than its peers for 16 consecutive quarters, and in Q4 2015, GE had a 14.01% EBITDA margin while the peers have a median of 22.09%. Although results for 3M and Emerson Electric were not yet available for the Q1 2016 comparison, Exhibit 1 shows the gap widening last quarter.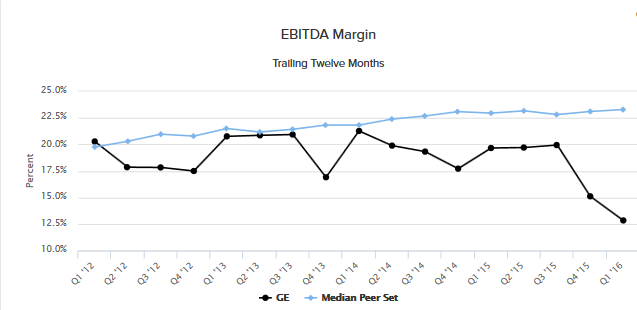 Exhibit 1: EBITDA Margin
Source: Enlight Research
Note: MMM and EMR data were not available for Q1 2016 composite
Return on invested capital (ROIC) of peers hovers around 5%, while GE just recently broke 2% for the first time in four years during Q4 2015 only to drop to 0.07% for Q1 2016. GE is really struggling with this important performance indicator when the peers' median has been consistently double or triple GE's ROIC.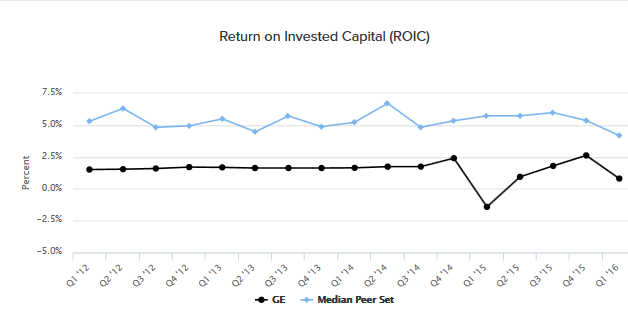 Exhibit 2: Return on Invested Capital
Source: Enlight Research
Note: MMM and EMR data were not available for Q1 2016 composite
Although investors have been very patient with General Electric and its turnaround plans, the fact remains that this peer group (123.93%) has outperformed GE (93.19%) since 2012 in total shareholder returns. And, if you look at 3M, Honeywell, Danaher, or Illinois Tool Works, any of these investments would have provided higher return for investors.
Research support by Enlight analyst, Kavi Sakraney.
Disclosure: I/we have no positions in any stocks mentioned, and no plans to initiate any positions within the next 72 hours.
I wrote this article myself, and it expresses my own opinions. I am not receiving compensation for it (other than from Seeking Alpha). I have no business relationship with any company whose stock is mentioned in this article.