Consumers and investors both love Starbucks (NASDAQ:SBUX) due to its rich-tasting drinks and superior returns. However, Starbucks is under criticism as it introduced several changes in the new rewards program while investors are concerned over decelerating comparable store sales.
Starbucks trades at a premium valuation due to its strong fundamentals and high growth expectations, which means a slightly weak performance in a single quarter could hammer the stock price. Recently, Starbucks reported second-quarter fiscal year 2016 results and missed the revenue expectations by $40 million while per share earnings of $0.39 were in line with the estimates. The stock plunged 5% after missing the expectation, which opens a window of opportunity.
Overall, Starbucks' performance in the second quarter looks satisfactory, if not impressive, and future outlook is still intact despite some setback. Starbucks registered 9% revenue growth due to a 6% increase in comparable store sales. Starbucks' earnings growth of 18% is impressive due to magnifying effect of sales growth and margins expansion.
Starbucks and China
Starbucks' big bet on China is working well. China/Asia Pacific segment, which accounts for 13.6% of the total revenue, surged 18% due to a 3% increase in comparable store sales. Profitability also moved in the upward trajectory as operating margin expanded 20 basis points to 19.1% during the second quarter 2016.
According to International Coffee Organization, the initial growth cycle of China's coffee market resembles with Japan's, which started 50 years ago. Although tea is the most consumed hot drink in China, coffee consumption has increased by an average growth rate of 15% over the past ten years. China's coffee industry is still in its early stages, with per capita consumption of merely five-six cups per year and may take a few decades to reach its full potential.
While Starbucks is adding approximately ten stores every week, the coffee giant also has a long-term plan for single-serve coffee category across China/Asia Pacific. The retail sales value of the coffee market is set to grow steadily, but Euromonitor estimates that growing culture of coffeehouses will boost the sales value of fresh coffee by an average of 22% over between 2015 and 2020. That said, the dynamics for Starbucks are favorable despite the recent economic slowdown. Rising debt level is also a big concern, but continued growth in disposable income, taste for coffeehouses, and building unique retailing capabilities would continue to generate growth for Starbucks.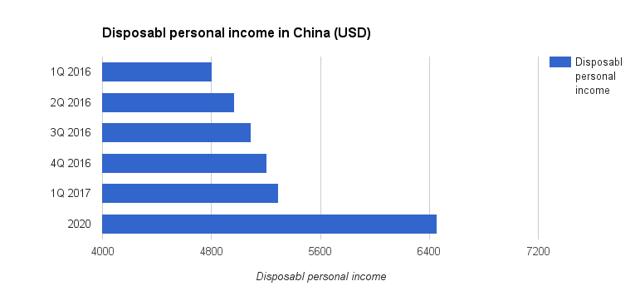 Click to enlarge
Source: tradingeconomics
Another Market, But Not So Interesting For Now
Starbucks is selling drinks in 70 markets, and yet it has landed in another market, South Africa. Starbucks has opened its first store in Johannesburg in partnership with Taste Holdings. The coffee culture in South Africa is growing as taste develops, but per capita coffee consumption is still very low.
Starbucks has a global recognition, but it would be very hard for the company to break-in against well-established coffee brands in South Africa. It would be challenging due to the pricing difference between Starbucks and other coffeehouses. Although Starbucks is offering drinks at a discount of roughly 30%, its drinks are 23% more expensive than other players. For instance, the price of a small latte or cappuccino is 27 Rand whereas Via de Cafe offers for 20 Rand and Mugg & Bean for 19.9 Rand. Thus, it could be hard for Starbucks to compete on price while growth prospects may remain limited. Perhaps this is the reason Starbucks plans to go slow in South Africa, with only 12 to 15 stores over the next two years.

Click to enlarge
Source: theatlas
What About the Rewards Program?
Perhaps it's not possible to make every customer happy, every time. With its loyalty program, Starbucks tries to make the customers happy by giving freebies. However, a lot of customers threatened to start visiting Dunkin' Brands (NASDAQ:DNKN) due to Starbucks' revamped rewards program. To better deal with Dunkin Brands' DD Perk Loyalty Program, Starbucks is offering free gold status until 2nd May to retain the customers. As Starbucks added more than 280,000 customers within the first week of the renewed program, it seems the loyal customers are pretty satisfied with new perks attached to the loyalty program. Thus, the probability is even higher now that the new rewards program will increase the comparable store sales over time.
Single-Serve Coffee
Starbucks operates more than 23,921 stores all over the world but plans to expand its single-serve coffee business. As single-serve coffee continues to outpace the industry growth rates, Starbucks is doubling its efforts to benefit from growth opportunities. Previously, Starbucks renewed its relationship with Keurig Green Mountain (NASDAQ:GMCR) to supply K-Cup pods, and launching new beverages, including Caramel, Mocha, and Vanilla Latte, will expand Starbucks' single-serve coffee offerings. A market research report shows that sales value of the single-serve coffee market will continue to grow by double digits in the coming years, though growth pace will slow down. Starbucks expects that the company would be able to sell 1.5 billion K-Cups in 2016, which would be an increase of 20% over the last year. Thus, the growing demand for single-serve coffee in the U.S. will add some sales in Starbucks' top-line.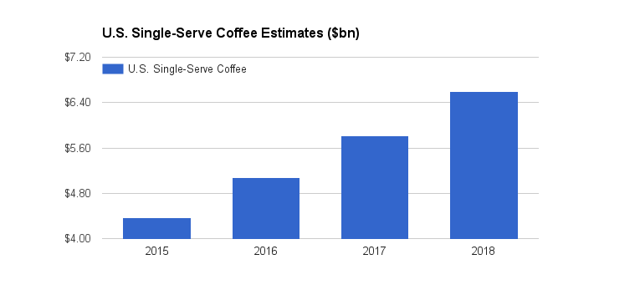 Click to enlarge
Source: foodnavigator-usa, packagedfacts
In addition to that, Starbucks also plans to launch pods for Nespresso, which will increase Starbucks' single-serve coffee exposure in the international markets. Besides introducing single-serve coffee pods for Nespresso in Europe, Starbucks also plans to flood China/Asia Pacific where demand for single-serve coffee is rapidly increasing. On K-Cup platform, Starbucks already holds leading market share of single-serve premium coffee category while the relationship with Nestle (OTCPK:NSRGY) (OTCPK:NSRGF) will enable Starbucks to gain market share in Europe and China/Asia Pacific.
Ending Remarks
Falling short of revenue expectations in a single quarter doesn't mean Starbucks' growth story is over. Despite the economic slowdown in China and steady growth in the U.S., Starbucks delivered 18% earnings growth while customer traffic also remained strong across the stores. Fundamentals of the global coffee industry are still healthy, which means Starbucks' continued expansion in the domestic as well as international markets, the continuous launch of new products, and expansion in the high-growth category, such as single-serve coffee, would continue to boost the earnings.
Starbucks is trading at a forward price-to-earnings multiple of 26.5 times, significantly less than its historical and industry averages. Starbucks is still full of potential, and consensus estimates reveal that the company's earnings will continue to grow double digits in the coming years. Thus, the recent dip and weakness in the stock would be an opportunity to go bullish on Starbucks for potential gains and healthy dividend hikes.
Disclosure: I/we have no positions in any stocks mentioned, and no plans to initiate any positions within the next 72 hours.
I wrote this article myself, and it expresses my own opinions. I am not receiving compensation for it (other than from Seeking Alpha). I have no business relationship with any company whose stock is mentioned in this article.