Introduction
Caterpillar, Inc. (NYSE:CAT) recently reported its Q1 2016 earnings with a $.01 miss on earnings, and management lowered guidance on the upcoming year. Moreover, its operating condition was a bit worse than reported because earnings were given a boost due to some accounting changes. I believe that CAT's problems are likely to dog the share price for next 1-2 years, but over a longer term, this company is a good investment. Before going any further, you can find all the data used in this article here.
CAT - The Good and the Bad
Let's step back from the most recent earnings announcement and look at the larger picture. Over the last couple of years, emerging markets such as China and Brazil have seen significant slowdown in economic growth and commodity prices have been collapsing as a result. Not surprisingly, CAT's revenue has been hit hard in recent quarters: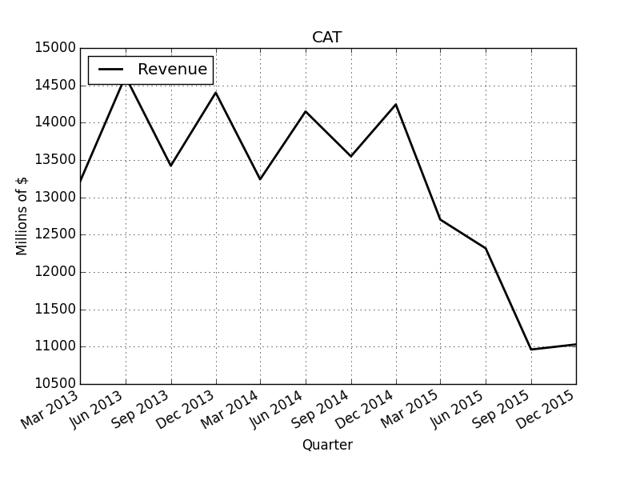 Click to enlarge
Compounding CAT's problems is that as the economies in emerging markets have slowed down, their currencies have weakened against the US dollar, which in turn has hurt the profitability of CAT's foreign operations: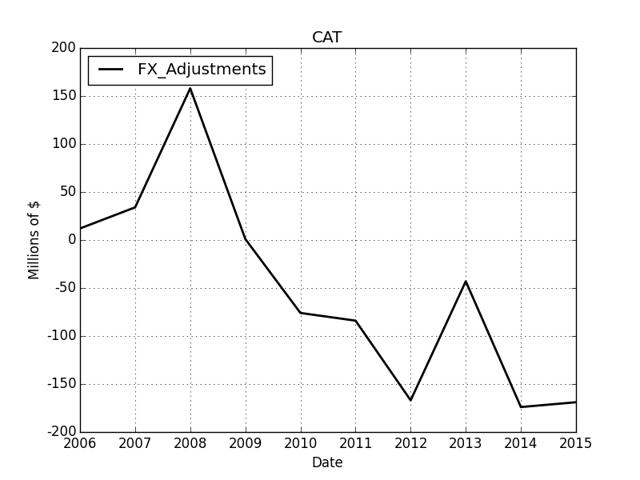 Click to enlarge
So that's a quick roundup of past problems - what about the future? Well, I believe that investors should be cautious about assuming the worst to be over. CAT needs a rebound in commodity prices, and despite the furious boom in commodity prices since the end February, I do not believe that the rally will be sustained.
The significant driver of the recent commodity boom has been speculation. As the Chinese economy slowed down in Q1 2016, the Chinese government created a large amount of credit to help boost aggregate demand within the country. It appears that a good portion of that money is being funneled into commodities and result has been predictable. It would be risky to assume that commodities, and CAT's revenue, will realize permanent gains due to such speculation.
Another problem facing CAT is the strong US dollar. In recent months, the dollar has weakened relative to other currencies and commodities, but I believe that the dollar will remain strong for at least 2-3 more years. My reasoning for this is that many of the central banks around the world want to devalue their currencies relative to the US dollar in order to generate growth. The Federal Reserve upset expectations early this year when they refused to further raise rates, and this led to the yen, euro, and emerging market currencies appreciating despite the increasingly easy monetary policies from their central banks. Going forward, I do not expect the major foreign central banks to stand by while this continues - they will continue to ease monetary policy in the short term and this will keep the dollar strong. As long as the US dollar continues to strengthen relative to foreign currencies, CAT will have a very difficult time improving its earnings.
Despite the arguments above, I'm not bearish on CAT over the long term (3+ years). The company is well run and does an admirable job returning earnings to shareholders: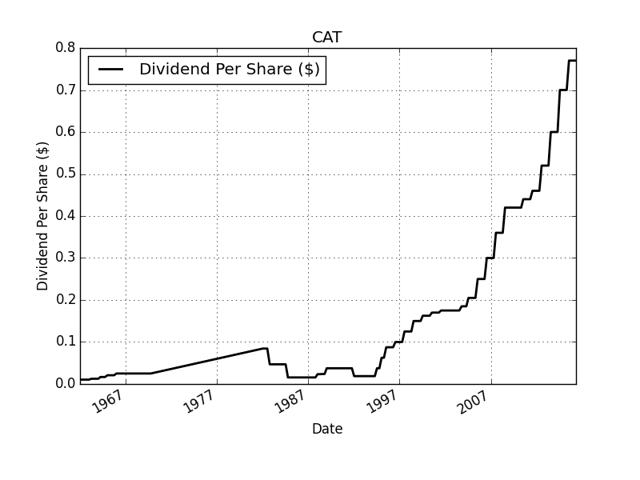 Click to enlarge
Also, management has managed to reduce shares over time (although, many of those purchases were made at very high share prices):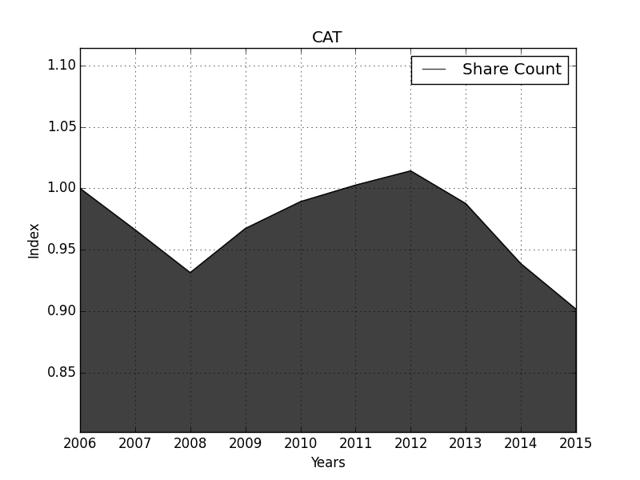 Click to enlarge
Best of all, dividends and share repurchases were able to be made using free cash flow: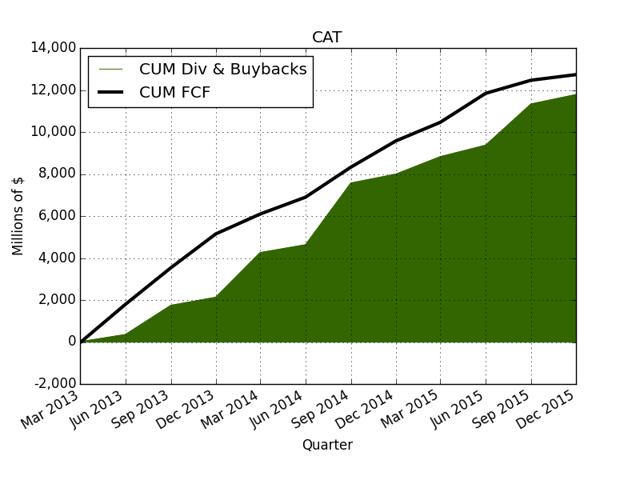 Click to enlarge
Finally, as of 2015, debt has begun to be reduced: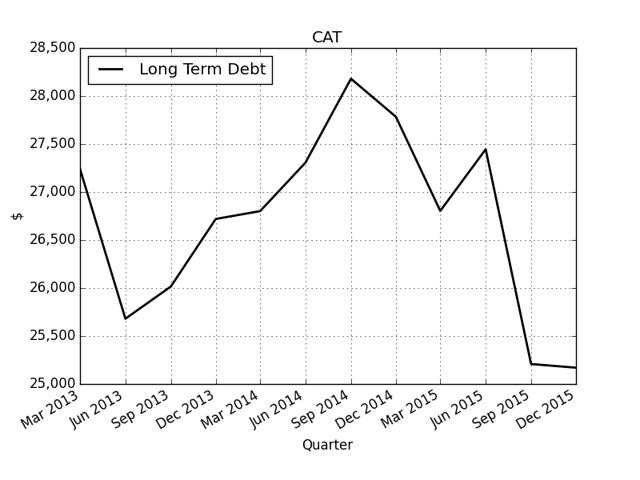 Click to enlarge
The point of all the above graphs is to demonstrate that CAT has a solid track record of doing right by shareholders, and management will likely do all they can to keep returning money to shareholders.
However, in the current environment, there is a limit to what management can accomplish. I believe that the current, harsh operating environment will last a year or two, during which time share repurchases and debt repayments will certainly be curtailed. The future of the dividend is a bit tricky; CAT has a good history of raising the dividend, but if commodity prices remain depressed, CAT might not have any choice but to freeze or cut it. In Q1 2016, CAT spent about $500 million in dividend payments, while cash flow after CAPEX and expenditures for leased equipment was negative. CAT has about $6,000 million in cash, so even if net cash flow is negative for a year or two, the dividends can be paid, but it would be tough. CAT has debt maturing in 2017 and 2018 worth about $1,400 million and that coupled with dividend payments would deplete its cash account. I believe the dividend to be safe but certain to be frozen at its current level for a few years.
To wrap up, I think the worst is yet to come for CAT, but I believe that it is a solid company and will ride out the current commodity storm. I believe that the headwinds facing this company in the near term will give prospective shareholders the chance to open a position in this stock at or below $60 some time within the next two years. Why $60? Well, CAT's stock price has been highly correlated with commodity prices for the last couple of years. At the end of January when commodities reversed their losing trend, CAT's price was around $60. For the reasons mentioned earlier, I believe that the current commodity rally is temporary and will revisit new lows within the next year or two, taking CAT's share price with it. When that chance comes, take advantage of it. The long-term prospects of this company are very good.
Disclosure: I/we have no positions in any stocks mentioned, and no plans to initiate any positions within the next 72 hours.
I wrote this article myself, and it expresses my own opinions. I am not receiving compensation for it (other than from Seeking Alpha). I have no business relationship with any company whose stock is mentioned in this article.