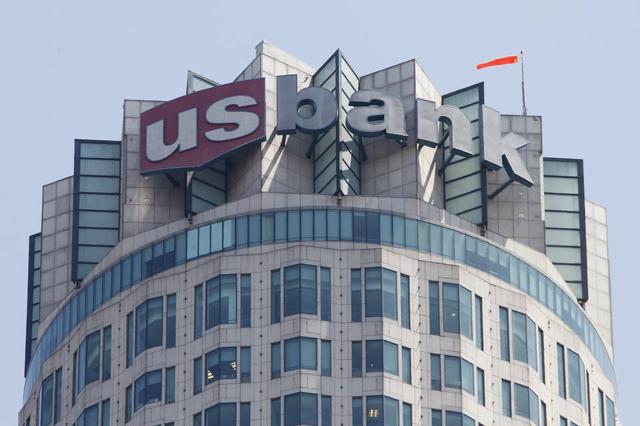 Click to enlarge
U.S. Bancorp (NYSE:USB) is a bank that I was bearish on for a long time. The stock has always commanded a premium above and beyond other large banks and while USB is certainly more soundly and profitably operated than many others, the premium was simply too much to justify. However, when USB went on sale earlier this year during the market wide selloff, I finally switched to the bullish camp with shares at $39. USB subsequently went lower but since bottoming in February, shares are now up to $43. And after a well-received Q1 earnings report, it seems there may be more to come.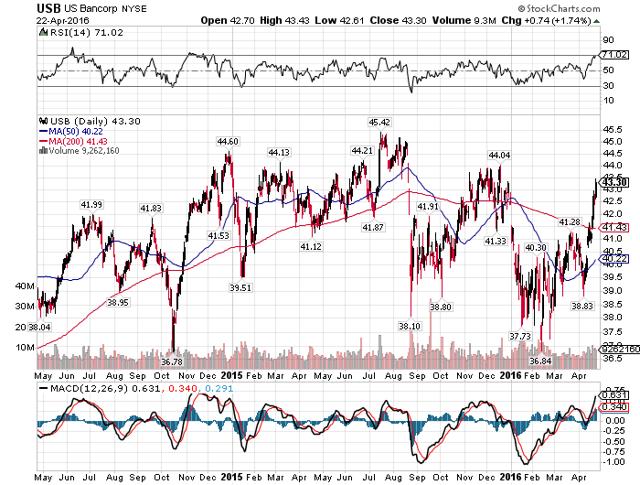 Click to enlarge
USB has always been an excellent bank that is run very well and quite profitably. A significant portion of the reason why USB trades at a premium to lesser banks is that its ROE and ROA metrics are always well above the pack. USB wrings more profits from its asset base than just about any other large bank and that is to be commended. But in the past, that hasn't led to outsized profit growth and its expensive valuation made it such that shares have gone sideways for years now. However, at $39 it was pretty easy to see that an attractive entry point had emerged, but what about now?
USB posted moderately higher revenue in Q1, something that many other banks would love the chance to say. With many large banks struggling to produce organic revenue and/or restructuring to simpler models, revenue growth has been hard to come by. USB's +3% isn't blistering by any measure, but it achieved it through solid loan book growth.
Loans were up more than 5% during the quarter and net interest income followed suit, up 4.9%. Average deposits, however, grew more quickly at 6.3% and this contributed to a loss in NIM of 2bps. USB's NIM of 3.06% is still pretty solid by today's standards although some regionals are certainly better than that. I suspect that if USB had grown deposits a little less we'd see a flat or slightly higher NIM but for now, collecting deposits is a big enough positive that a marginal loss in NIM can be overlooked. What's interesting, however, is that USB didn't report a gain in NIM at all. This quarter has been marked by banks finally seeing higher Y/Y NIMs as they take advantage of the December rate hike but for USB that was not the case. Q2 will be very telling; does this continue or was deposit growth really the problem in Q1?
Noninterest income was flat as the mortgage business tanked. It was rescued by the card business but this is a story we've seen from a few big players; the mortgage business hasn't been great for a while and Q1 was certainly no exception for USB. That it was able to make up the 22% loss in mortgage revenue to finish with flat fee income is nice but the fee portion of the business is undoubtedly weaker.
USB's revenue picture for Q1 was fairly positive overall but on the expense side, not so much. Noninterest expense rose more quickly than total revenue at 3.2% as compensation expense rose 5.9%. Some leverage was gained on benefits but that is a small line item in comparison so USB saw some deleveraging on its efficiency ratio, which came in at a still-robust 54.6%. That's in the top tier of big bank efficiency ratios and while the number itself is still strong, the story is the same as revenue; a mixed or slightly negative picture doesn't exactly inspire confidence.
In addition, provisions blew up due to energy-related losses, growing 25% Y/Y. But given strong loan growth, NPAs were actually down 4bps to 65bps of the total book. USB's energy exposure - like the other big banks - appears to be quite manageable so while provisions were a lot higher, they certainly weren't worryingly so.
If we throw all of this together we get net income that fell Y/Y as ROE lost 110bps to 13% and ROA lost 12bps to 1.32%. Those numbers are both still stratospheric compared to the likes of BAC or C but the sizable losses Y/Y speak to the problem of assigning a massive premium to a name; what if it isn't perfect all the time? USB certainly wasn't perfect in Q1 but the oversold levels it came from provided bulls enough ammunition to power it higher.
However, at this point, USB is right back where it has been for the past two years and at 13.1 times this year's earnings, it isn't cheap anymore either. If USB had blown the quarter out of the water and maintained its elevated ROA and ROE numbers, I could see paying 13 times earnings for it on a stretch. However, Q1 saw very important metrics deteriorate and the one I'm most concerned about is NIM. The deterioration itself certainly wasn't anything to be concerned with, but USB experienced negative NIM growth at a time when competitor BB&T saw strong NIM expansion on a much higher base than what USB is working with. That concerns me for the rest of the year and USB's ability to take advantage of rate hikes.
Overall, at 2X book value and 13 times this year's earnings, I think USB is overpriced again. I wouldn't short it from here because sentiment on the banks is too good right now but I think gains are likely limited from $43 on. USB may very well ride this rally another couple of bucks, but I can't see more than that as the performance gap that used to command the premium for USB narrowed significantly in Q1 and that has me concerned. I think USB is expensive again and that your bank investment dollars are better served elsewhere.
Disclosure: I/we have no positions in any stocks mentioned, and no plans to initiate any positions within the next 72 hours.
I wrote this article myself, and it expresses my own opinions. I am not receiving compensation for it (other than from Seeking Alpha). I have no business relationship with any company whose stock is mentioned in this article.