Introduction
(Note: All dollar numbers discussed are in Canadian dollars.)
Magellan Aerospace Corp. (OTC:MALJF) (MAL.TO) manufactures components for the aerospace industry. The firm has achieved stable organic revenue growth over the past ten years while expanding profit margins, but the stock gets no respect from the market. The company trades at a significant discount to the industry average on all standard valuation metrics, despite being a more fundamentally sound business than many peers. We suspect the primary source of the mispricing stems from Magellan's small size and low liquidity, which prevents large institutional investors from holding it in significant quantities. Our fair price target of $20.37 represents a 22% premium over the current price, and we think investors will benefit from a combination of earnings growth and price multiple expansion within the next year.
Business Description and Outlook
Magellan designs, engineers, and manufactures aero engine and aero structure components for aerospace markets in Canada, the United States, and Europe. Products include frames, cases, shafts, exhaust systems, gearbox housing, satellites, rocket systems, landing gear, wing ribs and spares, bulkheads and fuselage components, and wing and fairing structures, among others. In addition, the company provides spare parts and repair and overhaul services for the aerospace aftermarket. Sales to commercial and defense customers accounted for 75% and 25% of revenues respectively in 2015.
Magellan's performance is heavily tied to the fortunes of Boeing and Airbus, who together make up almost 40% of company sales. Demand from OEM customers has accelerated in recent years thanks to a combination of aging aircraft fleets, strong passenger growth, and record airline profitability. The outlook for commercial aircraft OEMs remains positive in both the short long-term. According to IATA, the airline industry is expected to have another record year in 2016, with earnings projected to grow 10% to $36 billion. Faced with record backlog, Boeing and Airbus intend to increase deliveries and implement production rate increases this year. The long-term outlook is also promising, and a combination of passenger traffic growth and replacement demand should drive healthy growth for the industry over the next twenty years. Rising incomes in the Asia Pacific are projected to grow global annual passenger traffic at a 4.9% clip through 2035. Boeing estimates the industry will need 38,000 new commercial aircraft over this period. While subject to income fluctuations, global air travel has proven to be resilient over the last three decades, overcoming multiple recessions, two financial crises, wars, and terrorism. Since 1980, revenue passenger kilometers (RPKs) have increased at an average 5.4% annual rate, and the trend looks set to continue. We expect strong demand from commercial customers to offset near-term headwinds in the defense market as the US DoD cuts its budget.
Financial Analysis and Valuation
Magellan's sales have increased at 5.7% CAGR since 2006. With the exception of last year's Ripak acquisition most of this growth has been organic, reflecting favorable trends in passenger air travel. Reported sales in 2015 benefited significantly from a stronger dollar, but we expect that solid demand fundamentals will drive annual sales growth of 5% through 2020, a rate that is consistent with our outlook for commercial RPK growth. Unlike many companies who sacrifice profitability for top line growth, Magellan's gross margin has increased every year since 2006. The company has been able to deliver productivity increases through greater scale (high operating leverage in cost structure), and by leveraging its cost-effective manufacturing model: Magellan produces a wide range of products but each of the company's 19 plants specializes in a narrow range of similar components. To be conservative and account for the recent boost provided by a weaker Canadian dollar and lower commodity prices, we assume that gross margin will slightly decline to 16.75%, and will remain stable over the forecast period.
After a two-year absence from paying dividends, Magellan reintroduced them in 2013. The payout ratio was 16.3% in 2015 compared to 7.7% in 2013. The current dividend yields just 1.38%, but we don't mind management retaining earnings so long as Magellan continues to earn economic profits (returns that exceed the cost of capital). We estimate Magellan's WACC at 7%, which includes a liquidity premium. As figure 1 shows, the company has reinvested its capital wisely, earning returns in excess of 7%.
Figure 1: ROIC 2008-2015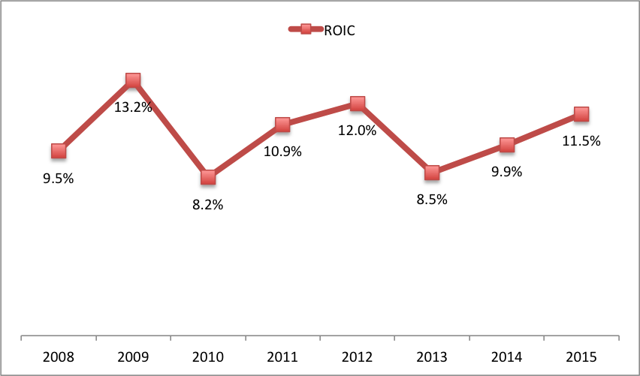 Click to enlarge
Despite strong profitability and high returns, the market continues to ignore Magellan. The company trades at a forward multiple of 10.28, a P/S of 1.07, and a P/B of 1.78. Contrast this with the industry average forward P/E of 17, P/S of 1.30 and P/B of 4.6 and you begin to see the value proposition being offered by the market. Magellan's low valuation is not justified. As figure 2 illustrates, the company is more profitable, grows faster, and has lower debt compared to its more expensive peers.
Figure 2: Comps Fundamental Analysis
| | | |
| --- | --- | --- |
| | Magellan | Industry Average |
| Median Operating Margin | 9.9% | 7.7% |
| 5-Yr Rev CAGR | 5.4% | 5.0% |
| D/E | 0.3 | 0.9 |
We estimate Magellan's intrinsic value at $20.37, which represents a 22% premium over the market price. Our DCF model uses the firm's current EV/EBITDA of 8.5 to calculate terminal value. We believe this is a reasonable figure given the stable long-term demand outlook for commercial aerospace. Our FCFF forecast assumes that D&A, working capital investment, and capex as a percentage of sales will remain stable at their long term averages of 4.7%, -2.8%, and -4.4% respectively. Figure X shows the free cash flow forecast.
Figure 3: FCFF Model
| | | | | | |
| --- | --- | --- | --- | --- | --- |
| FCFF Forecast | 2016 | 2017 | 2018 | 2019 | 2020 |
| Sales | 999,039 | 1,048,991 | 1,101,441 | 1,156,513 | 1,214,339 |
| EBIT | 110,144 | 115,651 | 121,434 | 127,506 | 133,881 |
| Effective Tax Rate | 20.9% | 20.9% | 20.9% | 20.9% | 20.9% |
| NOPAT | 87,090 | 91,444 | 96,016 | 100,817 | 105,858 |
| D&A | 46,561 | 48,889 | 51,333 | 53,900 | 56,595 |
| WCInv | -27,661 | -29,044 | -30,496 | -32,021 | -33,622 |
| Other NCC | -6,856 | -7,198 | -7,558 | -7,936 | -8,333 |
| Capex | -44,422 | -46,643 | -48,975 | -51,424 | -53,995 |
| FCFF | 54,712 | 57,448 | 60,320 | 63,336 | 66,503 |
| Discount Factor | 0.95 | 0.89 | 0.83 | 0.78 | 0.73 |
| Discounted FCFF | 52,211 | 51,250 | 50,307 | 49,381 | 48,472 |
| PV | 251,623 | | | | |
Based on our 2016 EPS forecast of $1.41, the fair price target of $20.37 equates to a forward P/E of 14.48, still cheap compared to competitors. Our fair value P/S and P/B multiples are 1.25 and 2.05 respectively, also below the industry average. The combination of earnings growth and price multiple expansion should drive this stock almost 25% higher within the next year.
Conclusion
Low trading volumes make this stock subject to large and unpredictable fluctuations. This might make the stock attractive to a trader looking to benefit from sudden moves in the market, but we believe Magellan is better suited for a buy-and-hold investment strategy. The long-term outlook for commercial aerospace is promising, and if historical results are a guide, demand is relatively stable over time. The company's dividend is unspectacular but management is making the right decision by reinvesting the majority of earnings in a business that continues to generate excess returns. We don't see how this stock can go underappreciated for much longer.
Disclosure: I/we have no positions in any stocks mentioned, and no plans to initiate any positions within the next 72 hours.
I wrote this article myself, and it expresses my own opinions. I am not receiving compensation for it (other than from Seeking Alpha). I have no business relationship with any company whose stock is mentioned in this article.
Editor's Note: This article discusses one or more securities that do not trade on a major U.S. exchange. Please be aware of the risks associated with these stocks.