For much of the last five years, value stocks have been out of favor. As the chart below shows, the iShares Russell 2000 Value ETF (NYSEARCA:IWN) has been lagging behind the iShares Russell 2000 Growth ETF (NYSEARCA:IWO) since the summer of 2011.
But something changed in August of last year, as the chart also shows. After the market correction that took place between May and August, value stocks appear to have taken the lead.
The mini-correction in early 2016 has once again hit value stocks harder than growth stocks, but the trend that began last August appears to be still intact.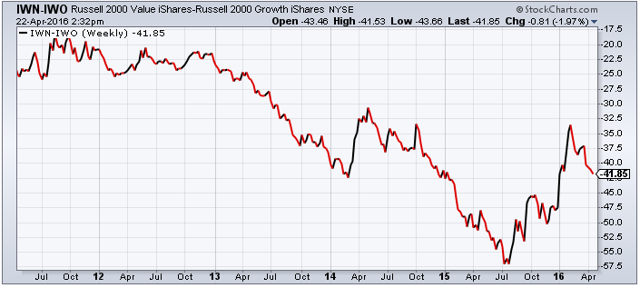 Click to enlarge
With this trend in mind as a tailwind for value stocks in general, I wanted to hunt for value-type stocks that had the potential to ride the wave. So I created a screen with the following parameters.
Price of $5 or greater
Forward P/E of 17 or lower
PEG ratio (p/e divided by projected earnings growth) of 1.5 or lower
Price/Sales of 1.5 or lower
Price/Book of 2 or lower
Low Debt/Equity
Positive earnings estimate revisions over the past 4 weeks
There were 7 stocks that passed all the screens: (NASDAQ:AFAM), (NYSE:BHE), (NYSE:DQ), (NYSE:KBH), (NASDAQ:SAFM), (NYSE:SUP), and (NASDAQ:UIHC). The table shown below summarizes the data for each of these "value with a spark" names.
I also included a technical grade and a fundamental grade, using data from VectorVest and Investing.com. (I sorted the ratings of all stocks into quintiles, and assigned a letter grade based on where these names landed - A for the top quintile, F for the bottom quintile, etc.)

Click to enlarge
The list offers a good starting point for further investigation. If you believe, as I do, that value stocks are going to continue to outpace growth stocks for the next few years, this screening methodology can be useful way to begin your own due diligence.
Disclosure: I/we have no positions in any stocks mentioned, but may initiate a long position in AFAM, SAFM, SUP over the next 72 hours.
I wrote this article myself, and it expresses my own opinions. I am not receiving compensation for it (other than from Seeking Alpha). I have no business relationship with any company whose stock is mentioned in this article.