Eurozone business growth slowed in April according to Markit's Flash PMI, which fell to 53 from 53.1 in March, matching a 13-month low from February. Average selling prices fell again, as weak demand forced firms to lower prices. According to Chris Williamson, Chief Economist at Markit, the reading implies "GDP growth of 0.3% at the start of the second quarter, and suggests the modest pace of growth is unlikely to accelerate in the coming months". The persistent weakness in eurozone business activity is a symptom of deep structural challenges in the region that loose monetary has not, and will not, be able to cure.
Figure 1: Eurozone PMI and GDP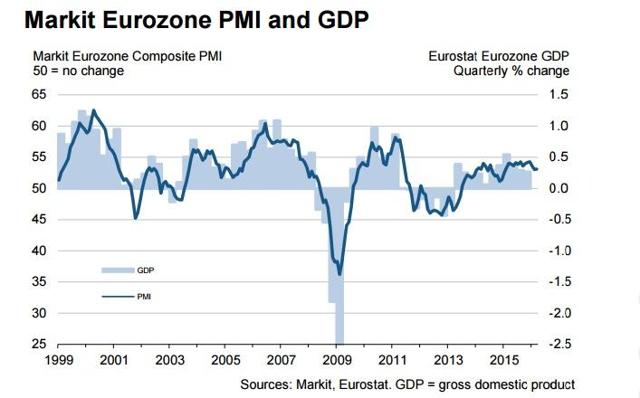 Click to enlarge
Source: markiteconomics.com
Europe is plagued by underlying structural issues that require structural reform, not stimulus. The region still suffers from financial crisis hangovers and high debt burdens, and the population continues to age. High regulations (particularly in the banking sector) hamper loan growth, and create entry barriers that further discourage investment and job creation. These factors dim the outlook for future productivity growth, which, in a viscous cycle, deters business investment today. With income growth stagnating, eurozone economies have increasingly relied on exports to emerging markets. But the combination of China's slowdown and the fall in commodity prices has lowered trade to these countries.
Many have speculated as to how, given the weakening euro and low interest rates, inflation could remain so low for so long. The answer is not complicated and involves a combination of supply and demand factors. On the supply side, wages have stagnated due to declining productivity growth, and the commodity glut has lowered the costs of many inputs. On the demand side, high debt levels and low income/earnings growth have hurt spending by consumers and businesses. The fact that low prices have done little to boost spending reveals how damaged the region is. Contrary to what many textbooks claim, expectations of low inflation should increase demand because consumers will have more real wealth in the future.
Mr. Williamson states "a failure of business expectations to revive following the ECB's announcement of more aggressive stimulus in March is a major disappoint". But it shouldn't be a surprise. It simply reinforces that, without the proper incentives in place, expansionary monetary policy and negative interest rates will not have the desired effect on demand. Much like in America, businesses have used low interest rates to repurchase shares rather than investing in new machines and upgrading equipment. This is because the demand outlook is so poor that businesses don't expect to earn good returns even with rates at these levels. The only sustainable solution to the eurozone's self-reinforcing problems will probably never happen. It involves easing restrictive regulations and, most importantly, reducing the ECB's influence over interest rates. Higher interest rates would encourage saving and, over time, lead to higher wealth and spur loan growth. At the same time, businesses would be more inclined to invest as a result of their wealthier customers. Of course, this process would be painful in the short-term and take a long time to play out. But until Europe adopts the right policies, we can expect the poor PMI data to persist.
Disclosure: I/we have no positions in any stocks mentioned, and no plans to initiate any positions within the next 72 hours.
I wrote this article myself, and it expresses my own opinions. I am not receiving compensation for it (other than from Seeking Alpha). I have no business relationship with any company whose stock is mentioned in this article.