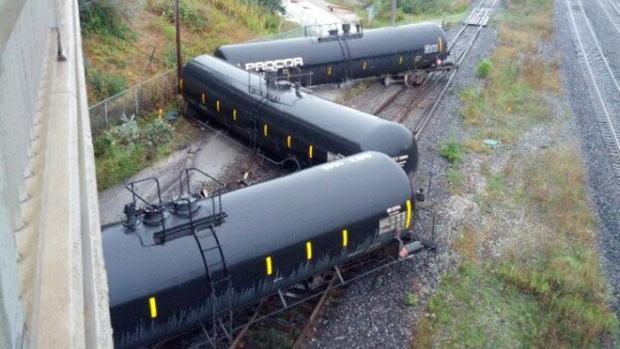 American Railcar (NASDAQ:ARII) reports Q1 earnings on Thursday April 28th. Analysts expect revenue of $196.04 million and eps of $1.35. The revenue estimate implies a 25% decline sequentially. Investors should focus on the following key items:
Is Leasing Revenue Recurring?
The global economy has been in a steady state of decline. Efforts of central bankers have been useless. Declining rail traffic has also led to falling railcar orders. In certain cases buyers have decided to lease railcars instead of buy. Leasing allows customers an avenue to transport product cross country, yet forgo the capital outlay of buying railcars outright.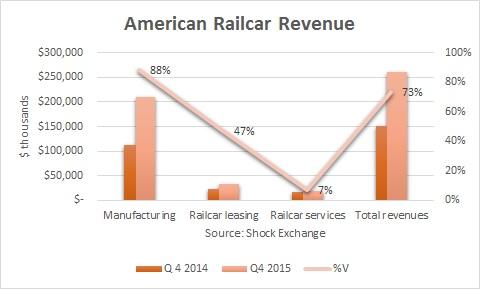 American Railcar's Q4 revenue was up 73% Y/Y on higher railcar shipments; leasing was about 13% of revenue in Q4, down from 15% in the year earlier period.
Much of the company's 2016E revenue is already included in its $695 million backlog. That said, leasing revenue could be the wild card. Lease rates are highly competitive and demand can change very rapidly. That volatile demand served American Railcar well in the past, but the past might not be prologue. Trinity Industries' (NYSE:TRN) Q1 segment revenue fell 24% sequentially. Leasing revenue fell 52%, outstripping declines in other products. I believe American Railcar could experience a similar drop in leasing revenue as well.
Can The Backlog Be Replaced?
Declining rail orders have practically been priced into shares of railcar manufacturers like American Railcar, Trinity and Greenbrier (NYSE:GBX). GBX and TRN actually rose after reporting free falling orders; bulls believe the backlogs will sustain railcar manufacturers long enough for the global economy and railcar orders to miraculously rebound. The alarming part for American Railcar is that it expects 70% of railcars in its backlog to be delivered in 2016.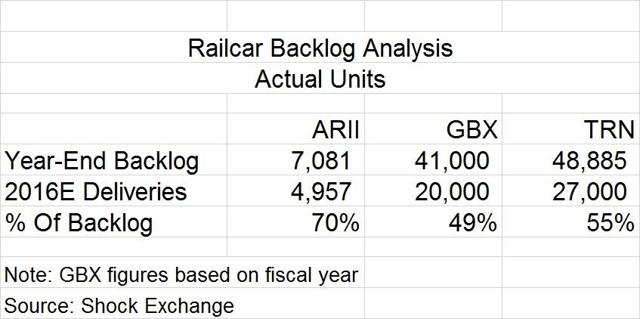 Click to enlarge
That figure compares unfavorably to Greenbrier and Trinity, depending on how you look at it. Greenbrier expects to deliver 20,000 to 22,000 units this year, while Trinity expects 27,000 deliveries. That's about 49% and 55% of Greenbrier and Trinity's respective year-end backlogs. If these delivery figures are priced in then what happens in the second half of 2016 or beyond?
Greenbrier and Trinity appear to have more deliveries left in the till for 2017; that makes them less reliant on new orders. However, American Railcar might be in trouble if orders don't pick up, which I don't suspect they will. ARII trades at about 4.3x run-rate EBITDA, but EBITDA is expected to decline going forward. I believe the company's best days are behind it. By the second half of 2016 I look for the stock to sell off due its shrinking backlog and dismal 2017 outlook.
Disclosure: I am/we are short GBX, ARII.
I wrote this article myself, and it expresses my own opinions. I am not receiving compensation for it. I have no business relationship with any company whose stock is mentioned in this article.