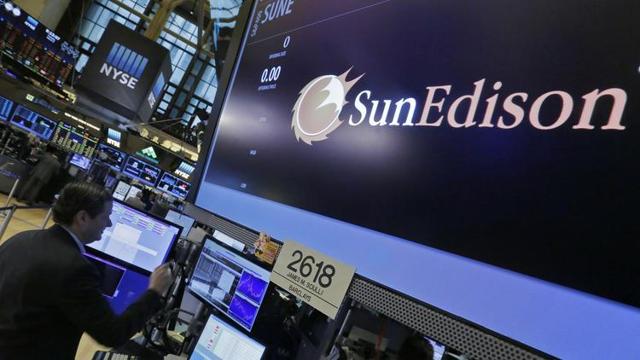 Click to enlarge
SunEdison (SUNE) filed for Chapter 11 bankruptcy protection on April 21, 2016. Some were in denial right up to the day the bankruptcy was declared that this would happen, but it is hard to see how any other outcome was possible.
The multiple acquisitions that the solar and wind installer indulged in left them with a huge amount of debt. SunEdison listed $20.7 billion in assets and $16.1 billion in liabilities. Investors had become increasingly bearish on the stock, which had declined from over $30 per share in July to $0.36 per share at close of business on April 20, one day before the bankruptcy filing.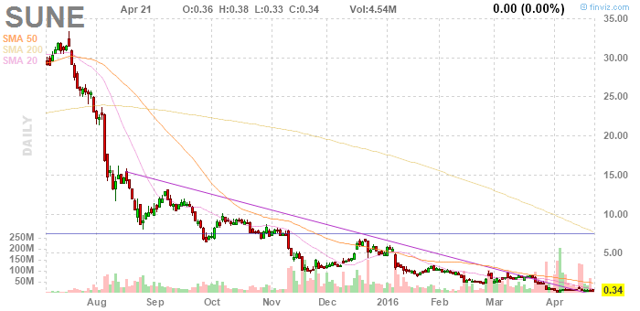 Click to enlarge
In 2014, SunEdison made nine acquisition deals, and in 2015, made eighteen other deals, including First Wind LLC in May 2015 for $2.4 billion - a deal was pulled off in tandem with former SunEdison subsidiary and current yieldco TerraForm Power, Inc. (NASDAQ:TERP). Other acquisition attempts have been less successful: in March Vivint Solar cancelled an attempted buyout by SunEdison and sued them for failing to meet deadlines relating to closing the transactions.
Whether successful or not, this acquisition spree has incurred costs that SunEdison could not finance by itself, hence the huge, and unsustainable debt that has been incurred as a consequence. However, it "doesn't work to try to be the biggest and get the biggest market share at the expense of profits," Jenny Chase, the head of solar analysis for Bloomberg New Energy Finance, wisely observed. "You do have to have some focus on your strategic competencies, and the bottom line."
Legal wrangles have compounded problems for the beleaguered firm: SunEdison's accounting practices have come under scrutiny, and both the SEC and the US Justice Department have been investigating them. Furthermore, earlier this month, another former subsidiary and current yieldco, TerraForm Global (NASDAQ:GLBL) has sued SunEdison on the grounds that they misappropriated $231 million.
Given this massive combination of unsustainable debt and multiple legal issues, bankruptcy was really the only feasible course of action open to SunEdison. It has made history as the largest bankruptcy case in the renewable energy sector's history, but it should not have been a shock to anyone who had been paying attention to the company over the last two years.
DISCLAIMER: I am not a financial professional and accept no responsibility for any investment decisions a reader makes. This article is presented for information purposes only.
Disclosure: I/we have no positions in any stocks mentioned, and no plans to initiate any positions within the next 72 hours.
I wrote this article myself, and it expresses my own opinions. I am not receiving compensation for it (other than from Seeking Alpha). I have no business relationship with any company whose stock is mentioned in this article.
Editor's Note: This article covers one or more stocks trading at less than $1 per share and/or with less than a $100 million market cap. Please be aware of the risks associated with these stocks.