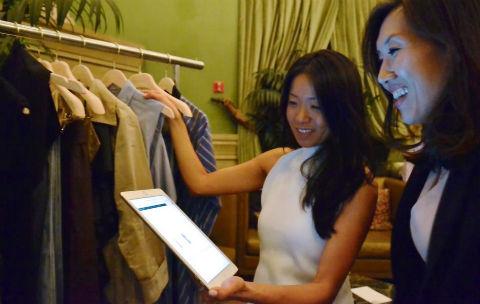 Amazon.com, Inc. (NASDAQ:AMZN) has made significant efforts to gain a strong foothold in the apparel segment. Some of its recent efforts include: launching "Style Code Live" program with celebrity guests, getting top brands like Calvin Klein and Lacoste to sell on its platform directly and also starting new private brands like Society New York's women dresses.
However, it showed its true ambition in this category by partnering with luxury clothing merchant Moda Operandi last week to provide a seamless shopping experience to customers. High-end fashion does not convert well on Amazon's website. Few customers (if any at all) would like to complete the purchase of $7,000 silk-pleated ball gown by designer Oscar de la Renta on Amazon's platform without actually trying the dress.
Amazon's partnership with Moda Operandi solves this issue by allowing both the companies to work in their individual area of expertise and try to improve overall shopping experience of customers. Earlier, we would see buyers from Neiman Marcus and Bergdorf Goodman visit private fashion shows and pick a small number of items to sell in their stores.
Moda Operandi changed this model by allowing established and emerging designers to show their entire collection online on the day they are unveiled. This partnership allows Moda Operandi, a six-year-old startup which has raised $130 million till now, to tightly connect the physical and online stores.
Amazon's app will tell the sales associate when the shopper has arrived to try the items selected online. The final payment can be made through the buyer's Amazon account. The sales associate is also provided a detailed list of the buyer's preference and other information on a tablet, based on the buyer's online browsing of items. This helps the sales associate suggest other merchandise which fits the buyer's tastes.
Amazon gets twin advantage through this partnership. On one hand, it gets a good learning experience in the high-end fashion category, which can provide requisite information for a more aggressive future endeavor. It also increases the scope of its payments business and allows Amazon.com to provide its 290 million account holders an easy option to shop on other companies' websites.
To be sure, Moda Operandi's inventory will not be shown on Amazon's website but it should still provide the much needed upscale touch to Amazon's apparel category. Amazon is already slated to increase its apparel GMV (Gross Merchandize Value) in US from $16 billion in 2015 to $52 billion by 2020. This will increase its market share in this segment from 5% to 14% and will also allow it to overthrow Macy's, Inc. (NYSE:M) by 2017 to become the No. 1 US apparel retailer.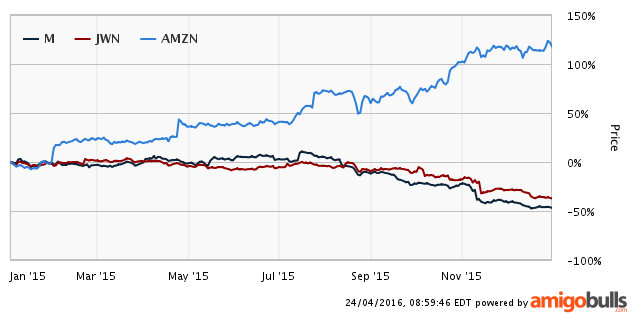 Fig: Comparison of AMZN, M and Nordstrom, Inc. (NYSE:JWN) stock in 2015
Last year, AMZN came out as a clear winner as a number of brick and mortar retailers performed poorly. Both Macy's and Nordstrom had one of the worst years with huge store closings and a fall of close to 50% in their stock price.
Conclusion
Amazon's incremental steps in the apparel segment should bring higher margins and generate higher sales for the company. The partnership with Moda Operandi provides useful insights in the world of high-end fashion and also helps in the acceptance of Amazon's payment service by other retailers. Amazon has used its platform to the greatest advantage in this partnership which should provide a good learning experience in case the company wants to make a more aggressive play in this segment in the future.
Disclosure: I/we have no positions in any stocks mentioned, and no plans to initiate any positions within the next 72 hours.
I wrote this article myself, and it expresses my own opinions. I am not receiving compensation for it (other than from Seeking Alpha). I have no business relationship with any company whose stock is mentioned in this article.