I was wrong on McDonald's (NYSE:MCD). I've been bearish on the stock since it cleared $100 last year, and I shorted the stock at $112 in November. Fortunately, I managed to bail around $116 in February, when the broad market was tanking and MCD's relative strength seemed to imply little near-term upside for a short.
That said, I still think the stock's valuation is ridiculous, even with MCD having retreated modestly following Q1 earnings on Thursday. I admit the numbers looked impressive - particularly a 6.2% global comp - and I imagine I wasn't the only one to be surprised to see the stock turn negative in Thursday's session.
But the valuation here already implies significant success in the turnaround - perhaps one reason why Q1 earnings led to the modest sell-off - and truthfully, I don't think the business is all that good, both short term and (particularly) long term. McDonald's is a massive corporation selling unhealthy processed food to customers increasingly looking for locally sourced, fresh, and healthy options. In the near term, Q1 2016 results show barely any improvement from Q1 2014; much of the apparent growth this quarter isn't a result of some sort of huge turnaround, but rather of comparing against one of the company's worst quarters in recent memory.
Where I was wrong was in missing the somewhat counterintuitive point that many bulls might make: the fact that operations aren't that great is precisely the point. There are over $400 million in G&A savings coming, a series of financial engineering initiatives on the way, and myriad operational improvements in the U.S. The earlier McDonald's is in the turnaround, the easier it is to model improvements - and the more impact those hypothetical improvements will have. And it appears a lot of investors - and analysts - have modeled those improvements, with Street price targets in particular appearing to climb as fast as MCD shares have.
At the very least, I think the stock has priced in a ton of success: the shares gained nearly 40% in eight months (just a huge move) leading into the earnings. Even if McDonald's executes beautifully for the next seven quarters, the current price (at 24x P/E!) assumes a multiple well above historical levels and a figure that, truthfully, isn't supported by the company's own long-term targets. And yet, there are a number of reasons why I don't think McDonald's is well positioned to drive the type of growth so many investors seem to be expecting:
1. The business still is stagnant.
The all-day breakfast move appears to have been a brilliant stroke, but the idea that its success has jump-started growth for McDonald's in the US is patently false. The numbers in Q4 and Q1, which many observers have taken as a sign of initial success in the turnaround, weren't driven primarily by 3 pm McMuffins or better bun toasting - they were simply a reversion to the mean after two horrific quarters in Q4 2014 and Q1 2015. Q4 2014 was the period that got former CEO Don Thompson fired; the business' current state can be better understood by looking at comparisons over the past two years:
MCD Q1 Key Figures, 1- And 2-Year Growth Rates
| | | |
| --- | --- | --- |
| Figure | 1 Year | 2 Year |
| Global Comps | +5.1%* | +2.7%* |
| US Comps | +4.3%* | +1.6%* |
| China Comps | +7.2% | +2.0% |
| Japan Comps | +27% | -14% |
| Operating Income** | +17.6% | +3.5% |
| EPS** | +26% | +12.4% |
* Excludes estimated 1.1% impact of extra day for leap year
** Constant currency, excluding charges in 2015
Over two years, the business basically hasn't moved; the EPS gain comes almost solely from a 10% decline in share count (with much of those repurchases fueled by debt).
And as CEO Steve Easterbrook admitted on the Q1 conference call, Q1 2016 actually saw a number of benefits, including weather and the benefit from all-day breakfast. That roll-out appears to have exceeded the company's own expectations - it reportedly projected a 2.5% boost to comps - but it is moderating, with McDonald's edge over fast food periods narrowing in Q1 versus Q4. And of course, it will be lapped by the end of the year. For all the enthusiasm about breakfast, the flip side is that the rest of the menu sold less this year than it did two years ago. Once all-day breakfast is lapped in Q4, growth will have to come from elsewhere.
Outside the U.S., the U.K., Canada, and Australia appear to be very solid markets; beyond that, the situation is a bit iffier. Asia still is recovering from a supplier scandal last year, Germany is flat and France is down. Again, the argument is that these regions represent opportunities for growth, not just reason for concern; but at $125, it does seem like a lot of success is priced in.
2. The cost structure actually looks pretty good.
I thought Q4/Q1 comps would be solid, thanks to easy compares, but I anticipated substantially more margin pressure that might change the narrative around MCD. Much of the higher wages have been foisted onto franchisees, while commodity costs have offset much of the impact on company-owned restaurants. Commodity costs dropped 3% in Q1 and are guided to fall 3.5-4.5% for the full year.
The company still is targeting an incremental $425 million in G&A savings by the end of next year, a ~$0.35 benefit to consolidated EPS. But that aside, I still think margin pressure is coming to the company-owned restaurants at some point. State-level minimum wage increases aren't finished, though lapping the initial raise after Q2 will provide a benefit. Commodity costs are at historic lows, but moves to cage-free eggs and antibiotic-free chicken promise increased costs over the next few years. Pricing was up 3% in Q1, and a 6% delta between commodity movements and pricing simply doesn't seem sustainable over the long term. Outside the U.S., CFO Kevin Ozan admitted that the company was projecting lower pricing power in low-inflation markets.
Beyond the G&A cuts, I don't see much evidence for the type of leverage an investor normally might expect from a turnaround play. It's not as if there's much, if anything, in the way of low-hanging fruit in terms of fixed costs; and from a variable cost perspective, the current environment actually looks rather favorable. As Ozan admitted on the Q1 call, McDonald's needs comps to drive margins, and as comparisons get tougher starting next quarter, a comp slowdown will make it even more difficult to show the type of earnings growth the market is pricing in.
3. Shareholder returns are not a good thing, particularly in this case.
I understand that income investing often is a matter of personal wealth management and needs, but at the same time, I think dividends tend to be overrated and often poorly understood. A dividend payment isn't "free"; it's simply a transfer of the control of cash that, at the end of the day, belongs to a shareholder - whether it is in the account of the company or in the account of the investor.
Truthfully, I'm getting a bit weary of - and a bit concerned by - the constant trumpeting of "shareholder returns" by management at low-growth megacaps. For one - and this applies to McDonald's - borrowing money to buy back shares isn't "returning" capital to shareholders. It's borrowed money, not generated cash. And the process is using leverage to increase a shareholder's ownership of the company - essentially, buying shares on margin, with the interest coming out of the company's cash flow instead of the shareholder's account.
The other issue is that the capital returned to shareholders - in theory - should be considered "excess". Managers are expected to invest in the business first; it's only if there aren't avenues to gain incremental returns on that capital within the business that it should be returned to shareholders.
In the case of McDonald's, in particular, the focus on shareholder returns implies, from my perspective, management's lack of confidence in the company's growth prospects. McDonald's is refranchising restaurants in the US - and now, apparently, overseas - which trades future cash flow from an upfront payment. In theory, that's only a deal made if a manager doesn't expect that future cash flow to grow at a substantial rate. In practice, the move does lessen McDonald's' direct exposure to margin issues, as franchise revenues are based overwhelmingly on restaurant sales, not profits. Neither rationale, however, implies much in the way of confidence in the company's mid- to long-term earnings prospects.
What was particularly notable about the Q1 call was management detailing a plan to partner with operators in Asia, where the company is planning to accelerate development. That's one of the last growth markets for McDonald's, and it represents a very interesting decision in terms of capital allocation. The company is borrowing money at low interest rates, and plans to continue to do so, to buy back shares. But it's raising capital from partners in Asia, and giving up future profits in the process, instead of using those debt proceeds to keep full ownership of future cash flow from the region.
An analyst asked about the decision on the Q1 call, and I'm not sure I quite agree with the answers from Easterbrook and Ozan. Ozan said "we've got a meaningful amount of capital that we're spending on growing [in Asia]", adding later that, "The way we think about it is if someone else can use their resources to grow the business, we'll participate in that growth through an increased royalty, and effectively reduce G&A and capital that right now we're spending in those countries." Easterbrook followed up by saying, "As we sit here with more appropriate fiscal discipline across our business, we have a lot of demands for our capital, and a lot of choices where we want to invest our G&A."
Admittedly, it was a bit of a non-answer answer, and certainly, Easterbrook and Ozan see a path to increasing shareholder value through these transactions. (That doesn't mean it will work, but certainly the two men, and myriad other executives, made the decision thoughtfully.) But the "demands on capital" cited by Easterbrook are predominantly the share repurchases being carried out: per the 10-K, McDonald's spent $6.2 billion on share repurchases and $1.8 billion on capital expenditures in 2015, and is raising more debt precisely because its cost of capital is so low. Taking resources from partners in Asia, while using debt proceeds to buy back shares is a decision to own more of the existing business than the supposedly wonderful growth opportunity.
There's a disconnect here. McDonald's management is talking up improvements in the business and growth opportunities in Asia as future drivers of growth; yet, it's selling off proceeds from that future growth and using to buy back shares in the present. Yes, share repurchases are accretive to EPS, but they're only accretive to shareholders if the buybacks are made at the right price. At the end of the day, these decisions strike me as leveraging up a stagnant business, while backing off investing in the growth opportunities the company does have. It may work, but it's a risky path.
4. I still don't like the business long term.
Is McDonald's a better brand than it was ten years ago? Five years ago? I don't think so. Cage-free eggs don't offset "pink slime", Fast Food Nation, the focus on healthy eating, or an increasing anti-corporate bent among younger customers.
Is McDonald's competitive situation better than it was in the past? Absolutely not. Wendy's (NYSE:WEN) and Burger King (NYSE:QSR) are stronger competitors. Yum Brands (NYSE:YUM) has a huge head start in China. Shake Shack (NYSE:SHAK), Five Guys, and myriad other burger chains continue to expand.
McDonald's franchisees too aren't all that confident relative to the brand and the company, even in the wake of the all-day breakfast roll-out. Certainly, Easterbrook is working to improve that sentiment. But all else equal, the company looks to be in a much more difficult situation in 2016 than it was in 2006 or 1986. Normalized for the potential improvements from current turnaround efforts, I still think McDonald's earnings multiples should be lower than they were in the past - but that's clearly not the case.
Valuation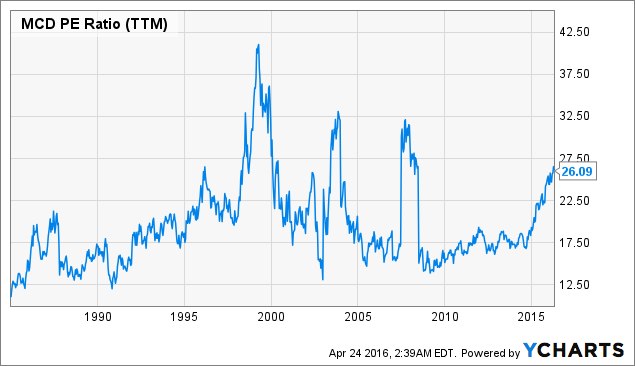 MCD PE Ratio (TTM) data by YCharts
That was the case, however, until recently. Confidence in the turnaround under Easterbrook has dramatically expanded the multiple here.
And truthfully, that makes some sense. I admit that McDonald's has outperformed my expectations over the past three quarters, and the G&A cuts and the quick rebound from the disastrous 2014 alone augur 25-35% growth.
But from here, what's coming? On the plus side, McDonald's is lapping the wage increase after Q2. It's also running into increasingly more difficult comparisons, however. It remains to be seen whether the company can hold the line on pricing overseas - where inflation is low - and in the U.S. - where marketing in the space clearly is increasingly price-based. McDonald's generally needs 2-3% comps to gain any leverage - a target it hasn't hit consistently for years now - and an increase in commodity costs could further complicate that target.
There's reason to see EPS clearing $6 per share in 2017 given solid execution, thanks to continued operational improvements and G&A cuts. But that looks like a pretty normalized figure; from there, McDonald's own targets are for 6-7% operating income growth annually. That's in line with the same type of growth posted when the company offered a high-teen multiple and a 3%+ dividend yield.
I still think fair value is well below current prices; a $110-115 figure gets the dividend back over 3% and still assumes an aggressive high-teen multiple to 2017 EPS. And that assumes very solid execution and cooperation from input and labor costs.
That's obviously higher than I projected just a few months ago, but I think it's still a bit of an aggressive case (and as noted, Q4 and Q1 were both stronger than I expected). There's still a reasonable case that a miss or two in Q2-Q4 can get the shares back to $100; multiple compression to 18-19x and EPS of $5.60 (which includes slower growth and the benefit of 2017 cost cuts) puts the shares at $101.
For now, I'll learn my lesson in terms of shorting against optimism based on valuation alone (though I did presume margin catalysts that didn't arrive), but were I a more aggressive trader, I might try and make a swing trade post earnings. Sentiment does seem to have deflated a bit; the stock is running near Street targets (despite the fact that they have been raised as fast as the stock has gained), and the intraday decline on Thursday implies a bit of disappointment from investors, who may have been hoping for a quarter that was even more impressive given the comparison.
But I still think this is a very dangerous idea from the long side, and I see a lot of potholes on the path to the new, finely tuned McDonald's that Easterbrook and his team are working toward. The situation is better, I admit. But it's not great. Maybe that's a good thing - maybe McDonald's has that much more room for improvement. But there's a long way to go.
Disclosure: I/we have no positions in any stocks mentioned, and no plans to initiate any positions within the next 72 hours.
I wrote this article myself, and it expresses my own opinions. I am not receiving compensation for it (other than from Seeking Alpha). I have no business relationship with any company whose stock is mentioned in this article.