Precious metals have rallied strongly in recent weeks with gold now up by 5% for the year-to-date and silver by 8% as investors seek safe-haven investments because of growing turmoil in global markets and the uncertain outlook surrounding commodities.
In my last article on silver, I claimed that the rally in silver had failed to keep pace with gold and this had presented a solid investment opportunity for investors. Since then, the price of silver has rallied by almost 13%, with it catching up to gold to now be trading 4% lower than its one-year high of $17.71 per ounce.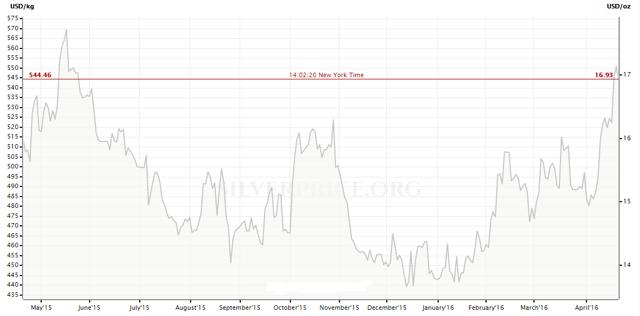 Click to enlarge
Source: Silver Price.
This has also seen the iShares Silver Trust (NYSEARCA:SLV) rally quite strongly to be up by 11% over the last month to be $16.14 per unit.
As a result of this recent rally, the gold-to-silver ratio has narrowed from 80 ounces of silver being required to purchase one ounce of gold to now be 73 ounces. With the gold-to-silver ratio a key indicator of when to invest in silver, this recent movement emphasizes why it is important for investors to watch this ratio.
What is the gold-to-silver ratio?
The gold-to-silver ratio measures the amount of silver required to purchase an ounce of gold and it is an important measure of the value of silver relative to gold. Essentially, it indicates whether gold or silver is undervalued or overvalued relative to the other metal. When the ratio is high, it indicates that silver is undervalued relative to gold and the opposite when it is low.
The ratio has fluctuated wildly since over time, with it ranging between 16 ounces and 100 ounces of silver to purchase an ounce of gold. For example, in 2007, the ratio averaged 51 for the year, while at the height of the bull market in September 2011, the ratio stood at 44 ounces of silver per ounce of gold.
It is worth noting that the ratio of silver to gold in the earth's crust according to the U.S. Geological Survey is 17.6 ounces of silver for every ounce of gold and some gold bugs claim that this is where the ratio should adjust to over time.
Regardless, over the last century, the ratio has averaged between 50 to 60 ounces of silver per ounce of gold. The ratio over the last year has moved away from its historical average and reached levels that could be considered statistically extreme.
The changes in the ratio and its extremes are illustrated in the chart below.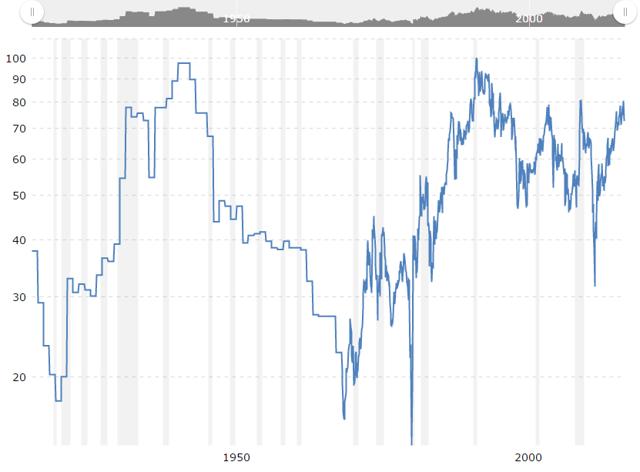 Click to enlarge
Source: macrotrends.
When the ratio moves to extremes, it creates a trading opportunity for investors.
At the time of writing, the ratio stands at 73 ounces of silver for every ounce of gold, and while this has narrowed from 80 at the time when I wrote my last article, it indicates that silver is relatively undervalued in comparison to gold. Even if the ratio fell to the historical average of 60 ounces for every ounce of gold, then at current prices, it indicates that silver should be trading at around $20 per ounce, giving potential upside of 21% for investors.
Can the rally in silver continue?
Even after the latest rally which now sees silver up by 6% over the last year, there are signs that the white metal will keep climbing in value. This is because silver, over the past few years, has underperformed gold, falling with it but not rising alongside its more valuable cousin.
Key to whether silver will continue to rise in value through 2016 will be the state of commodities and the value of the U.S. dollar, with a weak dollar being a positive for silver.
There are signs that the dollar is coming off the boil and this will help to support further rises in the value of silver. This in part can be attributed to pockets of weakness in the U.S. economy with recent housing data missing expectations.
Then there was the Fed which hosed down expectations of additional rate rises at the March policy meeting, stating that two, rather than four, rate hikes are likely in 2016. This has removed a considerable amount of support for a higher dollar.
Commodities, in general, remain caught in a protracted slump, but there are some signs of life with crude and metals rising in recent weeks and this will also help to buoy the silver price.
Then you have low interest rate, growing global economic volatility, and fears over the direction of China's economy, which are helping to support precious metal prices in general, which will also support silver.
Nonetheless, it is difficult to predict by how much silver will rise with it being far more volatile than gold.
The recent price fixing litigation in the U.S. against Deutsche Bank (NYSE:DB), HSBC (NYSE:HSBC) and the Bank of Nova Scotia (NYSE:BNS), illustrates just how vulnerable silver is to short-term market manipulation.
There is also the tremendous volume of paper silver, with a glut in paper contracts now in place. It is estimated that there is about one ounce of physical silver to over 250 ounces of paper silver. These paper contracts have effectively created a virtual silver supply without putting pressure on the physical silver market. This has helped to keep the price of silver artificially low and is creating considerable volatility in its price, with the large volume of contracts creating a considerable disconnect.
However, over the longer term, markets tend to win out and there are a range of long-term indicators that silver will rise in value of the next five years.
Key among these is growing industrial demand with it an important element used in the fabrication of solar panels and the manufacture of electronic components. Growing demand for a range of electronics that contain components comprised of silver continues to grow, particularly the consumer electronics market for items containing touch screens, circuit boards and silver membrane switches.
On top of this growing industrial demand is an increasingly constrained supply situation with miners investing substantially less in exploration and development.
The majority of silver comes as a by-product from base metals mining, and depressed copper and nickel prices is causing miners to slash capital expenditures as they seek to shore up balance sheets and protect their cash flows. As a result, there has been a steep reduction in exploration and mine development activity among some of the world's largest silver producers such as Rio Tinto (NYSE:RIO).
Meanwhile, one of the world's largest producers of silver, global miner BHP Billiton (NYSE:BHP)(NYSE:BBL), which has also slashed capital expenditures, is battling its own problems with the fallout from the Samarco disaster in Brazil.
Primary silver miners have also slashed capital expenditures, and there are signs that many are contemplating shuttering uneconomic production, with Endeavour Silver (NYSE:EXK) having announced it will cut production by 25% in 2016.
Bottom line
The outlook for silver over the long term remains bullish with it possible that it could rally to as high as $20 per ounce over the course of 2016. Growing industrial demand, a weaker dollar, the Fed's dovish expectations regarding interest rates, and supply constraints will all play their part in supporting higher silver prices. This now sees it offering investors potential upside of 21% at this time.
Regardless, of this positive outlook, investors should remember that the large volume of paper silver contracts is having a distortionary impact on the price of silver and increases its volatility. Nonetheless, the market should balance out over the long term, making now the time to acquire exposure to silver.
Disclosure: I/we have no positions in any stocks mentioned, and no plans to initiate any positions within the next 72 hours.
I wrote this article myself, and it expresses my own opinions. I am not receiving compensation for it (other than from Seeking Alpha). I have no business relationship with any company whose stock is mentioned in this article.
Additional disclosure: I/we have extensive investments in physical gold and silver bullion.