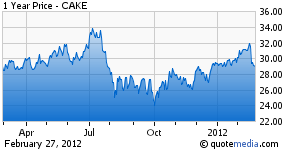 The Cheesecake Factory (NASDAQ:CAKE) operates more than 170 restaurants in the upscale casual dining segment. The great majority of these restaurants operate under The Cheesecake Factory name but the Company also owns two lesser-known brands: Grand Lux Café and Rocksugar Pan Asian Kitchen. The Company strives to provide a distinctive, high quality dining experience at moderate prices by offering an extensive menu in an upscale environment. The menu features over 200 items in addition to supplemental menu cards, including appetizers, pizza, seafood, and of course, dessert. The average restaurant offers about 40 different varieties of cheesecake.
The broader market has significantly outperformed The Cheesecake Factory in 2012. CAKE has fallen 0.78% YTD vs. an 8.6% increase for the S&P 500 index. Even though the Company reported earnings above analyst estimates, the stock fell more than 5% on February 22nd. The Company reported EPS of $0.53, beating estimates by $0.01 per share, but gave guidance for Q1 well bellow market expectations. The Company expects to earn between $0.34 - $0.36 per share in Q1, below the average estimate of $0.40. Although the Company grew EPS 15% in Q4, there are several reasons that I do not recommend owning this stock.
The Cheesecake Factory's biggest problem is comparable store sales (comps.), a key industry metric. In its latest earnings conference call, management reported comp increases of 2.7%. This is above the -4.2%, 1.8% and 2.6% that Ruby Tuesday's (NYSE:RT), Darden (NYSE:DRI) and Buffalo Wild Wings (NASDAQ:BWLD) reported, respectively, but well below Panera's (NASDAQ:PNRA) 5.9%.
Although this figure is better than many of the Company's competitors, there is a problem in the details. The 2.7% is composed of a 1.7% increase in traffic and a 1% increase in average checks. Normally this would be fine, but the Company increased menu prices 1.9% during the quarter, which indicates that the average check actually declined 0.9%. This negative mix has been persistent for the last few years and shows no sign of dissipating. Management states that they will continue to increase menu prices to keep up with inflation and that they believe a 2% increase will be necessary before the second half of 2012.
Despite this negative mix, the Company has many opportunities for further growth. There are currently only 157 The Cheesecake Factory restaurants and management believes that this number could double to 300 over the next decade. There are also the Company's two other brands, Grand Lux Café and Rocksugar Pan Asian Kitchen, which are basically still in the development and testing phases. Finally, the Company is just beginning its international expansion through licensing agreements with a Kuwait-based company. The agreement provides for the development of 22 restaurants over the next five years in the UAE, Kuwait, Bahrain, Qatar and Saudi Arabia. The first 3 restaurants will open in the second half of 2012 and management estimates that each will contribute about $0.01 to EPS annually once completed.
The Cheesecake Factory was hit hard during the financial crisis as middle-class Americans cut down on eating out at upscale restaurants. The Company has struggled to find credit during the crisis and has reduced its near-term plans for expansion. Although it has been growing EPS at 15% and returning cash to shareholders, this is not the time to own this stock. The Company has experienced multiple years of declining tickets in real terms and will have to continue to increase menu prices in response to food inflation. The Company does not have pricing power with consumers and continued menu price increases will lead to lower average checks in real terms.
Disclosure: I have no positions in any stocks mentioned, and no plans to initiate any positions within the next 72 hours.