It seems as if Whole Foods (NASDAQ:WFM) has been the darling of health-conscious consumers since time immemorial. Being the largest organic foods supermarket in the U.S., Whole Foods, over the years has been successful in attracting customers with deep pockets willing to pay a premium for organic products of the highest quality. And Whole Foods, as a business, is undoubtedly unique because of its lofty core values and emphasis on offering a fulfilling shopping experience. Lately, we've seen an evident increase in the number of grocers offering organic products which has led WFM's bears to doubt the company's 'inimitability' as far as organic and natural offerings are concerned. Bulls, still, allude to the fact that a lot of these raging organic retailers including the likes of Kroger (NYSE:KR) and Wal-Mart (NYSE:WMT) are merely 'self-certified' unlike Whole Foods whose stores are externally certified by California Certified Organic Farmers ("CCOF").
In this article, I analyze WFM's recent financial performance, highlighting the company's most pressing concerns. The goal is to assess whether a bullish WFM outlook is warranted or not.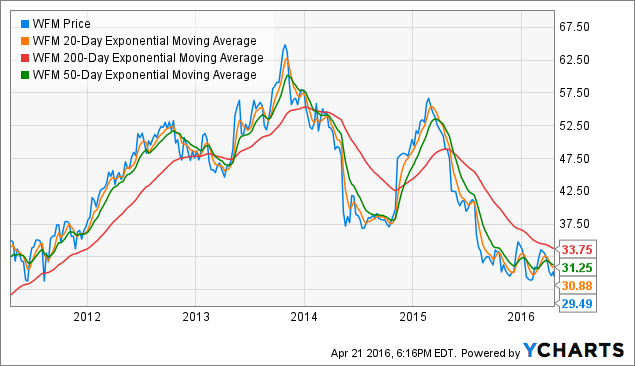 Before discussing WFM's fundamentals, it is worth mentioning that the share price is sitting close to its lowest point in the last 5 years. The 200-day EMA, 50-day EMA and 20-day EMA are hovering roughly 14%, 6% and 5% above WFM's current market price, implying that the stock is in a downtrend. Is Mr. Market overreacting?
WFM's most recent quarter wasn't a disaster by any means as the company opened three new stores and experienced a 3.8% increase in sales. I was happy to see fine leverage in SG&A too. However, the market wanted to see better comps because at the end of the day, comps are crucial to the bottom line. An article written by SA contributor Eric mentioned how store growth could prove to be a catalyst for WFM without saying anything regarding comp store sales trend or taking into account the risks involved in launching new stores. While I agree that store growth is important, I don't think it alone should be considered a sign of progress or some divine panacea in WFM's case. In my opinion, a retailer's growth can be more accurately tracked by comparable store sales growth and other metrics like average sales per square foot.
If we inspect WFM's comparable store sales trend from the first quarter of 2010 to the first quarter of 2016, an ominous picture emerges. WFM's comparable store sales growth, on a constant currency basis, has reached an all-time low of -1.8%, having weakened considerably since mid-2013. Comp store sales growth is the aggregate of change in transactions and change in basket size. This decomposition is helpful in understanding whether lower comps are a result of lesser products being sold in a single purchase or weaker traffic.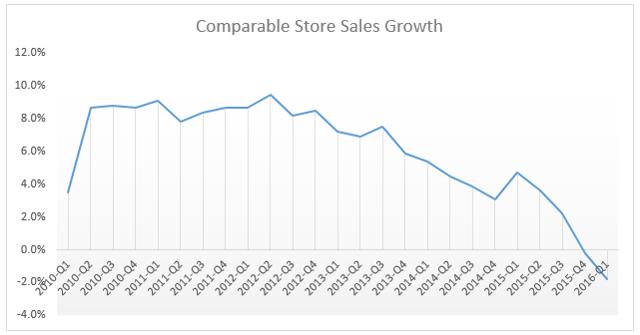 (Source: Company's 10-Q filings)
As you can see below, WFM has been facing a steep and persistent decline in traffic. Out of the previous nine quarters, pick any quarter and look at the change in transactions. You'll notice that the increase in transactions for the same quarter a year ago was higher. This can partly be attributed to the negative impact from cannibalization, which I see as an inevitable repercussion of opening new stores close to older locations. But there's another more serious and 'real' factor behind WFM's woeful comps. With the expansion of numerous organic chains and arrival of influential players like Kroger, the organic food space is quickly becoming more and more competitive. Within two years, Kroger's 'Simple Truth' brand has generated no less than $1 billion in sales for the company, and it is no coincidence that in the same period WFM's traffic has been slashed brutally. The management is clearly aware of this. Here is a line, straight from WFM's latest quarterly report, that is worth quoting:
The rapid expansion of natural and organic product offerings across many new, as well as existing, competitors has had a negative impact on our comparable store sales growth over the last year."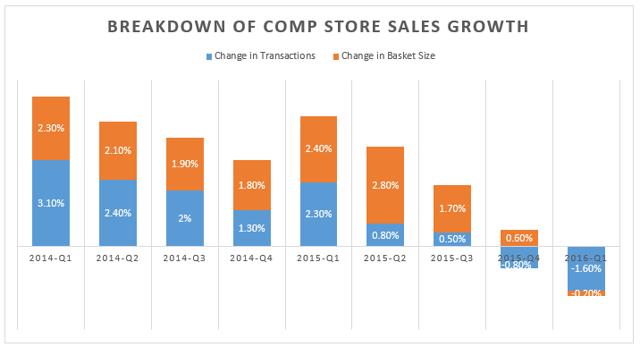 (Source: Company's Financial Press Releases)
I certainly don't think that WFM's existing customers are going to switch to, say, Simple Truth products or start buying cheaper natural products from Trader Joe's, but that's not the point. Customer retention isn't WFM's chief concern. Going forward, WFM's real challenge will be to keep expanding its customer base by attracting new consumers and it won't be a walk in the park by any means.
Going back to the point about store growth, although WFM has been opening new stores, what worries me is that the average sales per square foot has been declining ever since reaching a maximum in 2013. Notice that this trend is very similar to the comp store sales trend, and it tells me that newer stores are not making a bigger marginal contribution to WFM's top line.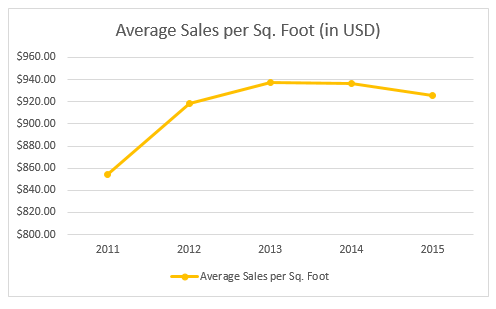 (Source: Company's 10-K filings, author's calculations)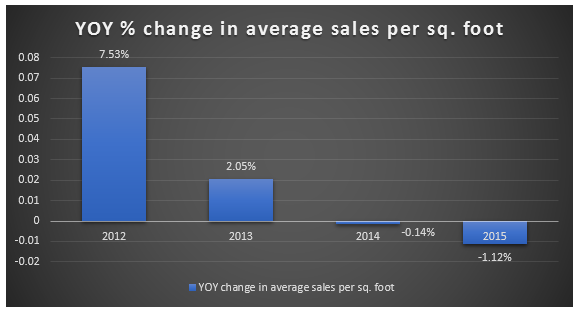 (Source: Company's 10-K filings, author's calculations)
In order to reverse these trends, Whole Foods is introducing a new store format called "365 by Whole Foods." The 365 stores, aimed primarily at millennials, will offer organic products at affordable rates helping Whole Foods improve its harrowing value perception. Moreover, as these stores will be smaller in size compared to WFM's legacy stores, they are likely to have a noticeable positive impact on average sales per square foot and margins. Although I am optimistic about the prospects of WFM's new stores, nothing at this point is guaranteed. The three '365' stores that are expected to open this year in Bellevue Square, Lake Oswego and Silver Lake are located at a distance of 4.7, 8.2 and 4.1 miles from a Kroger store. All three stores are within 5 miles of a Trader Joe's. So, needless to say, the 365 stores will be feeling the heat of competition from the first day. In addition, given the fact that the first batch of these stores is within 6 miles of a traditional Whole Foods store, we'll continue seeing cannibalization negatively affecting comps in 2016.
I believe success of the '365' initiative will have a huge say in determining the time it takes Whole Foods to return to positive comps. The following chart shows the perceived value of WFM vs. Trader Joe's and the greater grocery stores sector. Respondents to these studies were essentially asked how much bang for their buck they were getting at the stores.
(Source: YouGov BrandIndex)
It's clear from the chart that WFM is not perceived highly in terms of value. It hasn't for the past year, and has declined into even greater negative territory.
WFM's exclusive brands program, with nearly 5,300 unique SKUs, is more or less the crux of the company's differentiation strategy, and could also play a role in the turnaround. Last year, the contribution of exclusive brands to overall sales was 14%. The 1% increase in contribution every year since 2011 may not, at first, seem like a big deal but it actually is, because, let's not forget, Whole Foods is a company that generates more than $10 billion in revenues per annum.
If Whole Foods can keep increasing penetration of its exclusive brands even by 1% annually, the company's competitive edge could be restored sooner than expected by many analysts.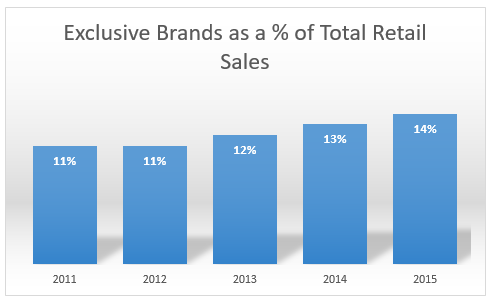 (Source: Company's 10-K filings)
Conclusion
All in all, Whole Foods is going through a rather difficult phase and this is a new territory for the company. Having been the indisputable king of organic food space for so long, WFM is now being compelled to think out of the box. Regardless of the valuation, I am staying away from WFM until I see major improvements in margins and comps and there is unequivocal evidence of a turnaround.
Disclosure: I/we have no positions in any stocks mentioned, and no plans to initiate any positions within the next 72 hours.
I wrote this article myself, and it expresses my own opinions. I am not receiving compensation for it (other than from Seeking Alpha). I have no business relationship with any company whose stock is mentioned in this article.