Verizon Communications (NYSE:VZ) has been a staple of mine for quite some time. Back when telecom companies were cheaper, starting a couple years back, I bought both Verizon and AT&T (NYSE:T), as I liked both for their generous yield, stability of the business and growth rates that could at least exceed inflation. I still like Verizon, but shares were up as much as 13% on the full-year, and as a result shares are a little more expensive than they were.
Results, particularly revenue, were a bit less than what I had expected. That would have been much easier to stomach had the stock price been where it was at the beginning of the year.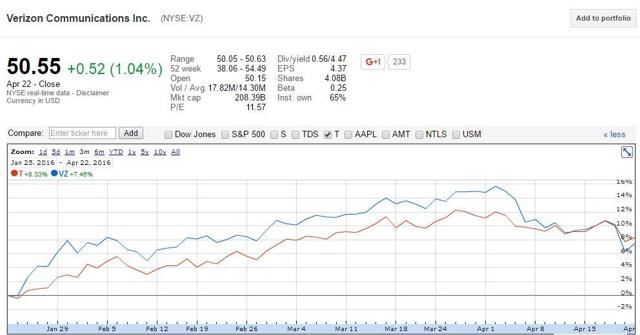 Click to enlarge
Courtesy of Google Finance.
But the market doesn't appear to share my sentiment. Shares haven't moved much since earnings were announced, and while there certainly has been some down action in the stock as of late, it seems to be from broader market action (AT&T hasn't reported yet). There's also a good chance that quarterly results are being overshadowed by a potential acquisition of Yahoo. This article looks at Verizon's quarterly results, the possibility of a major acquisition, and finally the company's valuation.
What happened?
Verizon increased earnings per share 3.9% year-over-year in the first quarter. That neat number masks quite a bit, however, revenue increased by only 0.6%, and even that is a pretty generous comparison. If we leave out the AOL subsidiary (which Verizon acquired not long ago), then revenue actually declined 1.5% year-on-year.
Revenue numbers were driven by a drop in equipment revenue. Basically, customers are not upgrading their smartphones as much last quarter. When customers do upgrade, they have leaned toward the 'subsidy' model, which helps monthly revenue (through higher monthly rates), but hurts equipment sales numbers.
Management expects revenue growth to return to normal by 2017. I'm not so sure about that. I could see consumers getting tired of swapping out their smartphones. Maybe the novelty of having the latest smartphone has finally worn off on many consumers (it certainly has for me).
However, only one quarter of lower revenue is not enough to indicate a trend. Perhaps there was just a lull on equipment purchases in the last quarter. For now, I'm willing to believe management's prediction that things will return to normal going forward.
Yahoo?
Verizon has said repeatedly that its number one concern is delevering to get back to an A credit rating (it's one notch away from that). Verizon has delevered modestly since then. Have a look.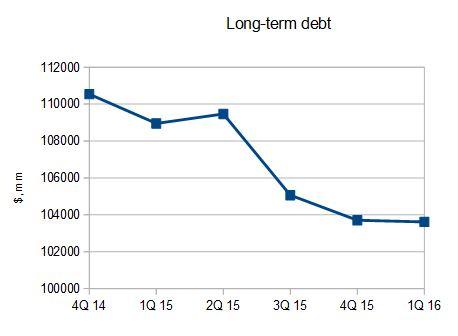 Data by Morningstar.
With Verizon still reeling from the Verizon Wireless interest acquisition (debt-wise, at least), I find it unlikely that the company will be eager to do another huge acquisition, at least not with debt. That said, Verizon has said repeatedly that millennials are "underserved" by Verizon. Yahoo isn't exactly the hottest new thing, but it does still get a ton of web traffic, and raises very considerable ad revenue; both things Verizon is looking for. The rationale for buying Yahoo is much the same as that for buying AOL Inc.
But if Verizon buys Yahoo, I think Verizon will lean on equity more than it does debt. That might be a tough sell for this market. We'll find out soon enough either way. For now, I remain skeptical that anything will happen because management is very focused on delevering, and rightly so.
Is Verizon a buy?
Between the considerable appreciation of its shares and its disappointing top line numbers, Verizon has become less appealing to me. Nevertheless, shares do still trade cheaper than they should.
For example, according to data from FAST Graphs, Verizon has averaged 15.3 times trailing earnings over the past ten years. Shares currently sit at 12.7 times trailing earnings; a discount of 17%. Therefore, I believe that Verizon can still be bought, but I'm more cautious about it than before. It will be interesting to see first quarter results from AT&T, to see whether that company is experiencing the same challenges. I will be watching for that.
Disclosure: I am/we are long VZ, T.
I wrote this article myself, and it expresses my own opinions. I am not receiving compensation for it (other than from Seeking Alpha). I have no business relationship with any company whose stock is mentioned in this article.