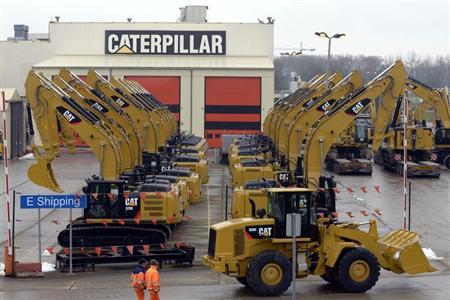 I have been bearish on equipment maker Caterpillar (NYSE:CAT) for as long as I've been covering the company. It has been suffering in recent years from a horrendous downturn in revenue and profits as demand for its products continues to wane. CAT's reliance on high commodity prices to sell its wares is an enormous reason why I've been bearish but with commodity prices stabilizing and CAT hitting just $62 after the Q4 report, I said that the stock was a good buy for dividend investors back in early February. If we fast forward to today, the Q1 report replete with yet another guidance cut has CAT hovering near $80 after an epic rally from the bottom. But has CAT come too far, too fast?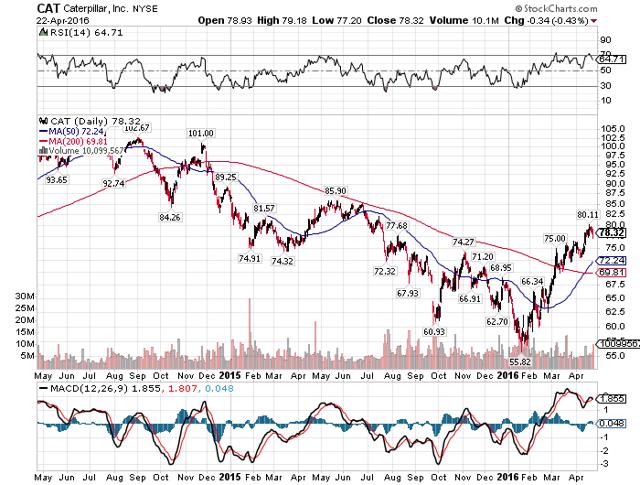 To be frank, I didn't say in February the all clear had been sounded for CAT in terms of its business picking up steam and I'm certainly not saying that now. There is a distinct difference between a business bottoming with the worst being behind it and a genuine upcycle. CAT continues to struggle with generating revenue and profits but that doesn't necessarily mean shares aren't a buy. Sentiment has been so terrible (rightfully so) that CAT need only to stop making things worse for people to start buying. That is what I was calling for in February and I believe that is what we've seen since then.
The story with CAT for several quarters now has been the epic decline in its sales base, something that is continuing unequivocally in 2016. Sales were down by a quarter in Q1 after being absolutely pummeled last year. In the same way that stacking huge sales gains on top of prior gains is impressive, CAT's continued weakness stacked on top of prior weakness speaks to just how bad things have gotten.
In addition, there are zero pockets of strength. You don't lose 26% of your sales base without some very serious issues and CAT has those and more; sales in all segments and all geographic areas declined. The big losers were Energy & Transportation and Resource Industries but any way you slice it, CAT's revenue picture hasn't improved one bit. That is surely something to take into consideration as you value CAT at this point because its revenue doesn't seem to have bottomed just yet.
Operating profits also fell off a cliff as CAT's lower sales level produced a deleveraging impact on its profits. The company's pricing has been under pressure as it chases whatever sales it can get but the simple fact is that virtually no business on the planet can sustain a 26% loss in sales without a massive reduction (or complete evaporation) in profits. CAT is still profitable at very low sales levels and that is certainly a positive but it is surely struggling.
On the bright side, the restructuring/cost savings program CAT implemented a while back is working beautifully and saving CAT hundreds of millions of dollars. This contributed in a big way towards salvaging some level of profitability in Q1 and we should see more and more of these gains throughout 2016 until those savings start to anniversary. Hopefully by 2017 there will be some other profit driver than just cost savings but for now, it will have to do.
CAT, unsurprisingly, took the occasion to slash its guidance once again, something that has become a bit of a fixture in CAT's recent earnings reports. The cut wasn't bad this time as management simply lowered the top end of the previous sales guidance, now calling for $40 to $42B in total revenue this year. The interesting thing is that analysts aren't quite so bullish as they are currently expecting $39 to $41B, indicating that they don't believe management's guidance. That's of importance because analysts are usually very bullish (in general) but more importantly, it opens the door for some upside surprise if CAT can get out of its own way later this year. Combined with the dividend, the bearish forecasts from analysts could be a potential catalyst for CAT.
To be fair, CAT is still in a lot of trouble. It has nothing positive to go on as all segments and regions are still in total free fall. But it is still profitable and if it can manage to hit $41B - the midpoint of its own revenue range - I think investors would react very favorably and assume the bottom was in. We are a long way from that happening but it is certainly something to keep an eye on. It is important to note, however, that $41B would represent a massive improvement on Q1's sales losses so it is far from a foregone conclusion. Do March's numbers represent the bottom? Perhaps, but it is still very early on. But to its credit, this wasn't even on the table in 2015 so that in itself is a bit of a win for CAT.
At 21 times this year's updated EPS (without restructuring charges), CAT is hardly cheap. However, turnaround stories are never cheap because you're buying the hope that things will turn up. CAT hasn't shown any ability whatsoever to keep revenue and profit from falling but the fact that it didn't lower the low end of its sales guidance for this year is a positive. In addition, the weak estimates from analysts represent a potential opportunity as well as CAT could hit its own guidance and surprise to the upside. CAT isn't a buy based upon its current earnings, however, it would be a buy due to the turnaround and/or the dividend.
The stock was yielding almost 5% when I said it was worth owning for income seekers but now the yield is a more pedestrian 4% due to the huge rally. That is still a strong payout but less so than it was so income buyers have probably already bid the stock up as much as they are going to until further notice. But technical strength in the stock is also a positive for the bulls as CAT has cleared some important milestones.
First, CAT was in an enormous downtrend for the better part of two years but as it crested the ~$70 level a few weeks ago, it decisively broke out of that downtrend. That was the first step towards CAT trekking higher. In addition, it has also moved well clear of its 50DMA and 200DMA with the former crossing over the latter in recent weeks. With the price action of shares so impressive, CAT is certainly on a very strong footing for a base to build here and/or higher prices ahead as buyers continue to step in. The momentum indicators are saying the current move may be over but that doesn't mean the stock is going down; it just means some consolidation after a $25 rally is needed. The technical picture is very bullish here despite the fact that CAT is struggling fundamentally.
Overall, CAT still offers a ~4% yield and a vastly improved technical picture. Bulls have certainly stepped in and taken control and that has allowed CAT to break out of its nasty downtrend that has dominated it for better than a year. But it still has lots of fundamental problems as well and just lowered its guidance again. Analysts, however, are even more bearish and that gives CAT the opportunity to take the relative strength it saw in March and run with it to hit $41 or $42B in sales this year. If that happens, shares will probably move towards $90. If not, downside risk is to the 200DMA, which is currently flattening out near the $70 level. CAT actually looks like a decent risk/reward proposition here as sentiment begins to turn so despite my wariness of the company's fundamentals, I think there is still time to buy CAT on the idea that the fundamentals have bottomed.
Disclosure: I/we have no positions in any stocks mentioned, and no plans to initiate any positions within the next 72 hours.
I wrote this article myself, and it expresses my own opinions. I am not receiving compensation for it (other than from Seeking Alpha). I have no business relationship with any company whose stock is mentioned in this article.