Yesterday I was reading a Seeking Alpha article by Adam Aloisi called "Are All High-Yield REITs Junk?" In that article Aloisi explained that
For better or worse, yield point tends to be a first stop for the average income investor… this will usually mean passing over faster-growing REITs with lower available cash payout rates in favor of those with higher payout rates, higher yields, but typically lower rates of growth.
He went on to explain,
A double-digit yield compounded over time would lead to very robust income growth. For the investor less concerned with total return or concerned about price in today's arguably frothy market, there is substantial allure for higher yield.
I'll admit, I also became attracted to the three REITs Aloisi referenced (LXP, SNR, and WPG) because of their seemingly attractive dividend yield. While I recognize the volatility in owning shares in these REITs, the dividend payouts appear safe and shares appeared cheap.
As many of you know, I often use the analogy of a "sucker yield" when I attempt to describe a company that is paying out an extraordinarily high dividend payout that is not covered by earnings. Yet, the 3 REITs that Aloisi referenced seem to be paying out a well-covered dividend so the most obvious risk - a dividend cut - is less obvious so the high yield is likely the result of other risks.
For example, New Senior (NYSE:SNR) is externally-managed (risk) and highly-concentrated with one tenant (Holiday). In addition, the senior living landlord has significant leverage, thus the combined risks warrant shares to trade at a discount (7.5x P/FFO) and high yield (of 9.5%).
Similarly, W.P. Glimcher (NYSE:WPG) suffers from high tenant concentration (59 Sears stores and 48 JC Penney stores); however, WPG's leverage is sound (S&P downgraded the company to BBB- from BBB) and the dividend payout is reasonable at 70%.
Lexington Realty Trust (NYSE:LXP) has also maintained a sound payout ratio and although suburban office suggests an element of increased risk, the company has done an excellent job pruning multi-tenant exposure and extending its average lease duration. In 2015, LXP paid out $0.68 per share in annual dividends that equates to a payout ratio of ~68%.
It's not ironic that Aloisi and I agree that these three above-referenced REITs are worthy of ownership. While we both own them for the attractive yield, I believe there is also an enticing safety element as it relates to the dividend payout ratios. Certainly, they are riskier than many of the other REITs that I own, but I maintain modest exposure (in SNR and WPG) and I have carefully examined the risks and returns before initiating positions in them. If you are considering these REITs I suggest reading the following articles and the comments: New Senior, WP Glimcher, and Lexington Realty.
An Outlier That Yields 8.9%
As I ponder the three above-referenced REITs and other higher-yielding REITs I own, I began thinking about one particular REIT that is a true outlier.
Keep in mind, and as I explained above, I consider dividend safety paramount when it comes to investing and as many of you know, I have absolutely ZERO interest in buying higher risk mortgage REITs.
Granted, I do own several commercial mortgage REITs but I consider them safer due to their more predictable earnings and dividend record.
So last year I decided to "go against the grain" and take a chance with a true outlier, a small cap REIT that I considered a "sucker yield" two years ago. Similar to the trio I referenced above, this REIT also offered a high yield, except this outlier had a higher risk dividend payout. Let me explain…
Back in February Whitestone REIT (NYSE:WSR) was yielding 10.3%. At the time I already owned shares in the $354 million (market cap) REIT but I decided that I could not pass up the opportunity to dollar cost average shares. In a recent article I explained,
"I view WSR as a higher-risk REIT, but the market seems to have over-corrected the risks making the 10.3% dividend yield more attractive. I am cautiously recommending shares but investors must consider all of the risks, especially the lack of dividend growth."
Since February 1 st (my last article) shares have returned over 20%.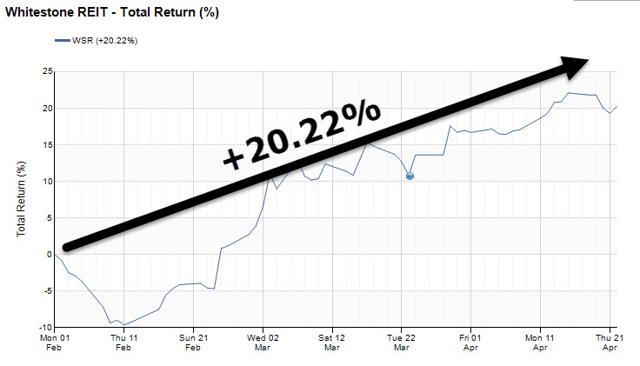 Click to enlarge
Now before slapping me a "high-five" let me remind you that the three REITs referenced above also performed well over the last 2 ½ months: WPG +15%, SNR +23.5%, and LXP +21.5%.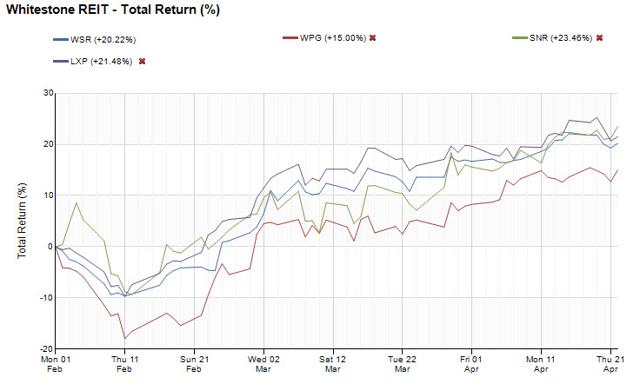 Click to enlarge
Here are the dividend yields for these 4 REITs today:

Click to enlarge
Let's face it, higher-yielding REITs are also higher-risk. That does not mean that you should not own them, I certainly do, however, I think it's imperative to balance and mitigate the risk. Within my portfolio I own over 50% of "sleep well at night" (or SWANs) REITs and the rest of the portfolio consists of the "lesser-moat" companies.
Regardless of the size of the moat, I never stray too far from one of my central rules related to dividend safety. In other words, I pay close attention to the overall safety of the dividend and only on a few occasions will you see me owning a REIT that looks, smells, or acts like a "sucker yield" … and Whitestone Realty is one such outlier.
A Closer Examination of Whitestone REIT
Whitestone REIT was founded in 1998, and began trading as a public company on August 25, 2010. Its portfolio today consists of 69 properties, including retail and office/flex properties, with ~6 million square feet of gross leasable area (or GLA). According to SNL Financial data, Whitestone has exposure in industrial (11 properties) and office (4 properties), but has a high concentration in retail (55 properties).
Whitestone has a targeted geographic model that is focused on high-growth markets such as Dallas, Houston, Phoenix, San Antonio, and Chicago. The majority (44 properties) are located in Texas and Phoenix (25 properties).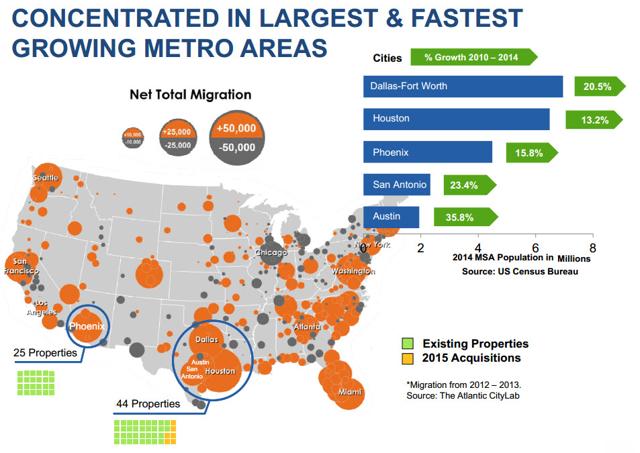 Click to enlarge
WSR has investments in many of the fastest growing cities; however, Houston is also a core market with a large dependency on energy that could weigh on the overall share price. WSR has 30 properties in Houston. As illustrated below, WSR owns properties in markets with higher household incomes: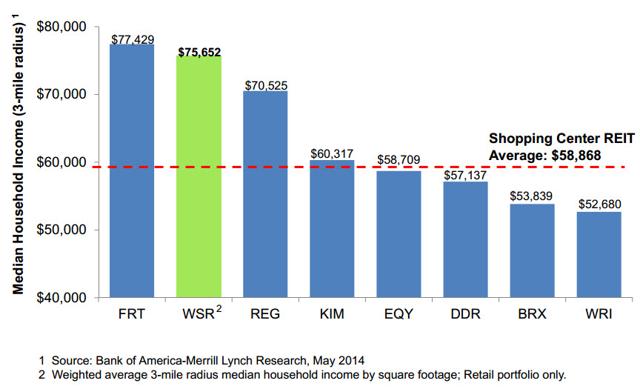 Click to enlarge
Whetstone's differentiated investment approach is to increase its market share by being a consolidator (in a highly fragmented industry) of financially distressed properties and to broaden its competitive strengths of turning around troubled shopping centers. As the chart below illustrates, WSR has "top-rated" demographics based upon the 3-mile radius (based on household income) below: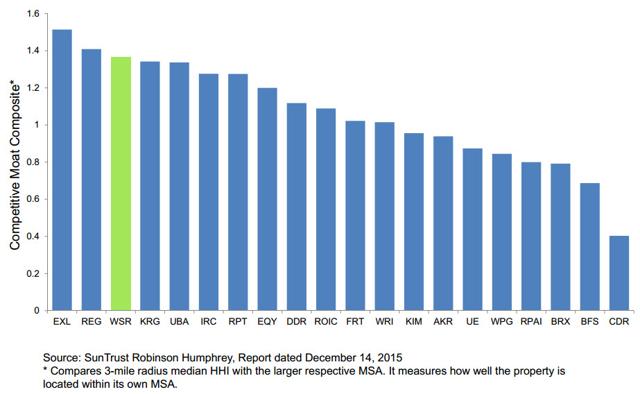 Click to enlarge
Although buying value-add shopping centers is somewhat of a niche investment strategy, the model is scalable and produces exceptionally high returns. Whitestone is considered a more tactical re-developer in that the company seeks to acquire "broken" centers and then "bring them back to life" by leasing up space.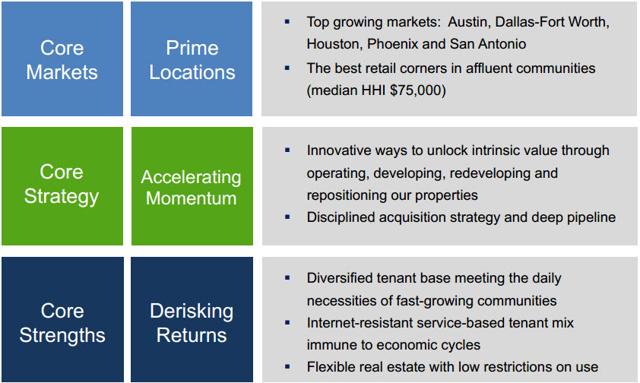 Click to enlarge
WSR has a diverse portfolio that includes grocery (31%), dinning (13%), services (28%), beauty & health (21%), education (7%), and specialty retail. Also, you can see that WSR has a diverse portfolio of tenants: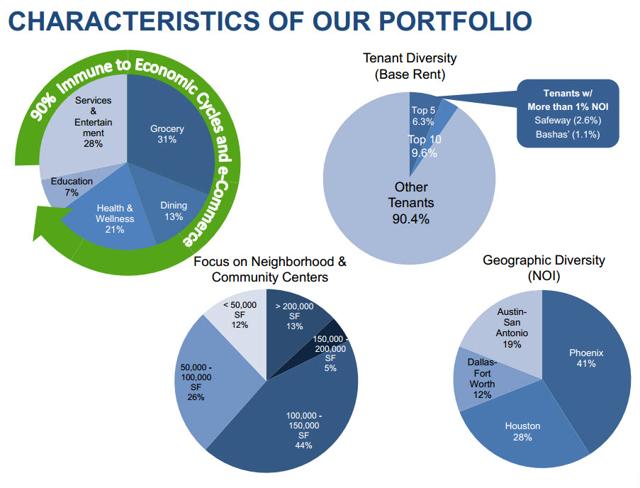 Click to enlarge
WSR's diverse tenant base is concentrated in a variety of categories, so the tenants tend to occupy smaller spaces (less than 3,000 square feet), whereby the small tenants pay a 48% premium over the large tenants. The obvious advantage is that the more diverse portfolio minimizes downside risk with no single tenant concentration.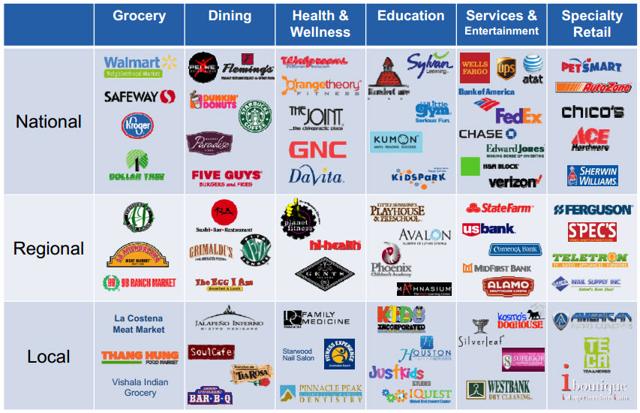 Click to enlarge
Risk #1: Small Cap Volatility
One of the primary concerns I have with WSR is the small-cap composition. As you can see below, WSR is one of the smallest shopping center REITs with a market cap of around $300 million.

Click to enlarge
Since 2010 WSR has acquired a number of properties and in 2015 the company surpassed $600 million in assets.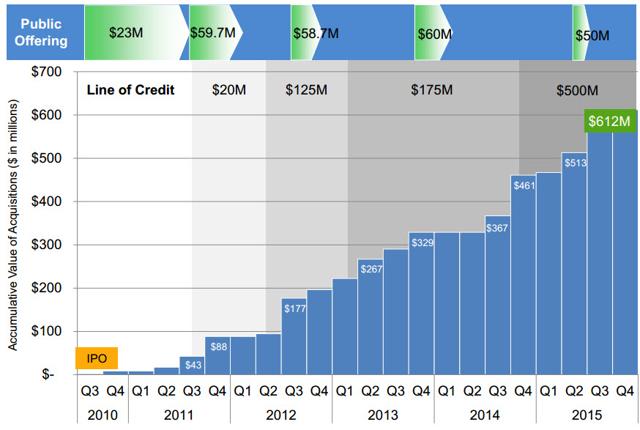 Click to enlarge
Since the IPO, WSR has grown in size from 3.6 million square feet to almost 6 million square feet.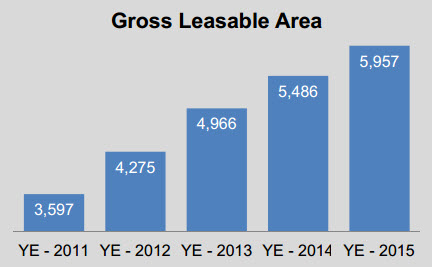 As of Q3-15, total assets are now just over $835 million.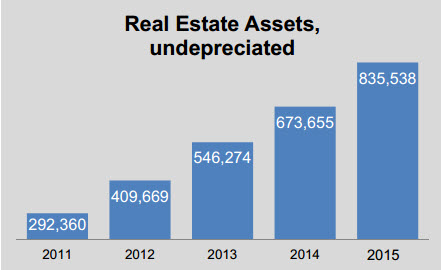 Risk: Although growth has accelerated, WSR remains a small-cap REIT, and that means that shares are more volatile than most peers. Also I would discourage too much exposure to this REIT, especially given the exposure to Houston. At some point WSR will likely begin to enter new markets and that could also increase risks in identifying new opportunities.
Risk #2: Lower Quality Tenants
Another concern I have with WSR is enhanced exposure with non-credit tenants. Although tenant diversification does mitigate risks for one tenant failing, there are considerable risks related to weaker tenants that are capital constrained.
One of the tests for tenant resilience is occupancy, and as illustrated below, WSR has increased occupancy considerably since the IPO.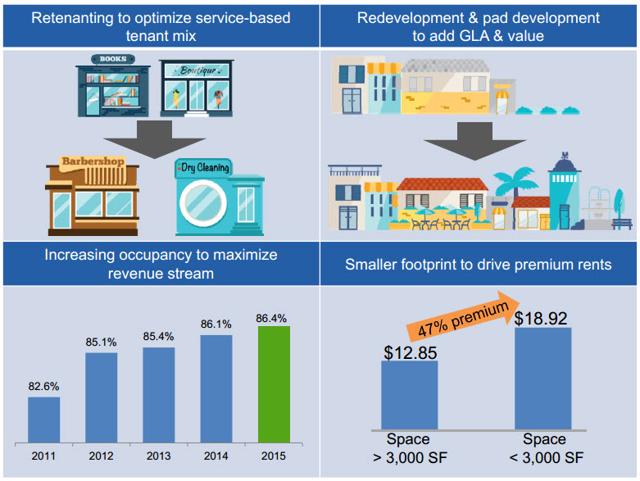 Click to enlarge
WSR's occupancy was an all-time high of 86.4% and the company targets occupancy of 93% to 95%. However, WSR has very little investment grade rated tenants and that could mean that certain tenants (of WSR) could face more pressure during a recession.
Risk: WSR has continued to increase occupancy; however, the significant exposure to non-investment grade tenants could become problematic, especially during a recession. It's important to monitor WSR's tenant mix and occupancy to gauge stress related to Houston and overall consumer sentiment. There is substantially more tenant risk of default for WSR.
Risk #3: Development
WSR invests in higher risk assets. Many of the properties that WSR owns would not be complementary for other traditional shopping center REIT peers. Part of the value proposition for WSR is to acquire less-stabilized centers that require lease-up and/or redevelopment.
WSR states in its investor presentation that it "targets assets from sellers under financial distress" and the REIT seeks to "acquire, redevelop, and reposition value-add properties." Here are a few centers that WSR has acquired:
Village Square in Mesa, AZ was acquired for $46.36 million at a cap rate of 9.7%. The center was purchased at 69% occupancy and is currently 91% leased up. According to WSR, the value of the center is now $85 million (assuming a 6% cap rate).

Click to enlarge
In addition to the lack of strong tenant credit, WSR is also a higher risk security because of development risk. Although the company typically does not develop ground up projects, there are risks related to lease-up, co-tenancy, environmental, deferred maintenance, and a number of issues that could erode value. Although these projects produce higher returns, there are elevated risks to consider.

Click to enlarge
Sometimes putting "lipstick on a pig" can produce outsized returns, but they are not guaranteed, and it only takes a few bad deals to make the brilliant developer look bad. Take it from me, I could show you some home runs that I developed in a previous like, and I could also show you the ugly ducklings that I'm not so proud of.

Click to enlarge
Risk: WSR appears to manage redevelop risk well; however, there is risk. Buying a beaten down shopping center is almost like buying a used car. You are always going to find something you weren't expecting and it's always good to have a contingency plan, and prepare for the worst.
Risk #4: The Balance Sheet
I intentionally decided to discuss the balance sheet risks after the other ones. While small cap, non-investment grade tenancy, and development risks are all risks worth referencing, I consider WSR's balance sheet risk to magnify the others mentioned.
WSR's capital structure has just one class of stock, no joint ventures and a combination of property and corporate level debt. The weighted average interest rate on all fixed rate debt is 3.9%. The average weighted debt is 6.1 years and the maturities are well balanced.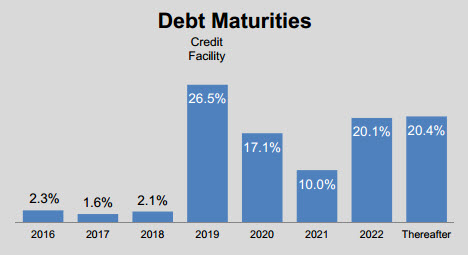 During the year, WSR amended its credit facility, which extended and laddered the maturity dates of the revolver and two existing $50 million term loans and provided for the conversion of $100 million of revolving loans into a third seven-year term loan. The company also fixed the interest rates on its three term loans through entry into interest rate swaps, which brought fixed-rate debt to 74% of total debt.
At year end, WSR had $172.4 million of availability remaining under its credit facility. The facility also has additional availability of up to $200 million from the exercise of the accordion feature.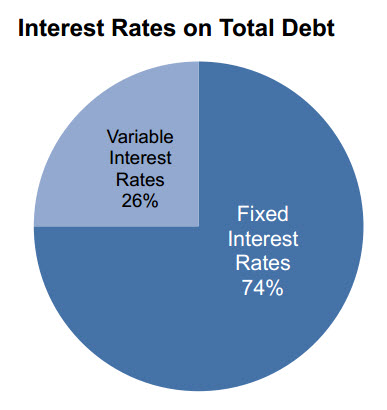 WSR has the highest leverage in the peer group (around 55%); however, the company has continued to maintain a largely unsecured debt structure with 50 unencumbered properties out of 70 properties with an undepreciated cost basis of $582 million.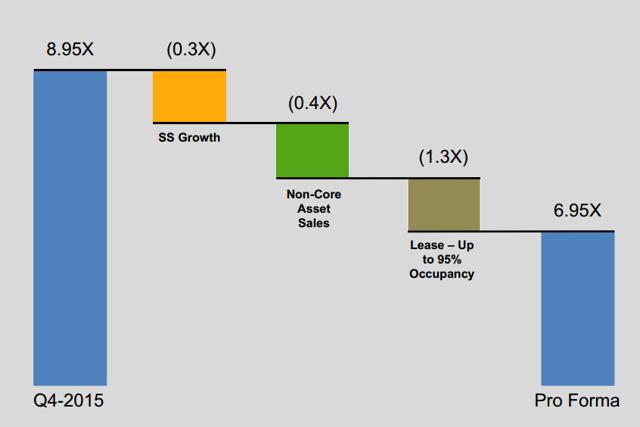 Click to enlarge
Risk: WSR does not enjoy the same balance sheet strength as many peers; however, I am encouraged by the reduced reliance on secured debt financing. I would like to see the company become more active in selling non-core assets and reducing exposure to Houston.
Mitigating Risk
Now, as you know, I have addressed four of the risks that drive WSR's share price and dividend yield. However, one of the risks that I wanted to address now is dividend safety.
Obviously, all of the above-referenced risks impact dividend safety but the payout ratio is one of the most important, so I saved the best for last.
For the fourth quarter, WSR's revenues increased 33% over the same period last year, to $26 million, while annual revenue improved 29% year-over-year, to $93.4 million.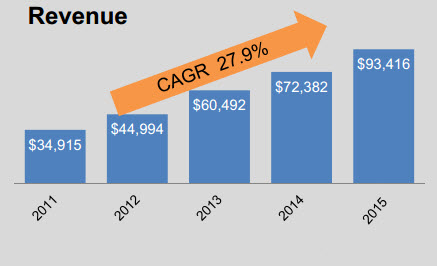 Fourth quarter FFO core grew 28% over the prior year, to $9.7 million, and for the full year increased 27%, to $35.8 million. On a per share basis, FFO core was $0.34 in the fourth quarter, which is up 6%, or $0.02, over the same period in 2014. FFO core per share for 2015 grew 13% over 2014, increasing to $0.35 from $0.20.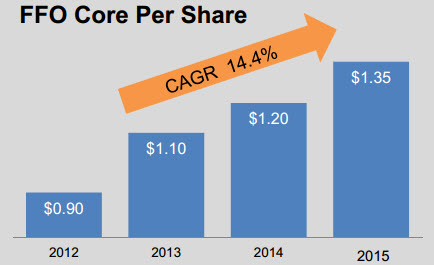 To provide a better indication, I prepared the following chart below:

Click to enlarge
Now let's examine WSR's AFFO (or adjusted funds from operations):

Click to enlarge
Now the reason I wanted to provide you with both FFO and AFFO is because of the next chart:

Click to enlarge
As you can see, WSR suggests that the dividend is covered with FFO in 2015; however, as you can see below, WSR's dividend is not covered by AFFO:

Click to enlarge
It's close, but I simply want to make sure you understand the difference. AFFO takes into account non-cash costs such as leasing commissions and capital expenditures. In other words, AFFO is a more relevant measure of true cash flow and it appears that Whitestone is now at a "breakeven" point as it relates to its dividend payout.
Simply put, the other REITs referenced at the outset (WPG, SNR, and LXP) have a much better margin of safety as it relates to dividend safety.
Obviously I own WSR shares so I am accepting the fact that there is modest (if any) coverage related to dividend safety. The good news is that WSR is producing steady and increasing profits so the company is moving in the right direction. Now let's compare WSR's dividend yield with the peer group:

Click to enlarge
Now let's compare the P/FFO multiple with the peer group:

Click to enlarge
I'm Swapping An Outlier For A High-Flyer
Based on these metrics (dividend yield and P/FFO) WSR looks cheap; however, you must remember the risks identified above.
Here's a thought? Why not BUY WPG yielding 10.1% with a multiple of 7.9x? Both are higher risk but WPG has a well-covered dividend payout and WSR is exposed to considerable geographic risk. Also, remember WSR pays monthly dividends and WPG pays quarterly (no big deal for me).

Click to enlarge
In conclusion, I side with Dane Bowler's recent assessment of WPG,
WPG has a dividend yield of 10% that is well covered by FFO with a payout ratio of only 55%. Sure, it will need some of that cash for capex due to the redevelopment strategy, but there is still plenty to cover the dividend. In my opinion, this is among the safest 10% yields in the current environment.
Sometimes I don't know the title for my articles until I'm finished writing them. After carefully researching Whitestone and revisiting my portfolio I decided to take action: I'm Swapping An Outlier For A High-Flyer: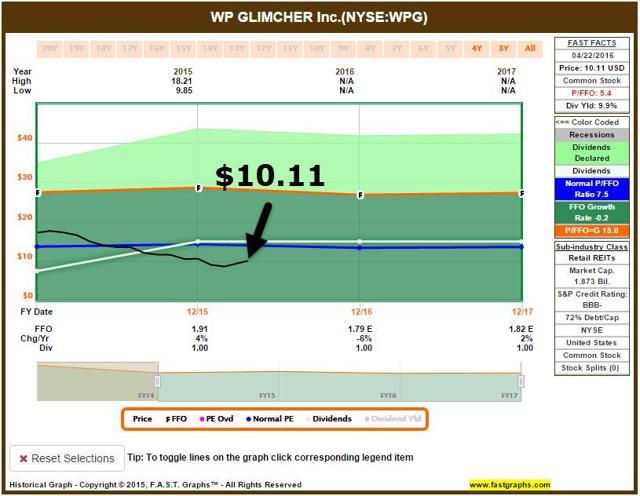 Click to enlarge
Special thanks for Adam Aloisi and Dane Bowler for helping me reach this conclusion.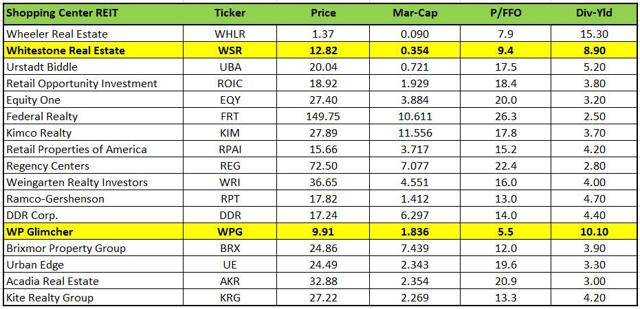 Click to enlarge
REITs referenced: (NASDAQ:WHLR), (NYSE:UBA), (NASDAQ:ROIC), (NYSE:EQY), (NYSE:FRT), (NYSE:KIM), (NYSE:RPAI), (NYSE:REG), (NYSE:WRI), (NYSE:RPT), (NYSE:DDR), (NYSE:BRX), (NYSE:UE), (NYSE:AKR), and (NYSE:KRG).
Author's Note: I'm a Wall Street writer, and that means that I am not always right with my predictions or recommendations. That also applies to my grammar. Please excuse any typos, and I assure you that I will do my best to correct any errors if they are overlooked.
Finally, this article is free, and my sole purpose for writing it is to assist with my research (I am the editor of a newsletter, Forbes Real Estate Investor) while also providing a forum for second-level thinking. If you have not followed me, please take five seconds and click my name above (top of the page).
The only guarantee that I will give you is that I will uncover each and every rock I can, in an effort to find satisfactory investments that "upon thorough analysis promises safety of principal and satisfactory return. Operations not meeting these requirements are speculative." (Ben Graham).
Sources: SNL Financial, FAST Graphs, WSR Filings.
Disclaimer: This article is intended to provide information to interested parties. As I have no knowledge of individual investor circumstances, goals, and/or portfolio concentration or diversification, readers are expected to complete their own due diligence before purchasing any stocks mentioned or recommended.
Disclosure: I am/we are long O, DLR, VTR, HTA , STAG, GPT, ROIC, HCN, OHI, LXP, KIM, WPC, DOC, EXR, MYCC, BX, TCO, SKT, UBA, STWD, CONE, BRX, CLDT, HST, APTS, FPI, CORR, NHI, CCP, CTRE, WPG, KRG, SNR, LADR, HCP, PEB.
I wrote this article myself, and it expresses my own opinions. I am not receiving compensation for it (other than from Seeking Alpha). I have no business relationship with any company whose stock is mentioned in this article.