A total of twelve closed-end funds (CEFs) will go ex-dividend this week, providing investors who want to jump into this dynamic market an opportunity to get income fast. The funds offering income are of varying types with various yields, and the most crucial questions you must ask when choosing one of these funds is which fits your risk profile and which is tied to a sector/market that you believe has tailwinds boosting it higher.
The twelve funds offering dividends include:
1. Three municipal bond funds: Neuberger Berman Intermediate Muni Fund (NYSEMKT:NBH), Neuberger Berman Intermediate NY Fund (NYSEMKT:NBO), and Neuberger Berman Intermediate CA Fund (NYSEMKT:NBW).
2. One MLP: First Trust MLP Energy Income and Growth Fund (NYSEMKT:FEN) One Utility Fund: DNP Select Income Fund (NYSE:DNP)
3. Two commodity funds: Nuveen Diversified Commodity Fund (NYSEMKT:CFD) and Nuveen Long/Short Commodities Total Return Fund (NYSEMKT:CTF)
4. One junk bond fund: Pacholder High Yield Fund (NYSEMKT:PHF)
5. One limited duration fund: Franklin Templeton Limited Duration Income Trust (NYSEMKT:FTF)
6. Three equity funds: First Trust Dividend and Income Fund (NYSE:FAV), Liberty All Star Equity Fund (NYSE:USA) and Liberty All Star Growth Fund (NYSE:ASG)
The lowest yield of these funds is with NBO (4.6%) and the highest yield is 10.2% with FEN. However, reaching for yield is not the best approach with CEFs, as double-digit declines over the last couple years in various CEFs of different asset classes demonstrates.
Premiums to NAV
A more prudent approach right now would be to look at fund premiums to NAV, trends driving these markets, and the risk/reward profile of each fund.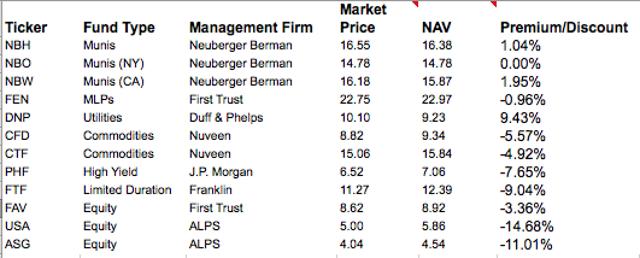 Click to enlarge
Source:

Closed End Fund Advisors
Starting with the funds' NAV and current market price, we can see that most funds trade at a discount and those discounts vary wildly. The small premiums with NBH, NBO, and NBW demonstrate a reality about the municipal bond fund world: with municipal defaults in the U.S. low, the tax base recovering as unemployment falls and real estate properties rise, and the continued trend of government cost-cutting at the local levels all point to improve credit quality in munis and a relatively complacent market. Risks of losses to capital are low here, and the market has priced in that fact.
The Energy Story
When we get to MLPs and utilities, there is more turbulence. Last week, the Alerian MLP ETF (NYSEARCA:AMLP) finally went green for 2016 after an impressive 10.5% run-up. But this was largely due to a massive recovery in oil prices, partly bolstered by the work stoppage in Kuwait affecting supplies combined with rising China imports, higher U.S. employment, and flat storage data. This has caused MLP ETFs to soar, and caused FEN's discount to evaporate. At the same time, the utilities premium has remained strong at FEN, making it the most expensive ETF of the bunch.
Going forward, buying these or the commodity ETFs is extremely risky and needs to be seen as a bet on or, in the case of FEN, against rising oil. Yet the risk/reward of speculating in CEFs is a pittance compared to playing with the leveraged commodity ETFs (UWTI, DWTI). But such short-termism is hardly the playground of an income investor, leaving all of these funds off the table in the short term-as our later risk analysis will confirm.
Corporate Bonds and Equity
My favorite way to buy equity is through a preferred and common stock hybrid CEF, with AGIC Equity and Convertible Fund (NYSE:NIE) remaining a fond favorite. This week offers some compelling alternatives: though more equity focused, USA and ASG offer equity exposure with tremendous discounts. However, before choosing these funds one should note their historic trend has been a steady decline in NAV as they fail to earn their yields through income and thus use destructive returns of capital to fund shareholders.
That brings us to the remaining bond-focused funds. Of these, FTF is particularly interesting thanks to a recent buyback program that is designed to ensure its discount doesn't fall too low-and if it does, investors earn a return on that discount. In my mind this significantly lowers its risk profile relative to other bond and equity funds.
Meanwhile, PHF remains slightly higher risk thanks to its sharp run up in recent weeks alongside the junk bond market. Moody's rightly notes this rally " lacks solid fundamentals" and notes defaults are still set to rise-the recent high-profile bankruptcy of SunEdison (SUNE) should remind us of this. That said, the fund's diversified holdings show few alarm bells at first glance, although the fund's disappointingly evaporating dividend demonstrates poor stewardship and perhaps less strategic management to take advantage of yield curve fluctuations.
Risk Profile
Taking all this into account, I have identified a risk/reward profile that takes into account the risks of each fund and the rewards of its dividend yield.

Click to enlarge
The relatively low risk of the muni funds makes them contenders, but NBH's better yield and diversification makes it my top muni choice of this week's funds. FTF's share buyback program makes it attractive too, while the high premium offsets the risk in USA as a short-term swing trade. The relative reliability also makes DNP a pick.
Conclusion
Creating a portfolio of these funds, we get a portfolio of utilities, equity, municipal bonds, corporate bonds, and even a bit of MBSs and senior floating-rate interests, thanks to FTF. We also get a portfolio yield of 7.3% and a 3.3% average discount-to-NAV. Not a bad deal for both diversification and a source of high current income.
Disclosure: I am/we are long NIE.
I wrote this article myself, and it expresses my own opinions. I am not receiving compensation for it (other than from Seeking Alpha). I have no business relationship with any company whose stock is mentioned in this article.
Editor's Note: This article covers one or more stocks trading at less than $1 per share and/or with less than a $100 million market cap. Please be aware of the risks associated with these stocks.