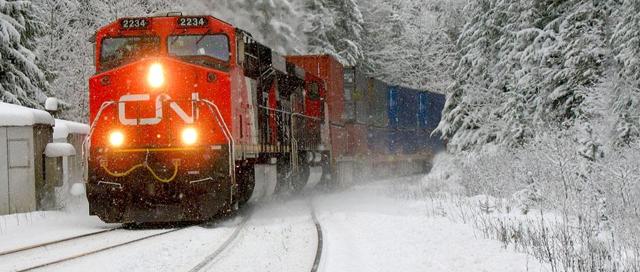 Click to enlarge
Canadian National Railway (NYSE:CNI) reports Q1 earnings on Monday. Analysts expect revenue of $3.08 billion and eps of $0.92. The revenue estimate implies a sequential decline of 3%. Investors should focus on the following key items:
Petroleum And Chemicals Could Provide Headwinds
The returns from CNI have been flat over the past year, tracking the performance of the S&P 500 (NYSEARCA:SPY). The company's top line growth has been anemic, which I find disconcerting. Last quarter revenue grew 1% Y/Y -- hardly anything to write home about. The biggest gainers were Forest Products (up 12%) and Automotive (up 13%).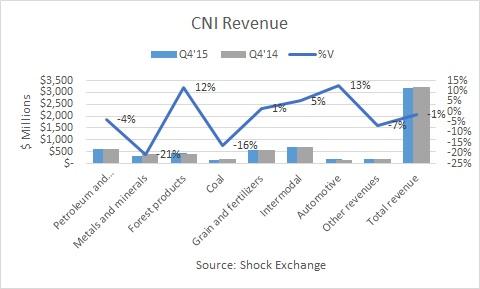 The biggest revenue decliners were Coal (down 16%) and Metals and Minerals (down 21%). Total carloads fell 8% Y/Y and will likely fall further as industry carloads continue to fall. Falling rail traffic appears to be a harbinger of the next recession and in my opinion, central bank efforts have been useless.
The one thing that separates Canadian railroads from their U.S. counterparts is their ability to pass along price increases to the customer. U.S. railroads have experienced both declining carloads and declining price per carload. However, Canadian Railway's average prices increased 8% Y/Y, offsetting the fall off in rail traffic. I expect the same to occur this quarter.
A headwind that could be outside management's control is the decline in revenue for Petroleum and Chemicals. At 20% of freight revenue this is also the company's largest segment. Petroleum and Chemicals comprises a wide range of commodities, including chemicals and plastics, refined petroleum products, natural gas liquids, crude oil and sulfur. Revenue is primarily derived within North America, so the segment is closely tied to the U.S. economy and oil and gas production.
The U.S. rig count fell to 431 -- a record low -- for the week ending April 22nd. This portends oil and gas production will likely drop going forward. Deloitte believes another 175 oil & gas companies could go belly up in 2016, which could also hamper production. Lastly, the spread between WTI and Brent oil prices has declined. It could be cheaper for oil refiners to import oil rather than ship it cross country via railcars. That will likely tamp down rail traffic for oil in the near term. It could hurt price and volume for Canadian Railway's Petroleum and Chemicals segment.
Cost Cutting Could Spur Earnings
The company's EBITDA of $1.6 billion was up 7% Y/Y. EBITDA margin increased to 52% in Q4 2015 from 48% in the year earlier period. The majority of Canadian National's cost items -- labor, purchased services, equipment rents -- grew faster than revenue. Fuel costs fell to 10% of revenue from 14% in the year earlier period. This was the biggest driver of the increase in EBITDA. I expect management to cut costs in other areas to maintain or improve margins this quarter. Cost cuts could trigger an earnings beat and spur the stock higher. Canadian Pacific (NYSE:CP), Union Pacific (NYSE:UNP) and Norfolk Southern (NYSE:NSC) all rose after earnings. I expect CNI to do the same.
Disclosure: I am/we are short CNI, CP, UNP, NSC.
I wrote this article myself, and it expresses my own opinions. I am not receiving compensation for it. I have no business relationship with any company whose stock is mentioned in this article.