American stocks put in a mixed session on Friday. The Dow Jones (NYSEARCA:DIA) and S&P 500 (NYSEARCA:SPY) put in a flat day. Given the weight of the earnings misses heading into Friday's session, flat was an impressive result.
Tech stocks didn't fare so well, with the Nasdaq 100 (NASDAQ:QQQ) down 1.5%. This was driven by the sizable earnings selloffs in Microsoft (NASDAQ:MSFT) and Alphabet (NASDAQ:GOOG) (NASDAQ:GOOGL) along with sympathy selling in Facebook (NASDAQ:FB). For those wanting to stick with a top call, you can add tech to the list of sectors looking like it's not got enough power to make it to new highs.
On the other hand, small-caps (NYSEARCA:IWM) managed to rally a full percentage point on Friday. That's not the sort of behavior you usually see before a broad market breakdown.
For now, there're still plenty of cross-currents. Oil (NYSEARCA:USO) has resumed its upward march. However, the short squeeze in the precious metals (NYSEARCA:GLD) (NYSEARCA:SLV) and agricultural commodities ended in tremendous fashion Friday:

Click to enlarge
Check out the size of some of those moves. -4% on corn (NYSEARCA:CORN), -6% on wheat (NYSEARCA:WEAT), and -3%+ on soybeans. Much of this was unwinding a speculative move up earlier in April. Still, for those piling into the hard assets trade, the market is reminding participants that this won't be a one-way move.
I'm still undecided on what the market will do. For now, my attention is elsewhere while we wait for more information to come in, regarding the next direction for US markets.
Japan: Infinite Bid
A Bloomberg story Sunday highlights the absurdity that Japanese economic policy is reaching. Bloomberg describes the so-called "Tokyo Whale," otherwise known as the Japanese Central Bank. Bloomberg notes that:
While the Bank of Japan's name is nowhere to be found in regulatory filings on major stock investors, the monetary authority's exchange-traded fund purchases have made it a top 10 shareholder in about 90 percent of the Nikkei 225 Stock Average, according to estimates compiled by Bloomberg from public data. It's now a major owner of more Japanese blue-chips than both BlackRock Inc., the world's largest money manager, and Vanguard Group, which oversees more than $3 trillion.
Remember how indignant people were when the US government started buying equity positions in certain US companies during the 2008 panic? Now imagine that, but across the entire economy. The Japanese Central Bank is a top 10 holder in virtually all Japanese large-cap companies. That's almost incomprehensible.
The current stimulus package stipulates that the Japanese Central Bank buy roughly three trillion yen ($27 billion) of Japanese stocks every year. To give perspective, with that amount of money, Japan could entirely buy out a company the size of CSX (NASDAQ:CSX), Deutsche Bank (NYSE:DB) or Deere (NYSE:DE) each and every year.
Bloomberg further details just how big the Bank's position is growing in some specific companies:
The central bank effectively controls about 9 percent of Fast Retailing Co., (OTCPK:FRCOY) the operator of Uniqlo stores, and nearly 5 percent of soy sauce maker Kikkoman Corp. (OTCPK:KIKOY) It has an estimated shareholder rank of No. 3 in both Yamaha Corp., (OTCQX:YAMCY) one of the world's largest makers of musical instruments, and Daiwa House Industry Co., (OTCPK:DWAHY) Japan's biggest homebuilder.
Overall, Bloomberg finds that the JCB owns more than half of the country's stock ETFs. It's simply mindboggling: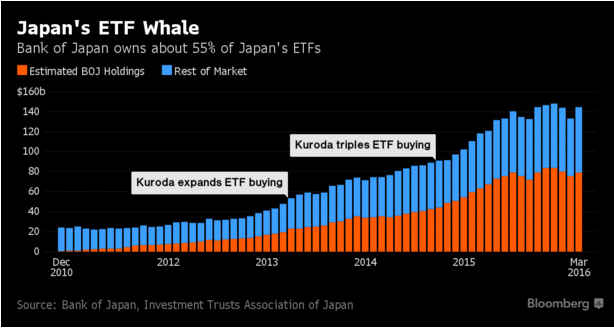 If the pace of JCB stock buying is expanded, as Goldman Sachs and other analysts anticipate, the JCB would be the #1 holder of about 40 stocks out of the Japanese 225-stock benchmark by the end of 2017.
There're a few obvious problems with this. For one, if and when the JCB tries to sell its shares, who will buy? They've taken a position much too large to unwind gradually. Any hint of them even stopping the buying of additional shares would cause a plunge in the Japanese market. I, for one, am avoiding Japanese stocks (NYSEARCA:EWJ) for precisely this reason.
Governance issues are a major concern. The JCB - or any central bank - is not an ideal top shareholder. There are obvious potential conflicts of interest. You don't want the government having influence, even passively, since it will cause decisions to be made taking political rather than economic effects into account.
If the trend continues, and the JCB in fact becomes the top holder of many Japanese companies, the country as a whole will head toward a strong break with traditional free market capitalism. Given the economy's inability to recover over the past 25 years, it appears the state is content to slowly nationalize its economy, in a seemingly misguided attempt to prop up business or at minimum boost asset prices.
However, the core demographic problem remains. Printing money to literally buy up the stock market is no real solution.
For foreign observers, it's a dangerous precedent worth watching. What's to stop the ECB or the Fed from engaging in similar maneuvers in the future? As long as inflation remains muted, central banks seemingly have a nearly unlimited leash. For those permanently bearish, consider that the Fed may, at some point, buy the S&P 500 outright to prevent the market from dropping. Don't fight the Fed would be taken to a whole new level.
Austrian Elections: Another Lunge Rightward
Austria voted on Sunday for its next leader. The country's traditional establishment parties got clocked. The vote count is preliminary as of this writing, but it appears the two traditional parties came in fourth and fifth respectively, losing decisively in almost all regions of the country. Both governing parties' candidates, Rudolf Hundstorfer and Andreas Khol, managed just 11% of the vote.
No candidate, it appears, will clear 50% of the vote. This will trigger a run-off election between the top two finishing candidates.
In the lead is Norbert Hofer, with around 40% of the vote.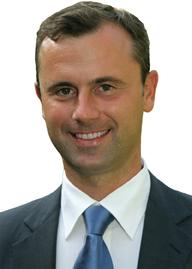 Hofer is of the far right Freedom Party, which has run on an anti-immigrant and Muslim skeptical platform. Trailing him is Alexander Van der Bellen, supported by the Green Party, in second, though with less than 20% of the vote.
Assuming Bellen holds on to second as the vote tally finalizes, he will face off against Hofer in the second round for the presidency. As of this writing, Bellen, despite losing badly in the first round, is shown as a small favorite on the betting markets.
Hofer, like Trump in the US, has united a bunch of opposition from all sides against him. He comes with a narrow but fervent base of supporters.
Austrian shares (NYSEARCA:EWO) sit just shy of a nine-month high, and might be set for some volatility over the next month as the market rerates political risk.
Whether or not Hofer does ultimately deliver the win for the far right, it's another sign that the era of liberal tolerance is drawing to a close. Many elections globally lately have been going against the middle, with extremists from either the left or right winning.
European unity looks ever more volatile, as this deals another blow to the status quo ahead of the critical upcoming Brexit vote. Around the world, there's a growing anti-establishment and anti-centrist tide.
As investors, it's something we need to be watching closely. If the far right keeps winning elections in Europe, Brexit occurs and Trump wins this fall, you're going to be looking at a much different state of play for trade relations and foreign exchange going into 2017.
Speaking of Trump, polling last week shows him strongly ahead in both California and Indiana - the last two key battles in the nomination contest. The Predict It market now shows him as having a 73% chance of winning the Republican nomination and having a 30% chance of winning the general election.
For those that have been hoping Trump would just go away, it's getting to the point where you have to seriously consider this upcoming election's impact on your portfolio. There's a rising tide against globalization, immigration and free trade. Should it reach the White House, there will be dramatic effects on stock and currency markets globally.
Disclosure: I/we have no positions in any stocks mentioned, and no plans to initiate any positions within the next 72 hours.
I wrote this article myself, and it expresses my own opinions. I am not receiving compensation for it (other than from Seeking Alpha). I have no business relationship with any company whose stock is mentioned in this article.