Many investors have been fixated on Linn Energy's (NASDAQ: LINE) (NASDAQ: LNCO) most recent exchange offer, which promises to bail unitholders out of a strange situation: tax burden without real profits. Much has been discussed here on Seeking Alpha and I concur with the prevailing sentiment that most investors would benefit from the exchange. Now that what should be done has been done, it is time to review the company's future once again.
Those with concentrated positions in Linn Energy perhaps haven't noticed all the fun that other energy investors were having. Even as WTI rallied, pushing oil indices to period highs, Linn Energy's stock has continued to trade at distressed levels.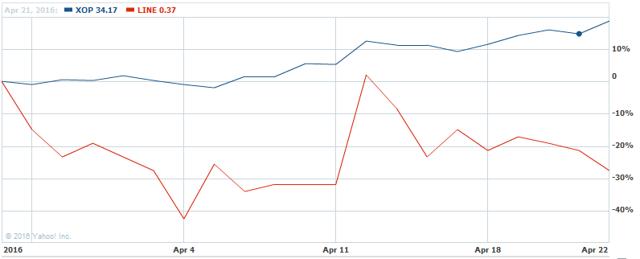 Click to enlarge
Source: Yahoo Finance
For a more specific example, we can compare Linn Energy to Chesapeake Energy (NYSE: CHK). Both have a similar amount of debt, yet shares have soared by 300% over the past two months. The biggest factor that is dragging down Linn Energy is its problem with creditors. Due to covenant violations, the company will be forced into default unless amendments are made prior to May 11th, 2016. In contrast, Chesapeake's debt is covenant light, which creates an interesting dynamic, which I first explored in the article: What You Missed - Chesapeake's Stroke of Genius.
Let's review what I said in my last article about Linn Energy (Linn Energy - Consider This Before Making A Move). In late March, oil and natural gas were trading at $40/bbl and $1.79/mmBtu, respectively. While oil has reached the lower end of my estimate ($45-$45/bbl), the price of natural gas has not yet risen above my projection. As of April 22nd, the May contract is trading at $2.138/mmBtu, representing a gain of 19% in one month, which falls short of my 50% threshold estimate. Given the above, it would appear that the market is completely justified in making Linn Energy a laggard among its peers. However, if we look closer, the company's prospects have actually improved over the past month, far beyond what the market price would indicate. The key lies with the futures curve of natural gas.
If we take a look at the December contract for natural gas, we would find that prices have climbed to more than $3/mmBtu.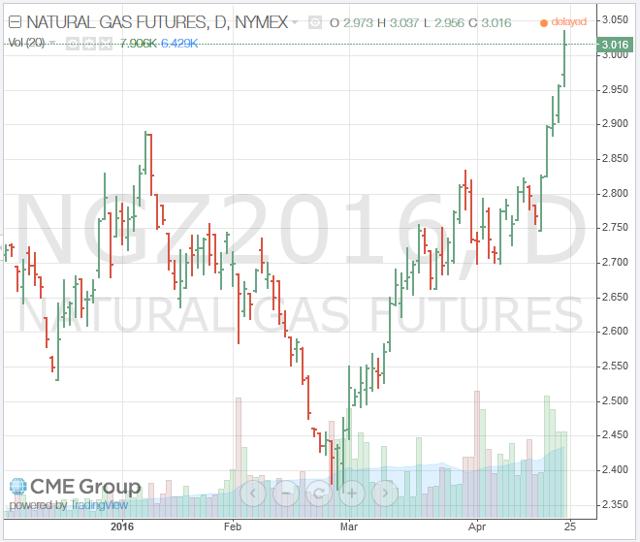 Click to enlarge
While it is understandable that winter months would demand higher prices, the market is also projecting that higher prices are here to stay. In the graph below, we can visualize the futures curve.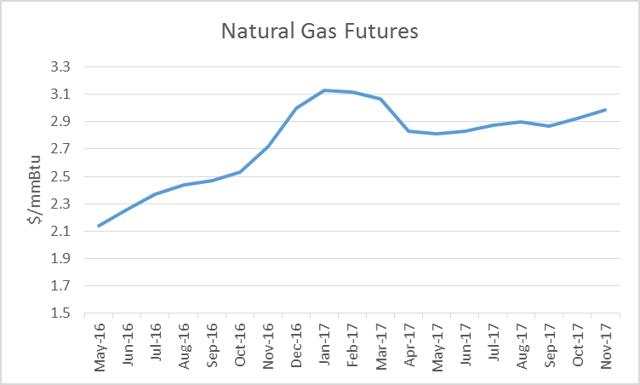 Click to enlarge
Source: Data from cmegroup.com
We can see that the futures for months with lower demand (i.e. non-winter) in 2017 are still trading much higher than near-term futures. This is huge for Linn Energy, as natural gas revenue accounts for a third of the company's core revenue (i.e. without hedges).
If management chooses to lock-in those futures prices, it would at least solve some of their headaches. A $3/mmBtu price tag implies a 35% increase to Q4 2015's realized price (ex-hedges) for natural gas, which should be enough to at least offset the core revenue decline attributed to lower production (currently projected to be -7% for 2016). Note that this will not change 2016's actual results at all, due to the fact that the company already hedged 100% of its natural gas production in 2016 at a price of $4.20/mmBtu. However, creditors won't base their decision on short-term profitability, which is why generating sustainable profits (or at least break even) without the use of derivatives is paramount when you want to convince lenders to approve favorable amendments.
If we plug in the revised prices for oil and natural gas into our model, we can see that the company still falls short of the break-even price, assuming that costs remain the same.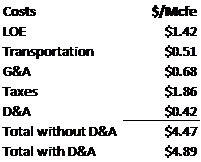 Source: Data from 10-K and author's estimates
Nevertheless, progress is progress. Share prices have failed to acknowledge the fact that fundamentals have improved, as the company could break-even without the assistance of hedges very soon.
Better, But Far From Safe
Developments over the past couple of weeks have been very beneficial for Linn Energy, but the company's future remains bleak. If the commodity market continues to recover, we could soon be reaching that critical break-even point, which should provide more incentives for creditors to loosen up the terms. But because there is very little equity holders could offer in terms of strategic alternatives, there is simply not that many tools at management's disposal. Unlike Chesapeake, the risk of bankruptcy remains considerable despite improving fundamentals.
Note: To understand how I structure the V20 Portfolio (+40% in 2015), whose goal is to compound capital at 20% over the long term, I encourage you to read the introduction to my investment process. If you are looking for some ideas that could complement your own portfolio, you can click the "Follow" button and be updated with my latest insights. Premium subscribers will get full access to the V20 Portfolio. You can follow my latest weekly update available to all here.
Disclosure: I/we have no positions in any stocks mentioned, and no plans to initiate any positions within the next 72 hours.
I wrote this article myself, and it expresses my own opinions. I am not receiving compensation for it (other than from Seeking Alpha). I have no business relationship with any company whose stock is mentioned in this article.
Editor's Note: This article covers one or more stocks trading at less than $1 per share and/or with less than a $100 million market cap. Please be aware of the risks associated with these stocks.