The biotech sector has staged an impressive 20% rally from its bear market lows in February. That rise has gained strength recently and the sector is one of strongest sectors of the market so far in the second quarter, a far cry from the misery it provided investors in the fourth quarter of 2015 and through half the first quarter of this year.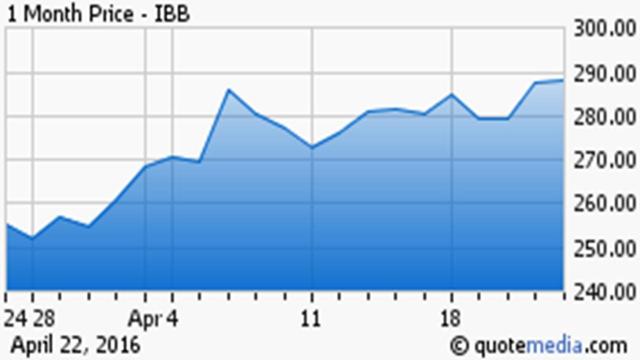 Click to enlarge
The rise has been spurred by sentiment becoming less negative on the space as well as a rise in M&A chatter after the derailment of the huge tie up between Allergan (NYSE:AGN) and Pfizer (NYSE:PFE) earlier this month. The heavyweights of the industry like AbbVie (NYSE:ABBV), Amgen (NASDAQ:AMGN), Celgene (NASDAQ:CELG) and Gilead Sciences (NASDAQ:GILD) report this week. Whether the rally can continue will be largely dependent on how those results come in from those biotech stalwarts.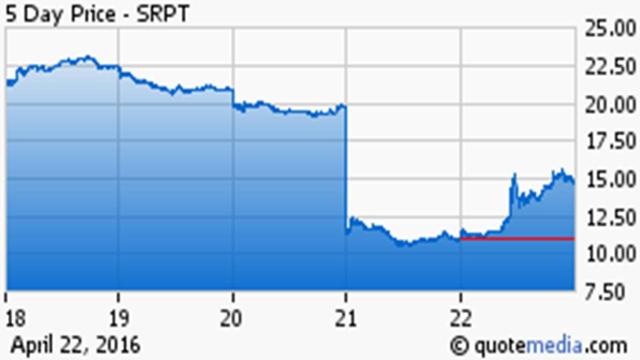 Click to enlarge
The other big news early in the week is how one of the most attended Ad Comm panels in history will rule Sarepta Therapeutics' (NASDAQ:SRPT) NDA on eteplirsen for the treatment of Duchenne muscular dystrophy on Monday. The stock dropped nearly 45% on Thursday after briefing documents came out that did not seem to support approval. On Friday, the stock soared 35% on the belief that political support including aggrieved and desperate parents of those boys afflicted with this terrible disease will be able to have over any concerns the panel has. I would not touch this one with a ten-foot pole but it will be one of the more interesting stories in biotech this week. As this article goes to submission, the shares have been halted for news pending.

Troubled Valeant Pharmaceuticals (NYSE:VRX) was reported to be in talks with Perrigo's (NASDAQ:PRGO) Joseph Papa to become its next CEO. The stock popped some eight percent in trading Friday. The company also received more default notices from creditors, which should go away if as planned, Valeant files its annual report at the end of the month.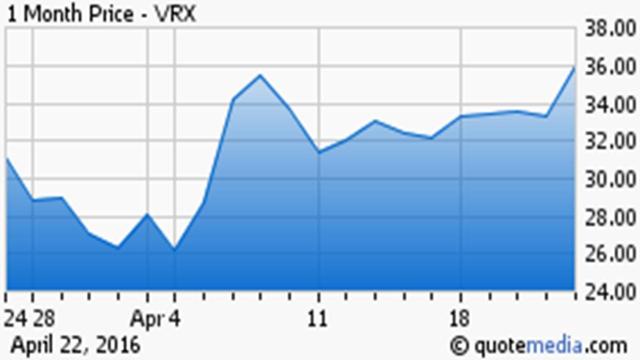 Click to enlarge
The stock is up some 40% since its lows but still down over 80% from the levels it achieved this summer until one event after another took the shares down. I wish Mr. Papa well if he chooses to take this position and his background and his experience in the industry would make him a good fit to start to repair all the damage his recently departed predecessor Michael Pearson did to the company.
I have no dog in this fight, as the situation at Valeant is too complex to make the distinction whether this is a generational type of turnaround situation or whether the company will eventually be sold off for parts to repay its $30 billion in debt. However, any leadership change that keeps Valeant out of the news in a negative way that impacts other stocks in the sector as a result will be most welcome.
Small cap Anavex Life Sciences (AXVL) is likely to be actively traded today. The shares are up more than 20% pre-market as we go to print. A news story broke out of Australia this morning that a patient in a trial had regained the ability to play the piano after being treated with the one of the company's primary product candidates, 3-71.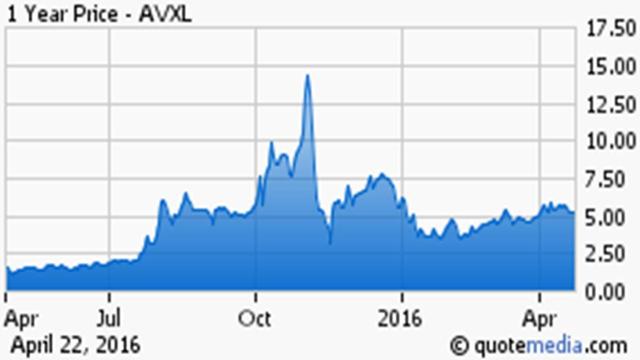 Click to enlarge
As can been seen from the chart above, it has been one wild ride for investors in Anavex over the past year. Despite a possible treatment for a cursed and debilitating disease, the company sports a market capitalization of approximately $200 million, as this is a true battleground stock. The back and forth between skeptics (I, II) and true believers is fast and furious.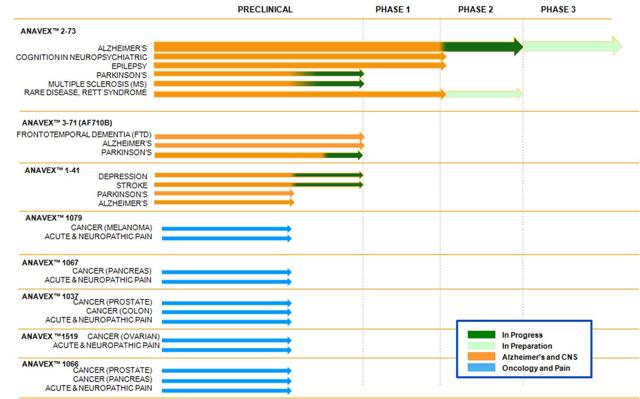 Click to enlarge
Analyst commentary is sparse on this one. However, FBR Capital did initiate the shares as a Buy with a $10 price target on March 29th. Two weeks before, Maxim Group reissued their Buy rating and $15 price target on Anavex. I have no position in the stock. Based on cursory review, it appears most of the company's pipeline is pre-clinical. It also appears Anavex will need to raise additional capital soon looking at its balance sheet.

Rigel Pharmaceuticals (NASDAQ:RIGL) jumped some eight percent in trading on Friday as JPMorgan gave the shares a "thumbs up" and rated the stock a Buy with a $5 price target. Morgan's analyst noted that "Two Phase 3 studies assessing lead product candidate fostamatinib in ideopathic thrombocytopenic purpura, an autoimmune disorder in which the body attacks and destroys blood platelets, have a high probability of success."
The same day this stock with a $250 million market capitalization and $2.80 share price, was also reiterated as a Buy with the same $5 price target over at Credit Suisse. The small biopharma has not been on my radar in quite some time. However, given its late stage trials and the fact that half of its market capitalization is represented by cash on the balance sheet, it deserves to go on my "watch list" at this time for further research.
Synthetic Biologics (NYSEMKT:SYN) was reiterated as a Buy on Friday over at FBR Capital with a price target of $10 a share - quadruple the company's current stock price. I own a small chunk of this small, but speculative developmental concern and the stock has already more than doubled off its lows in February.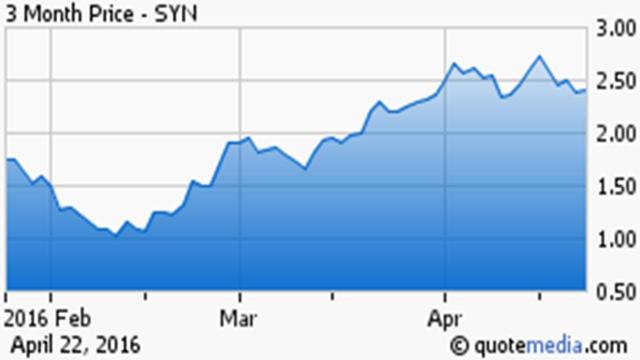 Click to enlarge
FBR's analyst noted as reasons for his optimism: "We received an update on upcoming potential milestones and the future clinical plans for SYN-004 and SYN-010. Our key takeaways are as follows: we would not be surprised to see a partnership or licensing deal for one of the company's assets in the near term, an interim analysis of the Phase IIb proof-of-concept trial of SYN-004 could potentially occur in the next few weeks, and breath methane will not be used in the inclusion criteria in a Phase III program of SYN-010. We think that the first two takeaways represent potential catalysts that could drive the shares higher in the near term."
The company's two lead candidates both have a human microbiome focus: SYN-004 to prevent C. difficile infection ('CDI') and antibiotic-associated diarrhea ('AAD') and SYN-010 to treat irritable bowel syndrome with constipation (IBS-C). Synthetic has a couple of other compounds in pre-clinical stage, but the company's success will ride on development of these two compounds.
I like Synthetic's risk/reward profile and a partnership deal is not something that would not surprise me. However, without an inflow of funds from such a deal, the company might have to come back into the secondary market to raise additional capital for development. A caveat all potential investors should be aware of before making a small investment in Synthetic, which will have some trial milestones in 2016.

Our spotlight feature today is on Xencor (NASDAQ:XNCR), a small speculative but promising concern I have a tiny stake in based on its potential promise.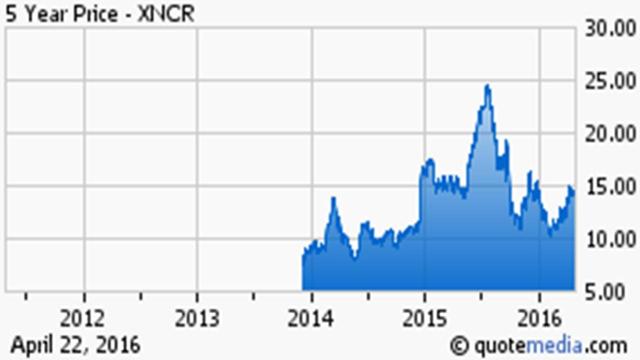 Click to enlarge
Company Overview:
Xencor is a California-based development concern that is focusing on developing superior monoclonal antibody therapeutics that have been optimized to treat autoimmune disorders, asthma and allergic diseases, and cancer. The stock currently goes for just over $14 a share and the company has a market capitalization of just south of $600 million. The company came public late in 2013.
Pipeline & Partnerships:
Xencor creates new drug candidates using its proprietary XmAb® antibody engineering platform. This technology enables the company to make subtle changes to the structure of monoclonal antibodies resulting in new mechanisms of therapeutic action, and enhanced performance and market differentiation. These small structural changes augment the interactions that antibodies naturally have with the immune system.
One of the first things I grew to like about Xencor is it has developmental alliances with more than a half dozen industry giants including Novo Nordisk, Janssen and Merck (NYSE:MRK). The most extensive appears to be with Amgen at the moment. They are working together to discover novel bispecific antibody candidates for cancer immunotherapy and inflammation across 6 different programs including ones aimed at myeloma. Xencor has already received $45 million in upfront payments and is eligible to receive $1.7 billion in milestones as well as royalties on sale if trials produce commercialized products.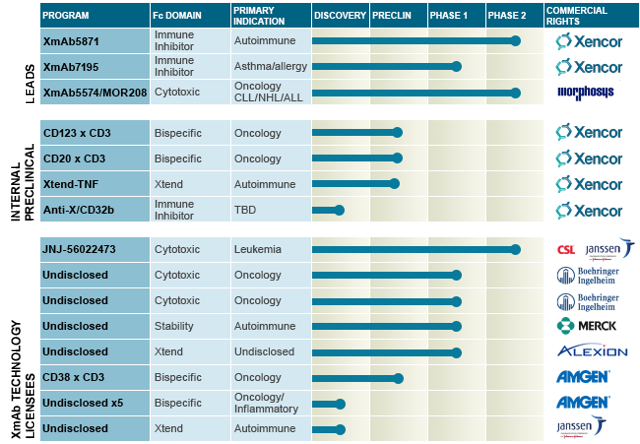 Click to enlarge
As can be seen from the chart above, Xencor has a primarily early stage but extensive pipeline with multiple "shots on goal," It has three candidates at the Phase II level and none at the Phase III level. Most of its candidates are in Phase I and preclinical stages. Thus, it can only merit consideration for a small stake within a broadly diversified biotech portfolio in my opinion at this point in its developmental journey. The company did announce in March that it had started Phase 2 trial of XmAb®5871 in patients with IgG4-Related Disease (IgG4-RD). IgG4-RD is a rare fibrone flamatory order immune disorder that affects multiple organs and affects up to 40,000 patients in the U.S. It currently has no approved therapies.
In addition, Xencor stated that the first patient in a Phase 2 trial of XmAb5871 in patients with Systemic Lupus Erythematosus ('SLE') had been dosed. SLE is an inflammatory disease that can affect numerous organs in which the body's immune system attacks its own healthy tissue. The disease affects an estimated 240,000 patients in the United States each year and the unmet need remains high. The standard of care including immunosuppressive medications with numerous side effects.
Analyst Support & Outlook:
2016 is going to be a busy one for Xencor and one that might get it more notice from investors and analysts. Six clinical trials across four programs should initiate during the year. Analyst commentary was very sparse around Xencor during 6-7 months long bear market across the biotech sector that looks like it bottomed in February. Since March 7th, Oppenheimer, Leerink Swann and Canaccord Genuity have reiterated Buy ratings. Price targets proffered have ranged from $18 to $28 a share.
Thanks to a follow-up offering early this year, the company has nearly $200 million in cash and marketable securities on hand to fund development. Management stated in its last conference call following quarterly results that "Based on current operating plans we continue to expect that we have sufficient cash to fund research and development programs and operations through 2019 and expect to end 2016 with approximately $150 million in cash, cash equivalents and marketable securities."
In summary, Xencor is a speculative investment at this point in its corporate development. However, it has many of the traits I look for before making this type of small investment. The company possesses multiple "shots on goal," has strong alliances with larger players in the industry, is well funded for many years ahead and is picking up positive commentary from analysts. It merits consideration from aggressive growth investors preferably as part of a well-diversified biotech portfolio.
Note: To get these Biotech Forum Daily Digests as soon as they are published, just click on my profile and hit the big orange "follow" button and choose the real-time alerts option.

Thank You & Happy Hunting
Bret Jensen
Founder, Biotech Forum
Disclosure: I am/we are long ABBV,AGN,AMGN,CELG,GILD,MRK,SYN,XNCR.
I wrote this article myself, and it expresses my own opinions. I am not receiving compensation for it (other than from Seeking Alpha). I have no business relationship with any company whose stock is mentioned in this article.