Would you be surprised if I told you that the best equity CEFs tend to trade at the widest discounts while the worst often trade at premiums?
A lot of income investors seem to think that a fund trading at a wide discount means there's something wrong with it while funds that trade at premiums must be doing something right. In actuality, it's usually just the opposite.
The reason has purely to do with yield. Funds that pay exorbitantly high yields (12% or higher) can still find unsophisticated buyers even if the fund continues to erode its NAV due to a high yield it can't support. The end result over the years is a propped up market price, a deteriorating NAV and voila, a premium valuation.
On the other hand, CEFs that pay conservative distributions are often shunned by investors because 5% or so yields just aren't very attractive when you can find stocks that pay close to that much. So even if a fund is growing its NAV, its market price may not keep up and voila, the fund trades at a wider and wider discount until it raises its distribution.
I can't tell you how often I see this. And yet, if you add back all of the distributions to these funds and look at them on a total return basis, almost all of the conservative yielding funds will far outperform the highest yielding ones not only at NAV but also at market price. That's right, even when taking into account their market price premiums and discounts.
Something to think about when you see funds at wide discounts and lofty premiums. But let me give you another reason.
Here's Why You Buy CEFs At Discounts
Everyone thinks that, "Hey, if you buy a CEF at a discount, that's like buying all of the fund's assets at a similar discount!"
That's true, and it's a good reason to hold onto a heavily discounted CEF instead of selling in a panic when the markets are defensive. But in reality, unless you can actually cash in that discount, it's not really worth much unless the fund liquidates, matures or merges with another fund (which does happen from time to time).
But what if I told you there was a tangible reason that would benefit you right away by buying a fund at a wide discount. Well there is, and once again, it has to do with yield.
Most investors are only concerned with a fund's current market yield because that's what you would be paid if you bought the fund (assuming no change in future distributions). That's also true, but what is infinitely more important than a fund's market price yield is a fund's NAV yield because that is the yield the fund actually has to pay.
In other words, paying attention to a fund's NAV yield will often alert you as to when a fund may have to cut its distribution or even be in a position to raise it. And do you want to know how many investors keep tabs on their fund's NAV yield or even know what it is? Try close to zero.
But here's the tangible benefit when you buy a CEF at a wide discount. You get a windfall market price yield over and above what the fund pays on its NAV yield. In other words, if a fund only has to cover a 6% NAV yield but you're getting a 7.5% current market price yield, that's a huge benefit.
And this is a big reason why over time, equity CEFs that pay conservative NAV yields and are able to grow their NAVs instead of depleting them (think destructive return-of-capital) offer infinitely better investments than funds that try to maintain too high of a distribution and see their NAVs erode. And because of this windfall yield, CEFs that trade at some of the widest discounts are often still dramatically outperforming those that trade at premiums.
The bottom line is that if more income investors knew this, you would see valuations flip flop very quickly. As it is, take advantage of most CEF investor's naivety because I am doing my best to try and educate them in the mean time.
Which Equity CEFs Would I Be Buying?
It's hard enough to find undervalued investments that will perform well over time so do yourself a favor and don't buy CEFs that trade at lofty premium valuations. You only handicap yourself from the get go and you don't even receive the yield the fund is actually paying. The end result is often disappointing returns even with those high distributions.
Of course, it's not as easy as just finding CEFs at wide discounts or avoiding funds that trade at premiums. I have often said that if you want to find the best CEFs to invest in, follow a fund's NAV taking into account all distributions. It is a given that over time, a CEF's market price will follow its NAV just as surely as day follows night.
Though I realize most investors don't have time to follow multiple fund's NAV total return performances like I do, just going to CEF Connect or other data sources to check NAV performance doesn't always give you the answer either. I have found many omissions and errors from such sources and it can skew performance figures pretty dramatically. I would suggest just double checking my recommendations and seeing if you agree with me. I have no problem with that and you may come up with some observations that I miss since no one can effectively keep track of all CEFs, not Morningstar and not CEF Connect.
I keep NAV statistics on all of the equity based funds I follow both in the short term (1-year or less) and longer term up to 10 years and the results can be eye-popping. There may be other factors that analysts and investors like to use but for me, total return NAV performance, which includes all those wonderful distributions from overpaying and conservative paying funds, is by far the most important. With that in mind, I'm going to reiterate a buy on one fund I have already endorsed this year and introduce another that I believe offers one of the most compelling valuations I have seen in a long time.
Reiterating A Leveraged Nuveen Equity/Preferred CEF
My first recommendation is the Nuveen Tax-Advantaged Dividend Growth fund (NYSE:JTD), $14.03 market price, $16.12 NAV, -13.0% discount, 8.8% current market yield. I recommended JTD in my last article earlier this month when it was at $13.58 and if anything, the fund is even more attractive now. Let's first start with what I mentioned above and compare JTD's NAV yield with its market yield.
JTD pays $0.31/share per quarter (slightly lowered this past qtr) which translates to a 7.7% NAV yield. That's what JTD's leveraged portfolio of dividend paying stocks and preferred securities has to cover but because of JTD's market price discount, buyers would actually receive an 8.8% yield. Bonus #1.
But what I really like about JTD right now is that its portfolio is right in the sweet spot of this market. That is, JTD does not have a high exposure to the information technology sector or NASDAQ stocks but rather is much more heavily weighted towards dividend paying value stocks in the financial, insurance, pharmaceuticals, oil & gas and REIT sectors (JTD's five largest sector holdings).
It is pretty clear that so far in 2016, large cap technology is not the go to sector like in years past and has been replaced by some of the more down and out value sectors which have lagged over the last few years. And weak earnings last week by Alphabet (NASDAQ:GOOG), Microsoft (NASDAQ:MSFT) and Intel (NASDAQ:INTC) probably means that this will continue for the foreseeable future as assets continue to rotate to more value oriented names. NOTE: MSFT and Apple Inc (NASDAQ:AAPL) are in JTD's top 10 holdings.
So funds like JTD, which is leveraged with these value stocks and preferred securities, is very diversified and is also very income oriented. JTD even sells options against the NASDAQ-100, which has also helped the fund so far this year with the PowerShares NASDAQ-100 ETF (NASDAQ:QQQ) down -2.3% YTD. What this all means is that JTD's NAV is significantly outperforming its peer group by being up 4.7% YTD, and handily beating both the S&P 500 and even the best performing major market index this year, the Dow Jones Industrial Average. Bonus #2.
I've had a long history with JTD and have recommended it over the years though I have a much bigger position in the fund today. Several years ago, I even used JTD as a comparable along with the Eaton Vance Tax Managed Buy/Write Income fund (NYSE:ETB) to show how equity CEFs are often misunderstood and underappreciated in their performance. Back in mid December of 2012 I wrote was is still my most popular article, 9% Tax-Exempt Yields Being Given Away - The Greatest Story Not Being Told, and explained why equity CEFs like JTD and ETB often perform much better than investors think when you add back their distributions.
In the article, I pointed out that a leveraged CEF like JTD can significantly outperform the S&P 500 during a bull market recovery like from the financial crisis lows in March of 2009. Here is the market price graph I included in the article showing JTD's, ETB's and the SPDR S&P 500 ETF (NYSEARCA:SPY) total return performance (with distributions reinvested) from March 31, 2009 to December 16, 2012 when the article was released.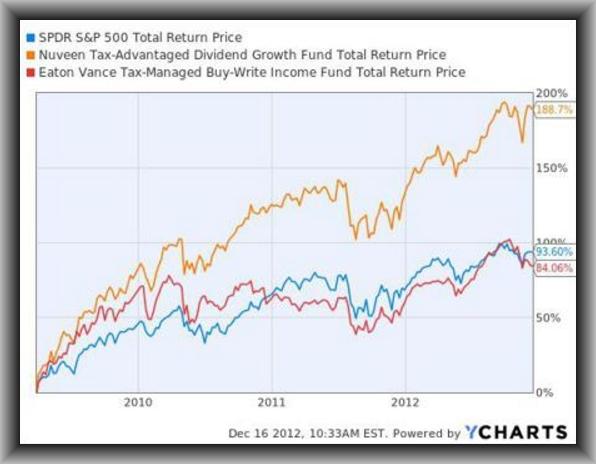 Hard to believe a value oriented CEF with 1/3 of its portfolio in preferred securities could perform so well? Well, that's what leverage can do for you though of course, this was from the market bottom in both equities and preferred securities and covers 3+ years. Still, 188.7% for JTD during this time period is over twice that of SPY at 93.6%.
Fast forward to today and JTD is once again, outperforming its benchmarks at NAV while trading at its widest discount in years at -13.0%. Though JTD may not have been as well positioned to take advantage of the NASDAQ-100 rise over the past few years as some other information technology weighted equity CEFs, I believe that has now largely changed as the market focus has moved into JTD's favor. As such, I believe JTD offers a compelling valuation and really should be trading at a more normalized discount of -5% or so, which would put it closer to $15.30, well above its current $14.03 market price.
So for investors, not only can you lock in a windfall yield of 8.8%, significantly higher than JTD's NAV yield of 7.7%, but you also can have significant appreciation potential if this nascent market recovery continues. Bonus #3.
The Ultimate Deep Discount CEF
My second recommendation is a controversial fund that has had its ups and downs over the years but I believe represents the epitome of a deeply discounted equity CEF that used to trade at a lofty premium when it overpaid its distribution and now trades at one of the widest discounts of all CEFs.
The Boulder Growth & Income fund (NYSE:BIF), $7.96 market price, $10.28 NAV, -22.6% discount, 5.0% current market yield, is one of only a few CEFs that trade at a -20% plus discount. But for those who have owned BIF in the past and have sworn off ever owning it again, let's look at why now may be a perfect time to consider this fund once again.
BIF is actually a very large CEF at over $1 billion in assets though it doesn't trade as many shares as you might expect for a fund that size. The fund itself has been around since 1972 so it is one of the oldest CEFs in existence.
BIF used to be one of those funds that overpaid its distribution for years while seeing its valuation skyrocket to over a 50% market price premium in 2007. But as is often the case with funds that overpay their distributions, the NAV eroded to a point where in October of 2008 during the financial crisis, Boulder eliminated the distribution all together.
This was obviously a drastic step that Boulder took in an effort to shore up and rebuild BIF's NAV but as a result, investors punished the fund accordingly. Since eliminating the distribution in late 2008, BIF has been trading at around a -20% discount ever since and has offered only semi-annual and end of year capital gain distributions.
But as I have said many times, particularly back in 2011 and 2012 for the Eaton Vance option income CEFs, cutting distributions to better align a fund's payment with its income can be a long term positive as NAV growth is restored, though certainly eliminating a distribution for a CEF is not going to win many converts immediately and it has takenquite some time for BIF to rebuild its NAV back from $5.84 at the end of 2008 to $10.28 today.
But all that is in the past and what's important to potential new investors is where the fund is at now. The first thing to know about BIF's slightly leveraged all stock and fund portfolio is that it is heavily weighted in the Berkshire Hathaway's Class A and B shares, to the tune of about 30% of the total portfolio so in many ways, as (NYSE:BRK.A) and (NYSE:BRK.B) goes, so does BIF. Here are BIF's top 25 holdings as of 2/29/2016.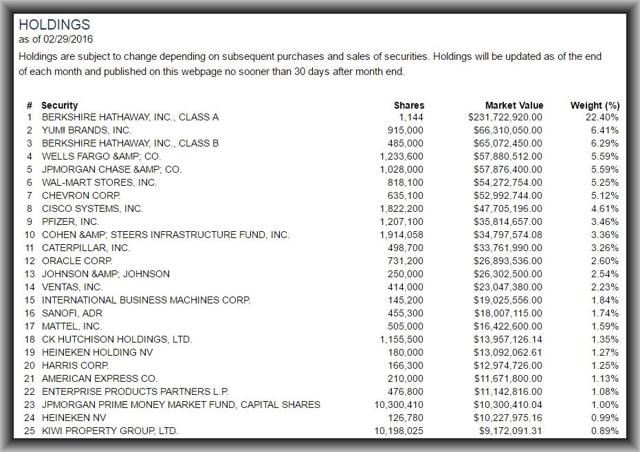 Click to enlarge
What I want you to notice is that like JTD, BIF is not heavily exposed to information technology or the NASDAQ-100 and is much more about value stocks. So again, what may not have helped BIF's NAV or market price over the last several years as information technology made its run, may now be working in BIF's favor.
This is certainly helping well known value investor Warren Buffett's Berkshire Hathaway now with both BRK.A and BRK.B up over 10% YTD, far outperforming the major market averages after languishing for most of 2015. BIF itself is up 7.2% YTD on its NAV though BIF's market price is up only 4.5% YTD. Still, this is a dramatic improvement for BIF's NAV and puts it as one of the top performers YTD.
So could you look at BIF as a way to own Berkshire Hathaway at a -22.6% discount? Sure, why not, but as I said earlier, you can't really cash in that discount. And certainly BIF doesn't have the track record as a BRK.A or BRK.B, but at that discount and a low trading volume for a relatively large CEF, it wouldn't take much for BIF's market price to improve with some institutional investors stepping in. All you would need is a trigger and I believe the trigger is now cocked.
On November 11, 2015, Boulder Investment Advisors released this press statement:
Boulder Growth & Income Fund, Inc. ((BIF)) (the "Fund") announced today that, at its recent meeting, the Board of Directors of the Fund (the "Board") resolved to institute a managed distribution program in accordance with its Section 19(b) exemptive order (the "Program"). Beginning in November 2015, and continuing monthly thereafter, the Fund will make distributions of $0.033 per month, or approximately $0.40 per year.
So after seven long years of rebuilding BIF's NAV, Boulder has re-instituted a recurring monthly distribution of $0.033/share, equating to a 5.0% market yield based on BIF's current market price of $7.96. And as I pointed out in Bonus #1 above for JTD, a 5.0% current market yield is significantly higher than BIF's NAV yield of 3.8% so investors receive a windfall market yield over and above BIF's NAV yield. And is there room for raising the distribution in the future for a very modest 3.8% NAV yield? Absolutely.
The other reason why reinstating a recurring distribution again is so important is because BIF doesn't have to compete with non-yielding investments anymore. I mean who would buy a non-yielding value fund like BIF over a growth stock or fund that also offered no yield? BRK.A and BRK.B, for example, offer no dividends so to an institutional investor who wants to own Berkshire Hathaway, BIF might be seen as a yield oriented alternative whereas before, it was not.
BIF's perpetually large discount has been a source of frustration even to the fund's portfolio manager, Brendon Fischer, who wrote this in his letter to shareholders for BIF's latest report (Annual Report) dated November 30, 2015.
In my last letter, I wrote of the work we did to develop a general blueprint that we believed would help drive a reduction in the discount. Over the last few years we have diligently delivered upon this blueprint. We implemented changes to the Fund's website to provide clearer and more concise insight into the Fund, the Advisers and our investment philosophy and process. We have worked to improve the quality of our communications with shareholders. We have worked to streamline portfolio construction. We completed the reorganization, which we believe addressed many of the potential reasons for the discount as detailed more fully in my last letter. We sought to improve disclosure about the Fund's holdings by moving to daily Net Asset Value reporting and monthly portfolio holdings reporting. Finally, we were happy to announce in November of this year that the Fund's Board approved a monthly managed distribution plan. In other words, we have been very busy.

Unfortunately, we also are extremely frustrated as the discount persists despite all of our efforts. We believe the actions we have taken over the last couple of years have made the Fund a considerably better investment product. In comparison to just a few years ago, today's Fund benefits from its dramatically larger size, improved secondary liquidity, a lower management fee, a lower total expense ratio, better portfolio construction, increased portfolio disclosure and the new monthly managed distribution program. Considering all of these improvements, we believe it is rational to assume the discount would have narrowed. Instead the discount has actually widened from approximately 17.6% as of February 29, 2012 to approximately 21.7% as of November 30, 2015. To be blunt and true to my Texas roots, it don't make a lick of sense.

We fully believe the discount continues to be unreasonable and undeserved. When the above improvements are combined with the fact that the Fund is comprised of investments in well‐run, attractive businesses that generally trade at attractive valuations, we believe the Fund's discount should at least trade more in‐line with comparable equity focused closed‐end Funds. As part of our ongoing efforts to address the discount, we will continue to communicate this message to the market to help it understand the underlying story that we believe supports a reduction of the discount.
If Mr. Fischer was frustrated at the end of last November, he's probably exasperated by now as BIF's discount has widened even further to -22.6% even as BIF's NAV has far outperformed most all other equity CEFs so far this year.
I believe BIF is on the right track and its only a matter of time before larger investors realize that the fund is ridiculously cheap, particularly if value investments continue to outperform growth investments.
Conclusion
It is almost beyond belief sometimes what CEF investors buy and sell in these funds. When I see CEFs trading at up to 100% market price premiums whose best days have obviously past them by and have very little chance of covering their distributions while others trade at up to -20% discounts and have done everything right to earn back investor confidence, you have to come to the conclusion that CEF investors are, for the most part, very unsophisticated.
But this is where the opportunities lie. I would encourage investors to do their due diligence and see which funds are now taking advantage of this market environment and yet continue to trade at ultra wide discounts. Because if the appreciation potential doesn't excite you then take a look at these discounted market prices because you always have the windfall yield to fall back on.
Disclosure: I am/we are long JTD.
I wrote this article myself, and it expresses my own opinions. I am not receiving compensation for it (other than from Seeking Alpha). I have no business relationship with any company whose stock is mentioned in this article.