Mandarin Oriental International Limited (OTCPK:MAORF) is an under-followed stock trading on OTC markets and listed on the Singapore Stock Exchange. For those who are unfamiliar with this stock, MAORF is an operator of hotels under the brand "Mandarin Oriental," the company has more than 11,000 rooms under management.
The company's portfolio of hotels is spread across the globe with 6 hotels in the US (Las Vegas; Miami; New York; Boston; Washington, D.C.; and Atlanta), in top European tourist destinations including Madrid, Barcelona, Milan, Paris, London, Prague, Munich, and Geneva, and in 11 key cities in Asia.
Unlike other hotel operators, such as Starwood Hotels (HOT) and Marriott International (NYSE:MAR), Mandarin Oriental International concentrates on luxury properties and operates only in well known and popular travel destinations.
Mandarin Oriental is currently trading at approximately 18x historical P/E, which may seem expensive, but it is still relatively cheaper than the likes of Starwood (trading at 27x P/E) and Marriott (trading at 21x P/E).
Taking a historical look at Mandarin Oriental, the company was adversely impacted in 2009 by the global financial turmoil then, and the stock traded to a low of about 62 cents in February 2009. This was to mark a turning point in the stock price, as it rocketed up to over $2 during the recovery. Note: For a sense of how this stock has traded, I am using the stock price traded on the Singapore Stock Exchange.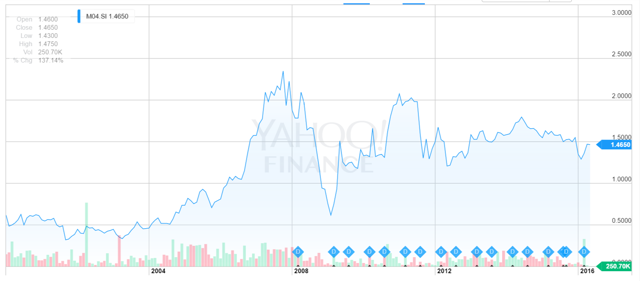 Click to enlarge
Source: Yahoo! Finance
The question to really figure out is how much has changed since 2009 in terms of operational performance and from a valuations viewpoint. I also believe that since hotel operations are pretty cyclical in nature, especially if related to the luxury segment, there should be an understanding of operational performance and relative valuation that has been smoothened over time.

Click to enlarge
Source: Company Annual Reports
In 2009, the company took a sharp hit in its revenues declining 17% and EBITDA declined 47%. Such an impact to the bottom line is not uncommon for the luxury sector. The preceding jump in EBITDA and revenues the following year after decline too shows just how cyclical luxury hotel revenues can be. As a result, it would be important to get a sense of the long-term averages to compare against 2015's performance.
The 2015 EV/EBITDA of 7.75x shows that there's room for multiple expansion if the trend turns, we could easily value this company at 15 to 16x, double what it is roughly valued at today.
The declining growth trend, however, seems to suggest it is fairly valued. Note also that EBITDA growth looks eerily similar to 2008's trend leading into 2009. Revenue growth stalled that year and so did EBITDA, declining nearly 14% that year.


Source: Company Annual Reports
Using an average EBITDA of $173m (computed not based on the 10-year average EBITDA which is actually $164m) based on the 10-year EBITDA margin average multiplied by average revenue per room into 11,000 rooms. At a 10-year average EV/EBITDA multiple of 11.5x historical, a target price of over $1.80 is derived. Interestingly, the current share price seems to suggest the market valuing this stock based on 9x the average EBITDA.
At the 52-week lows of $1.20, the market is valuing the company at about its 10-year average EBITDA of $164m at 7.75x EV/EBITDA. This is where, as you can see from the analysis above, the stock presented very attractive valuation and a good opportunity to buy in and sell at potentially $1.80. At current prices, the upside has been limited but it still represents a respectable 25% increase from current prices.
Downside risks are also prevalent and if the global economy tanks in the near future, investors would probably face further margin and multiples compression leading to extremely depressed stock prices. Back in 2009, the EV/EBITDA was only 5.4x and if I imply an EBITDA of $164m, my share price would look closer to $0.80, which is a very steep decline from today's prices.
An investor looking to invest in Mandarin Oriental should be looking at investing with a long-term perspective. Over the past 10 years, this company has grown its rooms under operations by 10%, and maintained steady operational performances. It also held up pretty well in terms of managing its costs and balance sheet during past downturns and the current exposure to debt is limited.
A factor to note is the company is over 75% owned by the Jardines Matheson Group, and daily trading volumes remain light. Based on Yahoo! Finance records, the 3-month average daily trading volume on the stock listed on the Singapore Stock Exchange is 340,000 shares. The OTC market's volume shows a meager 3-month average of 2,181 shares. This is certainly not a stock for all investors given such thinly traded volumes and lack of analyst coverage for the US market.
It is my opinion also that while this company may seem a reasonable target for acquisition, given the current buzz over Marriott's takeover, the Jardines Matheson Group is unlikely to sell.
In summary, this stock is currently not worth short-term trading gains, but could be very attractive in a market correction as we have seen in the past. An entry price at $1.20 would be pretty decent to go in for the long haul, barring any impending global crisis. Patient investors may wish to enter at distressed prices, but that holds true for most stable, solid companies.
Disclosure: I/we have no positions in any stocks mentioned, and no plans to initiate any positions within the next 72 hours.
I wrote this article myself, and it expresses my own opinions. I am not receiving compensation for it (other than from Seeking Alpha). I have no business relationship with any company whose stock is mentioned in this article.
Editor's Note: This article discusses one or more securities that do not trade on a major U.S. exchange. Please be aware of the risks associated with these stocks.