Biotech is now up approximately 20% from the lows of February when it was in the throes of a brutal bear market - the longest and deepest since the financial crisis. It has been quite the turn of events from the fourth quarter of 2015 and most of the first quarter of this year when the sector treated its investors like a pack of rented mules. In fact, biotech has been one of the strongest performing areas of the market in the first month of the second quarter. I think we can safely say the recent bear market is officially over.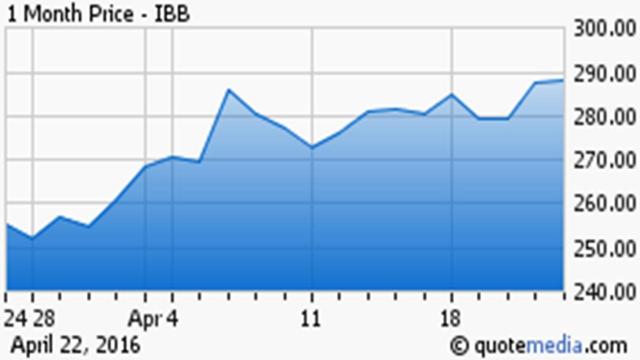 Click to enlarge
There are many reasons this rise has occurred and will likely continue to keep going. Helping the sector has been M&A chatter that is picking up again. The derailment of the Allergan (NYSE:AGN) and Pfizer (NYSE:PFE) merger earlier this month seems to have ignited speculation around a number of mid and small cap concerns that could not be in play.
The recent rally in crude oil has helped stabilize the high yield credit markets. This also has been a tailwind to any small or mid-cap biotech concern that may need to access additional funding for developmental needs at some point in the foreseeable future.
Finally, large biotech stocks have benefited from investors coming to the realization this space is one of the few in the market that can deliver both earnings and revenue growth as the overall market is locked in a "profit recession." It will be a big week for biotech this week as quarterly reports are due from heavyweights AbbVie (NYSE:ABBV), Amgen (NASDAQ:AMGN), Celgene (NASDAQ:CELG) and Gilead Sciences (NASDAQ:GILD).
Even with their recent run, the large biotech names in the sector are hardly expensive after hitting their lowest collective valuations in February since 2011 when the Greek debt crisis caused a significant "risk off" decline in global markets. Gilead goes for eight times earnings and should deliver a free cash flow yield of over 10% in 2016 at these levels. AbbVie goes for just over 12 times this year's likely earnings and yields 3.7% via dividend payouts.
In addition, the long-term secular trends that have made the sector an outperformer since the financial crisis ended remain firmly in place. Populations in the developed world are aging. As a result, a greater amount of the healthcare pie is going to treatments and drugs. Drug spending was recently reported to be up over 12% overall in the United States in 2015. This will continue as new technologies lead to new discoveries that help tackle some of the most prevalent and costly diseases of society such as hepatitis C. The FDA approved 56 new drugs last year, the second highest total on record.
Given all of this, I think it is an opportune time to build or add to a well-diversified biotech portfolio. As such, I would like to give a few tips on building such a portfolio. I have found that proper diversification is the key to outperformance as well as lower volatility for your overall portfolio. It is also one of the key reasons the Biotech Forum portfolio has easily beaten its benchmark since its launch last April.
I think it is obvious one wants to diversify across different focus areas within biotech. However, this does not happen as much as it should. I have had many readers relate how they put all the eggs in one hot trend in the market like immunotherapy and paid the price for it when sentiment turned negative on that sub-sector of the industry.
I try to ensure the small and mid-caps in my portfolio hit upon different treatment areas of medicine such as oncology, cardiovascular, antibody, diabetes, arthritis, etc... A less obvious and less practiced form of diversification I have found works well is to make sure your biotech portfolio is diversified properly across what I call "tiers" within the biotech complex. This works as follows.
Tier 1 - These are the large cap growth names like Amgen that are reporting this week. These companies have recurring earnings and revenue streams, are reasonably valued and have strong pipelines and balance sheets. They can be bought using the same valuation criteria one uses for any other large cap growth stock like Alphabet (NASDAQ:GOOGL). These "core" holdings should make up 50% to 75% of your overall biotech portfolio depending on your personal risk profile. These are your consistent "singles" and will take a lot of volatility out of your overall biotech portfolio. They always go down much less than small and mid-cap names during the frequent bear markets in this sector and are usually the first to bottom as well.
Tier 2 - These have some of the same traits as the Tier 1 names but are much smaller. They should garner the second most allocated funds after your Tier 1 stocks. These small caps have recurring revenue and earnings streams and are reasonably valued. A perfect example is ANI Pharmaceuticals (NASDAQ:ANIP), one of the 15 small caps in the Biotech Forum portfolio and one that has been en fuego recently after management significantly upped its forward guidance for FY2016.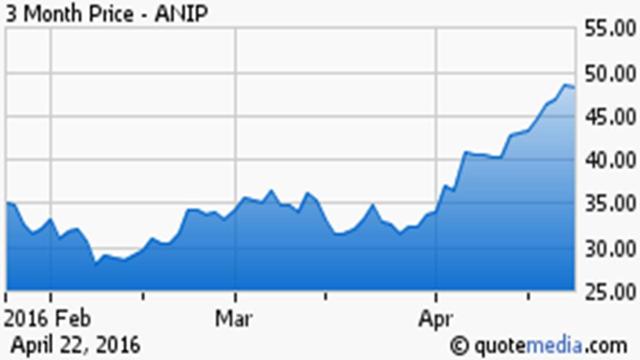 Click to enlarge
Tier 3 - Next up is small or mid-caps that have an approved product(s) but are not yet profitable as they are in the early stages of rolling out their first commercialized product. A perfect example of this type of Tier 3 stock is Relypsa (NASDAQ:RLYP) whose hyperkalemia drug Veltassa hit the market in January and is seeing scripts roughly double every month since. I recently wrote on this solid initial rollout and why this biopharma is a possible if not likely buyout target.
Tier 4 - This is the highest risk/highest reward tier within the biotech sector. You want to own very small stakes in myriad promising concerns. There are going to be many "strike outs" in this subsector of the market, as most compounds never make it out of trials. However, the occasional "grand slam" should make investing in this part of biotech lucrative provided you diversify correctly across the proper type of these Tier 4 stocks. For what I look for in this subsector, please read the Spotlight feature on Xencor (NASDAQ:XNCR) in today's Biotech Forum Daily Digest.
Those are my diversification tips for what it's worth for those wanting to take advantage of the recent bear market decline within the biotech sector now that the space seems to be back in rally mode.
Note: To get the latest on my views on both the biotech sector as well as specific stocks within this lucrative, but volatile part of the market as soon as they are published, just click on my profile and hit the big orange "follow" button and choose the real-time alerts option.
Disclosure: I am/we are long ABBV, AGN, AMGN, ANIP, CELG, GILD, RLYP, XNCR.
I wrote this article myself, and it expresses my own opinions. I am not receiving compensation for it (other than from Seeking Alpha). I have no business relationship with any company whose stock is mentioned in this article.