McDonald's (NYSE:MCD) came in Friday with another apparently strong quarter, with worldwide comps improving 6.2%.
But a look behind the numbers shows that MCD is overbought and overvalued at its near record high.
First, 2016Q1 revenue, income and EPS are all less than or almost equal to the same quarters in 2013 and 2014. But on the dates MCD released earnings for those earlier years' quarters, MCD was just $99 /share.

Even the momentum of the broader market, as reflected in the DJIA and S&P, does not really justify the higher stock price, year-to-year*.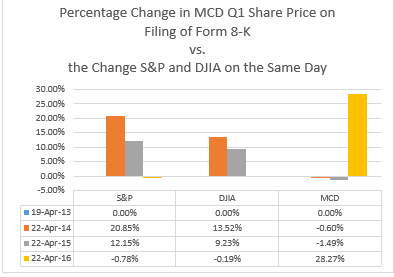 Even looking at cumulative percentage changes in the indexes since MCD's 2013Q1 earnings report, MCD just barely beats the DJIA and falls well below the S&P: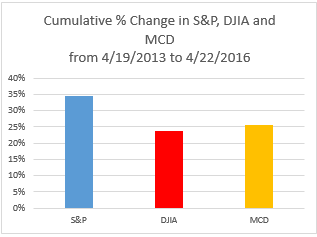 A Deeper Dive Into the 2015Q1 Numbers
The 2016Q1 results continued to benefit from comparisons to 2015Q1 because ADB was not launched until October 6, 2015. We won't see full quarter to full quarter ADB comps growth until 2017Q1, so comps growth until then are mostly irrelevant to see if MCD can continue to grow comps beyond just ADB.
While reported top-line 2016Q1 net income increased 35%, if one adjusts for the 2015Q1 $195 million charge for restructuring, then 2016Q1 increased by only 9.2%. Even that comparatively modest increase is likely coming from ADB and the addition of "McPick 2" (McP2), in which customers can choose any two menu items for $4 or $5. Other boosts to the 2015Q1 and the 2016Q1 included higher prices (up 3% in the USA and 2% to 3% in the International Lead segment) and lower commodity costs (down 3% in the USA and flat in the International Lead segment).
It's clear that CEO Steve Easterbrook knows that comps growth from ADB and McP2 will soon be played out and that the comps growth MCD has enjoyed for these two tactics cannot be sustained in out-year quarters. He hinted in the earnings call that there will be a new strategy to be announced in a later 2016 quarter.
I do not believe that tactical drivers to comps growth like ADB and McP2 can drive longer-term, continuous, comps growth. Even the impressive 6.2% growth in 2016Q1 comps was turbocharged by the 11% comps growth in the relatively small "Foundational Market," which includes Japan. (Japan, you will recall, has now mostly recovered from last year's food safety troubles that caused sharp declines in 2015Q1 growth.)
Continuing comps growth, and growth in market share - another key component of what Easterbrook wants to achieve - will require more innovation than adding or subtracting beef patties (or more beef) and buns to and from 40-year-old menu items like Big Macs and Quarter Pounders. It will require a departure from the moribund - and frankly ridiculous - strategy of being "a modern, progressive, burger company," (whatever that is.) That "strategy," such as it is, goes back several years that proved both good and bad, proving it is ineffective and failed.
Buy and hold Investors should be concerned for a number of reasons:
MCD has bought back more than 7.5% of its stock over the last 12 months and the buy backs have largely been financed by debt. The 2016Q1 Form 8-K warns that interest expense could increase by as much as 45% - to around $925 million- for the full year 2016. Had the fully-diluted 2015Q1 shares been applied to 2016Q1 earnings, 2016Q1 EPS would have been $0.10 less than reported.
Last week, it was reported that the French tax authorities had hit MCD with a €300 million ($341 million) assessment for allegedly shifting profits from France to Luxembourg and Switzerland by paying those lower tax jurisdictions higher than practicable intercompany franchise fees. In my experience, such assessments usually come in waves, with other tax jurisdictions often "piggy-backing" the claims of the taxing jurisdiction that imposed the original assessment on the theory that "if they're doing that in France, they're probably doing it to us, too." Even if the assessment were to be withdrawn, attorney and accounting fees across multiple jurisdictions to defend MCD's intercompany pricing arrangements could be tens of millions of dollars.
Labor issues are developing in Europe and the USA. Europeans are continuing to protest MCD wages and working conditions and its refusal to deal with trade unions. In the USA, last year's decision in Browning-Ferris wherein the NLRB ruled that franchisors are "joint employers" of a franchisee's employees, opens the door to a wider array of litigation from a franchisee's employees and other "large employer" federal and state regulatory controls with respect to labor that mostly exempt smaller companies. While that decision is currently under appeal, other regulatory changes will also require managers to earn $970/week ($50,440/year) for them to be exempted from overtime pay and other wage and hour rules. Consequently, many franchisees will have to start paying overtime pay to managers who had previously been exempt.
Depending on the outcome of November's elections, minimum requirements to protect small businesses from the burden of the Affordable Care Act ("Obamacare") and other employment regulations could possibly be imposed based on the headcount of all the employees of franchisees under a single franchisor instead of each franchisee, thereby substantially increasing insurance and other costs for franchisees.
Hype in the business media surrounding purported MCD "news" like "All-you-can-eat French fries" (well, not really) and laughable new takes on the Big Mac (i.e., a bigger - or a broken - Big Mac) coming in the week before the 2016Q1 earnings release seemed to me to be a bit defensive and forward-looking for a company that routinely tests products in the marketplace. Were these items - not yet even in the pipeline - proffered to the public as some new tactic to boost shareholders' hopes that MCD comps would continue to increase, even after the nearly played-out boost to comps from ADB and McP2?
McDonald's is Still Pretty Crummy as a Dining Option
So far, Steve Easterbrook's only strategy has been to create what he calls "sticky momentum" by improving operations and food quality and by adding ADB and P2.
But anecdotal evidence solicited from Facebook friends around the country found none of that.
An auditor friend from Mississippi who travels the country "had it a couple times while on the road with no other options. Same old junk as always, average cleanliness as compared to other fast food joints." A friend in Western New York reports that at her local MCD, "drive thru orders are wrong probably 50% of the time" and that she "doesn't think the places feel as clean as they used to." That view was reiterated by another friend in Tennessee, who "noticed a decline in cleanliness." Another friend was told he could not get an Egg McMuffin at O'Hare Airport even though ADB had been launched to great fanfare in the media. A friend from Missouri who travels widely in central and southern states says that tables there are dirty, too, everywhere he goes, so he has pretty much stopped going for fear of getting sick from bacteria or germs. "It seems like cleaning tables isn't a priority," he said.
My recent visits to three different MCD's locations in Manhattan found much the same.
In my earliest visit, on April 6th, I sampled the McP2 at the $4 level. I chose Filet-o-fish, always passable at MCDs, that was so-so, and a truly horrible regular hamburger. Again, the restaurant was filthy: floors and tables were scattered with litter; garbage containers were filled to overflowing, and there was visible fecal matter on the restroom toilet seat. (But what is one to expect for your lousy $4, right?)
On April 23rd, my Big Mac had a single pickle that was so paper-thin I could not find it (perhaps to make the wafer-thin beef patties look bigger by comparison?) It was not the Big Mac I remember from 40 years ago. I had to return to the counter to ask for my Monopoly game piece when I noticed it was missing from my order. But the pièce de résistance was the small dog (a pet, not a service animal) tied to a railing on the handicapped ramp inside the restaurant, in violation of the NYC health code, with MCD staff standing nearby as if it was regular practice.
The Way Forward for McDonald's
I look for McDonald's to return to its historic P/E ratio of about 18:1 in about 12 to 18 months. The share price should return to about $90 to $100 per share after comps for 2017Q1 show little growth, YoY, compared to 2016Q1; perhaps sooner. In McDonald's mostly saturated markets, the only upward growth that I can see is relatively risky and costly additional international expansion in marginal markets. But those markets are finite and will produce little marginal growth in a company that produces more than $1 billion a quarter in income.
McDonald's basic strategy is broken, likely irretrievably so. There's continuing demographic risk that I outlined previously. Younger customers have more and better dining options and franchisees are at, or near, retirement age. With better food and better dining experiences offered elsewhere for a comparable or lower price, why would anyone choose MCD?
McDonald's is in desperate need of a strategic, versus a tactical, makeover built on innovation. ADB, McP2, and even other "one shots" like all-you-can-eat French fries and Bigger Macs and Baby Macs might grow comps for a short term, but have little hope of creating the type of continuous, regular, Q on Q growth we see in companies that are growing market share, revenue and profits.
I've suggested an alternative strategy to leverage MCD's real expertise: marketing, branding, franchising and food delivery logistics to create a "merchant banking" model whereby MCD could innovate and develop new tastes, restaurants and brands in regional and ethnic cuisines to drive new growth in existing territories. The company did that when it nurtured Chipotle (NYSE:CMG) in its early stages, but did not recognize the enormous potential for growth from the strategy and, instead, treated the Chipotle operation as a corporate backwater; an afterthought.
But making such a dramatic change in corporate strategy would require the board to abandon its ridiculous "progressive burger company" model and grow new business outside the "Golden Arches" and the "McDonald's" brand name that is, by now, eponymous with quick, crappy, hamburgers in mostly dirty restaurants.
I don't foresee that change in strategy happening with the current management, so I see McDonald's as the QSR version of Howard Johnson's: an American dining institution that is on the slow, inevitable, path to decline over the next 20 to 25 years.
________________________
*All charts and graphs of MCD's stock price and the S&P and DJIA were created by the author using historic stock price data at the closing for the dates indicated.
Disclosure: I/we have no positions in any stocks mentioned, and no plans to initiate any positions within the next 72 hours.
I wrote this article myself, and it expresses my own opinions. I am not receiving compensation for it (other than from Seeking Alpha). I have no business relationship with any company whose stock is mentioned in this article.
Additional disclosure: The foregoing is only the author's opinion about a company and its operations, market, and management. It is not intended as investment advice, and you should not use it for that purpose. You should consult your own personal financial and investment advisers before undertaking any changes to your investment portfolio.