In March, SeaWorld (NYSE:SEAS) announced it would be phasing out its orca breeding program over the next few years. It sent the stock moving higher. There were articles on Seeking Alpha promoting how this was a great move for the company. My reaction to this news is that it shouldn't have sent the stock up. I wish I would have had time to write an article right after the news, but I still think my opinion is relevant since the stock is still up over 16% as of Friday's close, from the time the news was announced. Earnings in early May could also be a catalyst for a reversal from this recent move.
I think my perspective is interesting because as a prior investor in the stock in 2015, I bought into the theory that this was a turnaround story with the negative headlines from animal rights activists behind it. However, the reality is the company could not shake the animal rights activists protesting its practice of keeping whales in captivity. This was also never the only issue as competition from Universal and Disney (NYSE:DIS) in Orlando has taken share from the business. Take it from someone who was sold on the turnaround 18 months ago. This business is in a slow contraction, and not in turnaround mode at all.
Putting context into the move to end the whale breeding program is critical. SeaWorld applied to build its Blue World Project, which was expected to double the size of the tanks the orca whales swam in. This was an exciting initiative because it was a win-win scenario. The whales would get more swimming room and the company would be able to boost traffic to the parks, because the attraction would give a new experience to visitors, as it would have an even larger viewing area. This is what sold me on the turnaround at SeaWorld because it was a tangible plan to improve its competitiveness and image to consumers. Even though it would have taken several years, I was willing to wait on the project while collecting the approximately 4% dividend.
What caused me to sell the stock was the California Coastal Commission's plan to allow the Blue World Project to be built, while simultaneously banning the orca whale breeding program. SeaWorld was angry with this situation, but I figured the company wouldn't be able to successfully fight the ruling, so I sold the stock. The reality is if the company couldn't breed whales, then building a tank that would cost $100 million wouldn't make sense.
At this point, SeaWorld was really put in the worst situation it could possibly be in with no way out. This is when the company decided to stop its orca whale breeding program. The firm had no other options. This move shouldn't have moved the stock higher because it will not boost sales. The animal rights activists were probably the people most focused on this ruling. They probably celebrated it, but none of them are going to go to SeaWorld or going to start telling others to do so. Keep in mind, in typical SeaWorld fashion, this move will take several years to take effect. When the company announced it would change from theatrical orca whale shows to a more natural show, it said it would begin to take place in 2017. I'm not a whale expert, but it should have tried to get that type of show in place for this season. There have been no substantial changes at the company for 2016, other than a marketing campaign last year. Therefore, expecting the firm to have a great year seems to be on the overly-hopeful/irrational side.
Specifically, the orca breeding program will end in 2017 in San Diego, and in 2019 in Orlando and San Antonio. If the company was going to end the program, I don't see why it would take three years to follow through on it. The reality is it probably wouldn't help the business if they did it last year. That's the point. The activists have a deep-seeded hatred for SeaWorld, so there is nothing it can do to change its image besides letting the whales free into the ocean. This is impossible because they wouldn't be acclimated to the volatile temperature changes in the ocean.
As of this week, SeaWorld formally withdrew its application for the Blue World tank expansion in San Diego. This is what I knew would happen last year when the firm was denied the ability to breed whales by the California Coastal Commission. Since the company has plans to stop breeding whales at all parks, there is no way any of the other parks will be getting a Blue World expansion as they were originally expected to, after the San Diego expansion was finished.
Following through on its only option - to end the orca breeding program - doesn't mean good things are ahead for the firm. It has to come up with a new plan to grow the business. It should use that $100 million to spend on new roller coasters. SeaWorld needs a re-branding now that the face of the company has now been tarnished. Since the company already owns parks with more of a focus on roller coasters (Busch Gardens), it can easily re-target this engineering talent to build better roller coasters in SeaWorld parks.
Considering the firm just admitted it couldn't follow through with Blue World, it will take a while to come up with new plans. Building new roller coasters takes years of planning and finalizing, so there is no reason to buy the stock in 2016 or 2017.
As you can see from the chart below, SeaWorld Orlando has been in decline for a while. The turnaround thesis assumed it had temporary issues. This thesis was wrong. According to Citigroup, SeaWorld Orlando will experience a 10% decline in attendance if it maintains its market share, and a 15% to 20% decline if the firm continues to lose market share.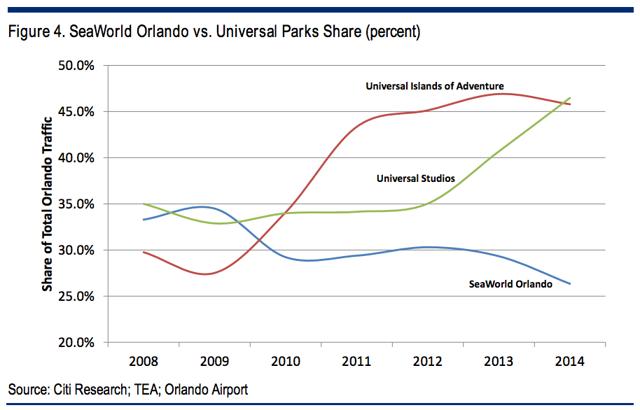 Click to enlarge
Macro
I actually considered shorting SeaWorld at the recent peak. To be honest, I can't remember if the reason I didn't short it was because of my available cash on hand or because my broker didn't have any shares available. Either way, I want to quickly go over my macro reasons for this short consideration a few weeks ago.
The first reason is the decline in consumer sentiment. April's consumer sentiment fell 1.4% month-over-month and 6.5% year-over-year. April's consumer expectations fell 2.3% month-over-month and 10.4% year-over-year. With SeaWorld's stock skyrocketing over 20% in the midst of weakening consumer data, I figured it could be a good short. Considering SeaWorld is losing share, it would probably be the hardest hit by the challenging macro conditions. April is when customers buy season passes which drives the firm's earnings as season passes drive increased traffic which drives increases in in-park spending.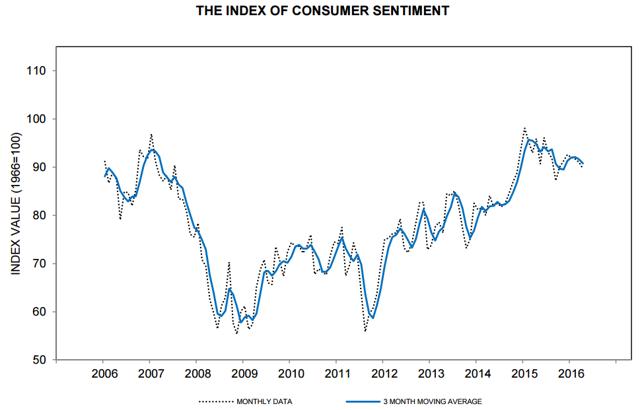 Click to enlarge
Finally we have the jobless stats, which show the data at a 42-year low even as the population has increased over time. As you can see from the prior economic cycles, jobless claims tend to spike after bottoming. If the spike occurs, it can hurt consumer spending and hence sales at SeaWorld. This projection isn't overly negative. The reality is if you think the jobless claims won't spike above 300,000 by this summer, you're expecting records to be broken. In fact, jobless claims are already at record lows when you adjust for population.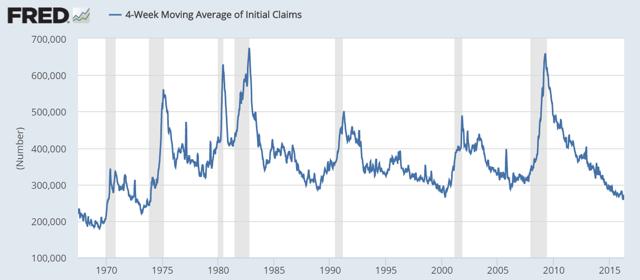 Click to enlarge
Disclosure: I/we have no positions in any stocks mentioned, but may initiate a short position in SEAS over the next 72 hours.
I wrote this article myself, and it expresses my own opinions. I am not receiving compensation for it (other than from Seeking Alpha). I have no business relationship with any company whose stock is mentioned in this article.