After a rally that had pushed shares back above $112, Apple (NASDAQ:AAPL) is now below $105 on a bit of nervousness among investors as we approach Tuesday's earnings report. The biggest issue seems to be iPhone sales, especially with the newest model potentially seeing limited production. The iPhone will likely dominate the headlines, but let's not forget that Apple should also be announcing a major update to its capital return plan.
Apple's rally came to a halt once we heard more reports of iPhone production slowdowns. The 6s line has apparently not done as well as most have hoped, and the company reportedly has not ordered enough SE models to offset this slowdown. Don't forget, the SE's price point is much lower, so Apple would need a tremendous volume of SE sales to make up for 6s weakness. While many will argue that the 6s line did not have enough features to make consumers upgrade, the changing US carrier environment also played a part. These two items will be in large focus when Apple gets set to release the iPhone 7 later this year.
While there seemed to be a very warm reception to the iPhone SE at launch, the key question is how much production did Apple actually order? There are multiple week long ship times for those that want to order in the US, and in a lot of places you can't even pick up the phone in store. The following image shows a sample of Apple stores in the New York City area. I selected the 16GB silver model on AT&T's (NYSE:T) network, and all of the 24 Apple stores within 41 miles of my hometown show "unavailable for pickup".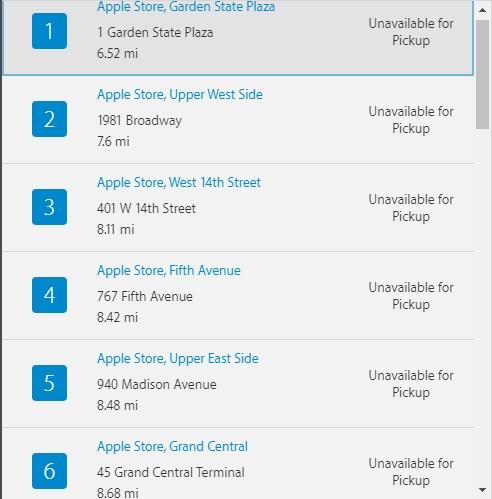 Source: Apple SE site
As a result of overall iPhone worries, we have seen a reduction in analyst estimates in the past couple of weeks. For Tuesday's report, the street is now expecting $51.97 billion, and while that's come down lately, it is still above the midpoint of Apple's guidance for $50 to $53 billion. The larger impact has been on the June ending fiscal Q3, which has seen the street average come down by $360 million since Apple announced the iPhone SE. The one bright spot here will be the tailwind the company sees from a weaker dollar.
While all eyes will be on the headline numbers and iPhone sales, let's not forget that we are expecting a major update on the company's capital return plan. My feeling is that we'll see a dividend raise somewhere around 10% and a buyback increase in the $30 to $50 billion area. With this low rate environment remaining in place for the near term, it just makes more sense for the company to favor stock buybacks over dividends. The buyback will also help support earnings per share, and perhaps limit any stock declines if we do get bad news.
Over the last roughly 10 days, Apple's shares have lost about 7% from their recent high. As Tuesday afternoon's earnings approach, investors seem to be a bit nervous over slowing iPhone sales. It appears that the company has also limited SE production, which seems to be fueling a decline in analyst estimates. The good news is that the weaker dollar will help results, and Apple is expected to update its capital return plan in a big way. The key question is, will a dividend/buyback increase excite investors enough to potentially overcome the iPhone weakness that is expected?
Disclosure: I/we have no positions in any stocks mentioned, and no plans to initiate any positions within the next 72 hours.
I wrote this article myself, and it expresses my own opinions. I am not receiving compensation for it (other than from Seeking Alpha). I have no business relationship with any company whose stock is mentioned in this article.
Additional disclosure: Investors are always reminded that before making any investment, you should do your own proper due diligence on any name directly or indirectly mentioned in this article. Investors should also consider seeking advice from a broker or financial adviser before making any investment decisions. Any material in this article should be considered general information, and not relied on as a formal investment recommendation.