Penumbra Inc. (NYSE:PEN) - Sell or Short Recommendation - $52.25 PT
Three days after earnings on May 3rd, the blackout period on insider trading will be lifted for PEN.
Major pre-IPO shareholders, directors and executives will have the chance to sell their 26 million shares, previously restricted since the IPO.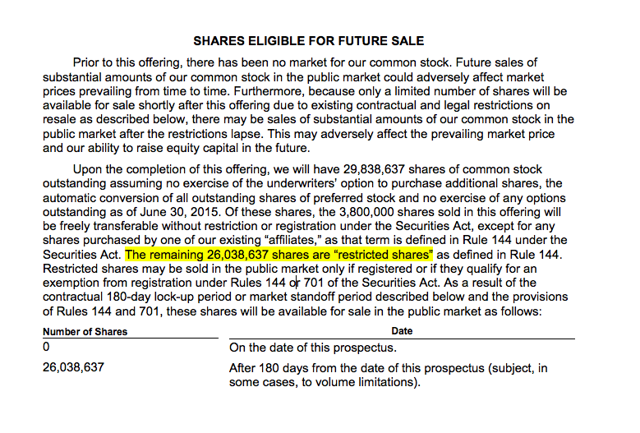 Click to enlarge
(Source)
While this first selling opportunity for insiders usually occurs on the date of a company's IPO lockup expiration, since PEN's lockup period expired during the third month of Q1 2016 (May 16th), an additional blackout period is in effect until Q1 earnings are fully released and disseminated following May 3rd.
The potential for a sudden increase in stock for sale on the open market (just 4M shares were initially offered) may cause a significant decrease in PEN's share price.
Business Summary: Manufacturer of Medical Devices that Address Certain Vascular Conditions

Click to enlarge
(Source)
As we discussed in our IPO preview, Penumbra Inc. designs, develops, manufactures and sells medical devices domestically and internationally. From the company's website, its portfolio includes neurovascular access devices under the brand names Velocity, PXSLIM, DDc, BENCHMARK, Select, Neuron and Neuron MAX, and aspiration-based thrombectomy systems and accessories under the brand name Penumbra System, in addition to a stent retriever for certain thrombectomy procedures called 3D.
According to PEN's filings, its Penumbra Coil 400 and SMART Coil are neurovascular embolization coiling systems that treat aneurysms and neurovascular lesions. Its other devices are under the brand names Liberty Stent, RUBY Coil, POD and Indigo System. The company sells its products through its sales force and distributors to hospitals in the neuro and peripheral vascular markets. Penumbra, Inc. was founded in 2004 and is headquartered in Alameda, California.
Solid Financial Performance Further Supports Possible Insider Selling Come Lockup Expiration
For the Q4 and year-end results, Penumbra reported the following:
Increases in revenue in Q4 and year-end 2015 from the previous year.
Quarterly revenue increased 53.7% to $54.4 million, while year-end revenue increased 48.3% to $186.1 million.
Increases in net income in Q4 and year-end 2015 from the previous year.
Q4 net income was $1.6 million, up from $0.4 million in 2014; while year-end net income was $2.4 million, up slightly from $2.2 million in 2014.
Overview of Management Team, Competition from Boston Scientific, Terumo and Medtronic
As described in PEN's SEC filings, Mr. Adam Elsesser is CEO, President, Chairman and Co-founder of Penumbra Inc. He previously served as President of Boston Scientific SMART and President and CEO of Smart Therapeutics. Prior to entering the medical device industry, Mr. Elsesser practiced law as a partner at the law firm Shartsis, Friese and Ginsburg, LLP. Mr. Elsesser received a B.A. from Stanford University and a J.D. from Hastings College of the Law.
CFO and Head of Strategy Sri Kosaraju has served in his position since March 3, 2015. He has over 15 years of experience in healthcare finance, including heading Healthcare and co-heading TMT Equity Capital Markets at JPMorgan. Mr. Kosaraju received a B.S. from the Massachusetts Institute of Technology in 1999.
Penumbra competes directly with several enterprise-level biotechnology and medical device manufacturers that design and manufacture peripheral vascular and neurovascular products such as Medtronic (NYSE:MDT), Johnson & Johnson (NYSE:JNJ), Terumo, Stryker (NYSE:SYK) and Boston Scientific (NYSE:BSX).
Conclusion: Sell Prior to May 3rd
With a strong IPO performance (opening higher than its expected range of $25 to $28 and increasing since - see chart below), PEN insiders could be ready to reap initial profits.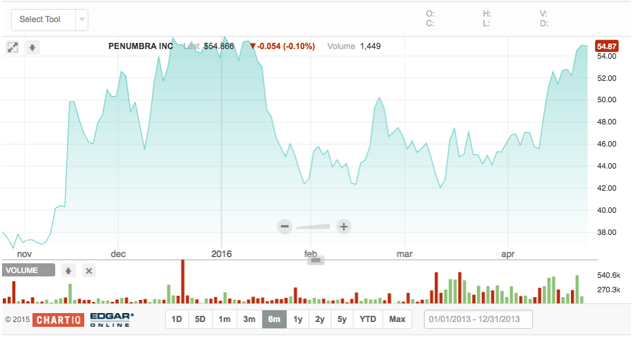 Click to enlarge
(Nasdaq.com)
PEN's diverse group of major pre-IPO shareholders include ~10 individuals, along with several major funds associated with Fidelity (see footnote in figure below).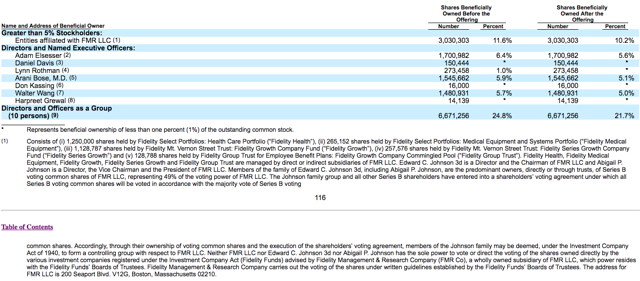 Click to enlarge
(Source)
Together, these insiders hold nearly 90% of common shares outstanding.
We suggest selling ahead of May 3rd to take full advantage of the possible impending declines.
Disclosure: I am/we are short PEN.
I wrote this article myself, and it expresses my own opinions. I am not receiving compensation for it. I have no business relationship with any company whose stock is mentioned in this article.