Apple (NASDAQ:AAPL) guided to a y/y decrease in revenue of 9% at the high end of its range, and I expect Apple to hit close to the high end at $52.5 billion for its fiscal Q2 (ending in March). Despite the disappointing y/y decline, investors have reason for optimism going forward. The impact of the Samsung (OTC:SSNLF) Galaxy S7 appears to have been less than expected, and first year Watch sales are expected to have outperformed the iPhone in its first year.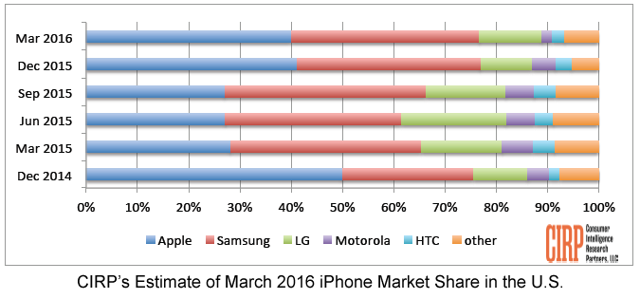 Click to enlarge
Source: CIRP
First, the Good News
Perhaps the best news I've seen about iPhone sales for the March quarter has come from Consumer Intelligence Research Partners, which issued a press release showing that iPhone increased market share y/y in the U.S. versus Samsung in the March quarter, as shown above.
iPhone suffered very little sequential decline in market share, with about 40% of activations versus 43% in the December quarter. This was very surprising to me considering the early release of the S7 in late February. Samsung had also sweetened the deal by giving away its Gear VR headset, designed to work with the S6 and S7 smartphones.
Besides the CIRP data, Qualcomm's (NASDAQ:QCOM) earnings for Q1 didn't suggest particularly strong sales of the S7, which uses the Snapdragon 820 processor for the U.S. market. The 820 is an excellent processor, arguably better than the A9 in the iPhone 6s, so I was expecting strong S7 sales, but the numbers just weren't there for Qualcomm.
Qualcomm's chip shipments declined 19% y/y, despite having a presumably easier compare, since Qualcomm missed out on the S6, released at the end of 2015 Q1. The waters are a little muddy, since Qualcomm also sells modems for iPhone and clearly suffered a y/y decline, as expected, for that product. Still, the fact that the iPhone increased market share y/y in the U.S. I regard as a net positive for Apple, even if it's difficult to be quantitative about the impact.
The other bit of good news was Daisuke Wakabayashi's article in the Wall Street Journal, also carried in Market Watch that pointed out that analysts estimate that Apple sold 12 million Watches in its first year. That's about double the number of iPhones in its first year.
Although critics have characterized the Watch as an iPhone accessory, this ignores its considerable standalone capability in fitness tracking and even music playback through Bluetooth headphones. The characterization also ignores the clear long-term direction, which is to make Watch a standalone communications device capable of voice and data communication without tethering to an iPhone.
Technical hurdles remain, of course, but Apple is all about packing more and more functionality into smaller and smaller form factors. I've seen comments to the effect that no one would want to hold the Watch up to the ear in order to make calls. Actually, that wouldn't be necessary. Users will be able to use a Bluetooth headset or use a speakerphone mode as they currently can do with the iPhone.
Both iPhone and Watch will get substantial upgrades to their processors in the next generation of devices. Processor upgrades don't seem to excite financial analysts very much, who often disparage them as "incremental." But Apple's processor upgrades have been anything but incremental, usually offering a 50% performance improvement. Plus, they've been occurring annually, a pace that is leaving old line semiconductor companies like Intel (NASDAQ:INTC) winded and doubled over with chest pains.
Apple's processors have been critical enablers for its large screen iPhones, as well as its Pro series of tablets. The tablet processors have already achieved rough parity with the low end of the Core m (Skylake) series, and at Apple's current pace, could move ahead of Intel in the next generation iPhone (7) and iPad Pros. This will be a watershed event for Apple investors to look forward to.
Now, the Not So Good News
Unfortunately, iPhone SE and the 9.7 inch iPad Pro probably arrived too late in the quarter to have much impact. Both were scheduled to begin shipping at the end of March, so some sales may have been booked, but it probably wasn't that many.
In the table below, I summarize my estimates for the March quarter: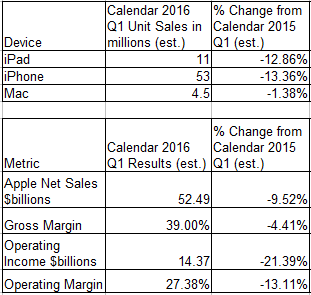 My estimates put Apple revenue pretty close to the high end of guidance ($53 billion). We all knew that iPhone sales were going to decline y/y pretty steeply. The March quarter comp was actually more difficult than December, due to the fact that Apple didn't reach supply demand balance at the end of December 2014.
The operating income and operating margin declines are more severe than revenue due to my expectation that Apple will not back off from its massive R&D expansion. I expect R&D to grow 30% y/y to $2.5 billion.
I'm not prepared to be very specific about the June quarter guidance yet, partly because Foxconn (Hon Hai Precision) has decided to hold up their March monthly revenue report, which would normally have been posted by mid-April. I can't help feeling that this is in reaction to my using their monthly revenue as guidance for Apple's quarterly reports.
Despite this, June is starting to feel like a turnaround quarter, with flat revenue y/y. This is driven by two considerations. The first is that the iPhone SE is still on backorder on the Apple site, and the wait has actually increased to 2-3 weeks. This suggests that the SE will be able to take up the slack in the June quarter.
The other consideration is the 9.7 inch iPad Pro, which received an exceptional rating from Displaymate for its screen. Combined with Apple's most powerful A9X processor, I expect the smaller Pro to stimulate upgrades among iPad users. Other factors that I'm considering include Intel's curtailing of contra revenue for its tablet processors, and the consequent 44% y/y decline in tablet processor sales in the March quarter.
Investor Takeaway
Although I don't have a lot of hard data to support my optimism, I expect investors to be pleasantly surprised by Apple's guidance for the June quarter. I expect revenue guidance to be approximately flat y/y, and if that's what we get, investors will heave a sigh of relief.
Unlike some analysts, I'm very optimistic for the September quarter and the new iPhone (and probably Watch) releases. As I've pointed out, the probability is high that Apple will be using TSMC's (NYSE:TSM) InFO process for the next system on chip (SOC) for iPhone 7. While the S7 got a millimeter thicker than the S6, Apple will be moving in the opposite direction, producing its thinnest, lightest iPhone ever.
iP7 will also benefit from the improved display technology of the 9.7 inch iPad Pro. I actually consider that this is a better display technology overall than AMOLED, so I don't think that iP7 will be disadvantaged compared to the myriad Android phones that use AMOLED.
Based on the iPhone 7 and improving iPad and Watch sales, I expect Apple to resume growing revenue and earnings by the December 2016 quarter. I remain long Apple and recommend it as a buy.
Disclosure: I am/we are long AAPL, QCOM.
I wrote this article myself, and it expresses my own opinions. I am not receiving compensation for it (other than from Seeking Alpha). I have no business relationship with any company whose stock is mentioned in this article.
Editor's Note: This article discusses one or more securities that do not trade on a major U.S. exchange. Please be aware of the risks associated with these stocks.