Let me tell you a story. In 2006, there was only one really successful social network in Germany. It was called "StudiVZ" or "SchülerVZ." Everything went well for the unchallenged German market leader. The numbers of users were rapidly raising. Facebook (NASDAQ:FB) even offered 4% of its shares to take over StudiVZ. Stefan von Holtzbrinck, the owner of StudiVZ and SchülerVZ, rejected the offer self-confidently.
This was a mistake. In subsequent years, StudiVZ lost more and more users while its rival Facebook conquered the German market. Facebook offered the same features like StudiVZ - and even more. Users on StudiVZ were only able to connect to German users, whereas Facebook users could connect to the whole world. In 2013, Stefan von Holtzbrinck buried StudiVZ while Facebook exceeded the 25 million user mark in Germany.
This is exactly what will happen a second time on the German market soon. LinkedIn (NYSE:LNKD) will play the role of Facebook while XING will be the victim.
An overview of Germany's business-oriented social networks
Before we draw conclusions, we will take a look at the current situation for the German market. XING is the market leader with 10 million users. XING's globally active persecutor LinkedIn has 7.5 million users in Germany.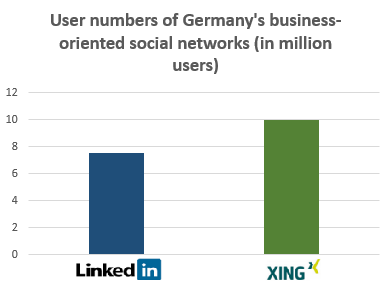 Both companies are offering the same features: Professionals can create a profile and connect with their co-workers and acquaintances in order to build up a professional network and to boost career prospects.
LinkedIn and XING are earning money through premium accounts and ads. In 2015, LinkedIn reached revenue of $3 billion USD while XING reached a revenue of $137 million USD.
Germany is a worthwhile market: While LinkedIn only earns $7.5 through every user on average, XING earns $15 per user.
LinkedIn's huge competitive advantage
Today's labor market is highly globalized. Germany's high-tech companies like Daimler (OTCPK:DDAIY), SAP (NYSE:SAP) or Bosch (OTC:BSWQY) are operating branches worldwide. In 2015, more than 7 million people were employed by German companies abroad.
A German engineer wants to be connected with colleagues in Germany, but also with those in Bangalore or Palo Alto (NYSE:PANW). In XING, this is simply not possible. Whereas, LinkedIn has to offer 400 million users all over the world.
As yet, there was enough room to grow for two competitors on the German market. Soon, however, users will start to decide between the two companies. And I would bet that they will decide for LinkedIn.
The chain reaction will start with the upper-level management. Managers are more likely to own a LinkedIn account because they have to be connected with branches and employees abroad. The next step will be that "normal" employees want to join the network of their supervisors. As a consequence, they will create LinkedIn accounts. That will certainly get the ball rolling in this market: Users will change to LinkedIn and more users will follow.
An Outlook
Finally, XING will suffer the same fate as StudiVZ for the same reasons: lacking internationality and no unique selling point.
Until the end of 2017 or 2018, LinkedIn will have overtaken its German competitor. I suppose that in 2020 nobody will talk about XING anymore. Therefore, the way will be open for LinkedIn. As described above, Germany is a worthwhile market. Approximately 20 million possible customers with substantial purchasing power will reward LinkedIn for its efforts.
Recently, LinkedIn underlined its ambitions by hiring a new director for HR solutions in Germany, Austria and Switzerland who already has 15 years of experience in digital marketing and distribution.
Disclosure: I/we have no positions in any stocks mentioned, and no plans to initiate any positions within the next 72 hours.
I wrote this article myself, and it expresses my own opinions. I am not receiving compensation for it (other than from Seeking Alpha). I have no business relationship with any company whose stock is mentioned in this article.